In mid-November, nine Winnipeg Jets' prospects on loans to European teams were soaring along.
It's a bit of a different story just a few weeks later though, as many of their overseas stints — meant to keep them fresh while the NHL works out the logistics of the 2020-21 season — have screeched to a halt for one reason or another.
SM-Liiga Shutdown Shuts Out Trio
Due to stricter COVID-19 restrictions, the SM-Liiga is shutting down between Dec. 3 and Dec. 19.
That impacts three Jets under contract playing in Finland's top league: Ville Heinola, Kristian Vesalainen, and Joona Luoto.
Heinola, the Jets' 2019 first-round (20th overall) selection, wasn't long for his Lukko Rauma club team anyhow, as he was set to train with Finland in preparation for the World Juniors in Edmonton. In 19 games for Lukko, the defenseman has been highly impressive, scoring one goal and recording 13 assists while skating an average of 19:53 per game.
Related: Jets Prospects on the Path to the 2021 World Junior Championship
Kristian Vesalainen and Joona Luoto will be more impacted as they won't see any action now until after Christmas. Dec. 26 are the dates of their first scheduled games post-pause, respectively.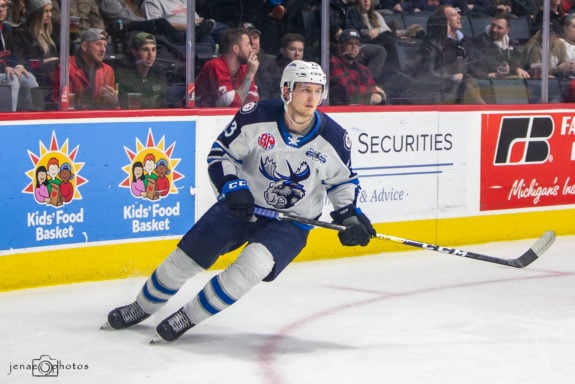 Vesalainen a first-round 2017 selection (24th overall), has four goals and four assists for HPK Hameenlinna, where he was sent in late October, in 10 games.
Related: Winnipeg Jets' Top 10 Prospects for 2020-21
The left-winger's talent and great shot is undeniable, but his effort level has been a question mark at times, especially in 2019-20 as a member of the Manitoba Moose. However, he recently told the Winnipeg Free Press that he's been focusing more on his d-zone game, his skating, and his checking in order to be a more well-rounded player who is better equipped to challenge for a spot on the Jets' bottom-six at training camp, whenever that is.
Vesalainen got off to a red-hot start with Hameenlinna, scoring four goals and adding three assists in his first five games, but only had one assists in his last five.
Luoto, meanwhile, has played 19 games for HIFK Helsinki and recorded four goals and five assists for nine points.
Santeri Virtanen (105th overall, 2017), and Henri Nikkanen (113th overall, 2019), are other Jets' draft picks who are unsigned by the team but impacted by the shutdown. Virtanen is with SaiPa Lappeenranta and Nikkanen is with Jukurit Mikkeli and is also set to crack Finland's World Junior team.
Dano Out Long-Term
Meanwhile, Marko Dano's rough 2020 continues.
The 25-year-old, who spent parts of four seasons in the organization between 2015 and 2019 and suited up for 82 Jets games was signed to one-year, two-way contract earlier this month.
The first-round 2013 selection of the Columbus Blue Jackets played two games for Trencin Dukla of the Slovakian Extraleague and recorded two goals and an assist before suffering a broken wrist that required surgery.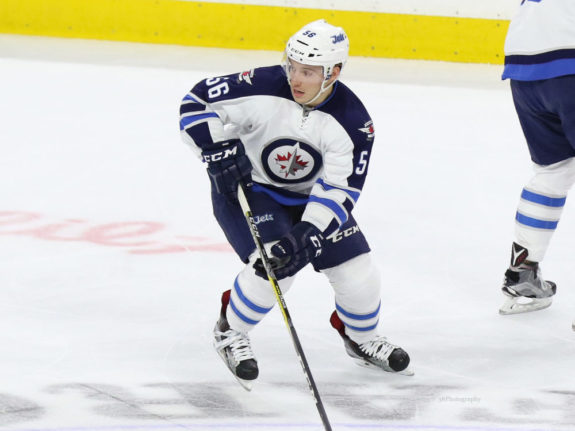 This comes after he pulled a groin muscle in practice and missed four games, and he was also shelved with COVID-19 as the virus circulated among his teammates in October, the Winnipeg Free Press reported last week. Thankfully, his symptoms were mild and he quickly recovered. (from 'Third-time charm for Dano with Jets?,' Winnipeg Free Press, 11/6/20.)
Dano was to be used as AHL depth when the 2020-21 season began, but with the injury, he'll be out at least two months, possibly longer, and will likely miss the start of it.
Berdin's Lost the Crease
The enigmatic Russian goalie was playing well for SKA St. Petersburg of the KHL and has posted a 6-3-2 record with a 2.49 GAA and .916 SV% in 13 games.
However, he hasn't dressed in six straight games, ever since he allowed an embarrassing goal on a dump-in on Nov. 16 and was pulled.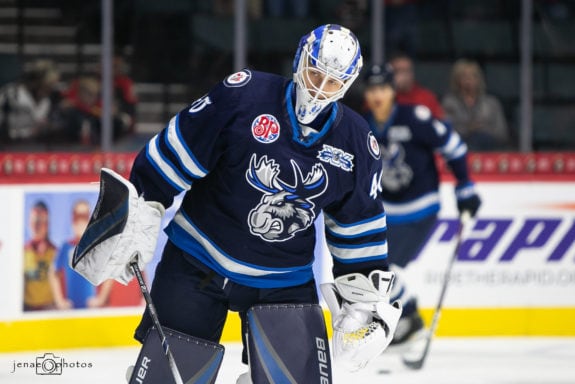 Whether the 2016 6th-rounder got in head coach Bragin Valery's bad books solely because of that goal or because of some other reason isn't really known. He's not injured. Whether he gets another chance at the net soon is worth keeping an eye on.
Four Jets Still in Action
It's not all bad news for Jets' prospects, though, as four play on.
Leon Gawanke, playing for his hometown Eisbären Polar Bears in the German DEL, has played four games and has one assist.
The defenseman, who turned heads in his 2019-20 rookie campaign with the Moose and paced all Moose blue-liners in points with 26, was loaned to the team all the way back in September but the DEL just started in mid-November.
David Gustafsson, who played who played 22 games with the Jets at the beginning of 2019-20 before playing in the World Juniors for Sweden and then for the Moose, continues to do well in the HockeyAllsvenskan League for Tingsryds AIF in a first-line centre role.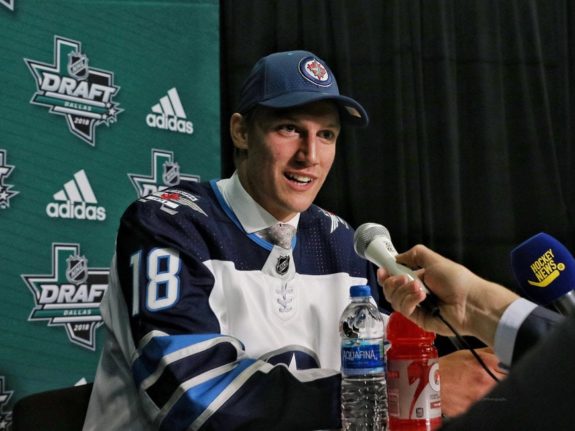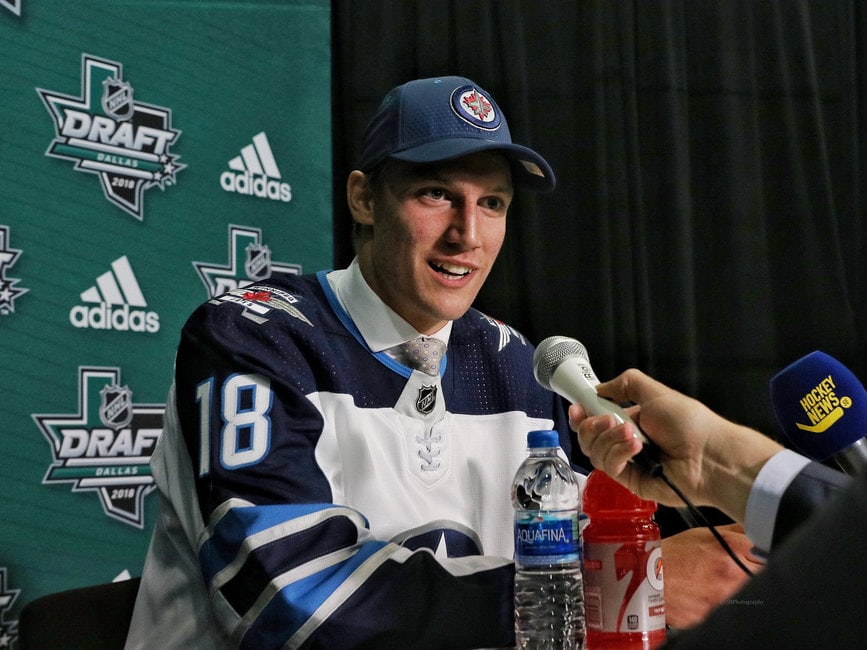 The second-round (60th overall) 2018 pick is recording more than a point per game, with seven goals and 10 assists in 16 games.
Skyler McKenzie, the only North American Jet on loan, is with Freiburg EHC of DEL2 and has three goals and one assist in six games.
Finally, Arvid Holm, the Jets' goaltending prospect who signed a three-year ELC back in June, is playing for the Swedish Hockey League's Farjestads BK Karlstad. He was loaned to the team for the entirety of the 2020-21 season back in July and is 5-6 with a 2.69 GAA and .920 SV% and one shutout in 12 games.
The 22-year-old Swede — selected 167th-overall in the sixth round of the 2017 NHL Entry Draft — also spent the entirety of 2019-20 with Farjestads, posting a 20-10-0 record, a 2.27 GAA, a .915 SV%, and one shutout in 31 games.
---
---