Plans for the upcoming NHL season have been unclear at best, with no concrete solution in sight. However, one exciting possibility is an all-Canadian Division, which would not only adhere to return-to-play protocols, but could also provide an intriguing spark to hockey as a whole.
Drawing the division itself is quite simple. Teams that are, under normal circumstances, scattered around the league, would now see each other eight to ten times in the shortened season, renewing historic rivalries.
The hard part becomes analyzing who would benefit from such a drastic re-alignment. The Toronto Maple Leafs, Montreal Canadiens and Ottawa Senators would enjoy the prospect of not playing against other Atlantic Division powerhouses, while the Vancouver Canucks, Edmonton Oilers, and Calgary Flames would see a dramatic drop in their visits to California.
For a team like the Winnipeg Jets, who happen to be the only Canadian team within the Central Division, an all-Canadian alignment would more than likely hinder their chances at a playoff appearance. Almost every one of their Canadian counterparts has made significant moves during the extended offseason, and while the Jets weren't shy on the free agent front either, there is reason for concern should Winnipeg find themselves trapped north of the border.
With that in mind, here is what the Winnipeg Jets will face heading into an uncertain and unprecedented season.
Calgary Flames
Jets 2019-20 Record: 1-0-0
If the 2019 Heritage Classic was any indication, a matchup with the Calgary Flames would be exhilarating. Mosaic Stadium, normally home to the Saskatchewan Roughriders of the CFL, played host to a game that was tightly contested and physical, a prelude of what to expect this season.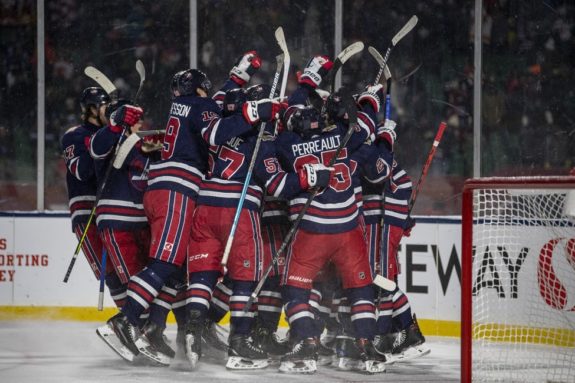 Flash forward to the summer months, when the Jets faced the Flames in the play-in round and when everything that could've gone wrong, did. Not only did Winnipeg lose Mark Scheifele, Patrik Laine, and Mason Appleton to injuries before the end of Game 1, but Flames goaltender Cam Talbot outplayed the eventual Vezina Trophy-winner Connor Hellebuyck en route to the Jets being ousted in four games.
Injuries aside, the Jets couldn't seem to find their footing against the Flames. Blake Wheeler and Kyle Connor were invisible and couldn't handle their augmented offensive responsibilities. The blueline was at mercy to Calgary's physicality and aggressiveness, and the team lacked any sort of organization.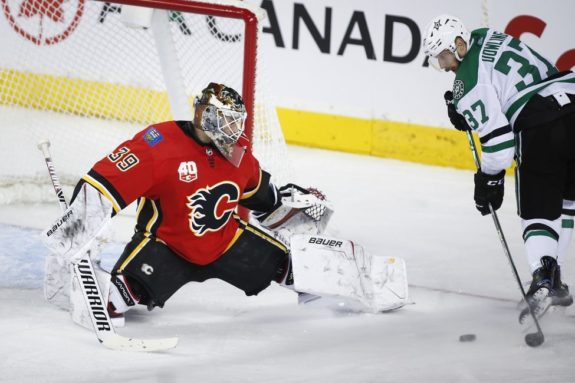 Verdict: Looking ahead to the upcoming season, both teams have seemingly improved. The Flames dished out a huge paycheck to Jacob Markstrom in what could be a drastic upgrade between the pipes. The Jets solidified their depth down the middle, with Paul Stastny returning to Manitoba. Pair that with re-signing Dylan DeMelo and Ville Heinola set to crack the roster, both teams will be looking for a long playoff run.
What this matchup boils down to is how well Calgary's new additions will perform. Markstrom is coming off a stellar season, and Chris Tanev, who elected to join the Flames instead of returning to the Vancouver Canucks, isn't a bad replacement on the blue line. If Markstrom can build off of last season's performance, the Jets' high-octane offense will be in tough.
Edmonton Oilers
Jets 2019-20 Record: 2-1-0
Any team going up against arguably the best player in the world with the reigning Hart Trophy-winner on his flank is in for a rough go of it. Connor McDavid has been stellar throughout his young NHL career and with Leon Draisaitl taking a huge step forward last season, expect the Oilers to lean heavily on the duo to produce at both ends of the ice.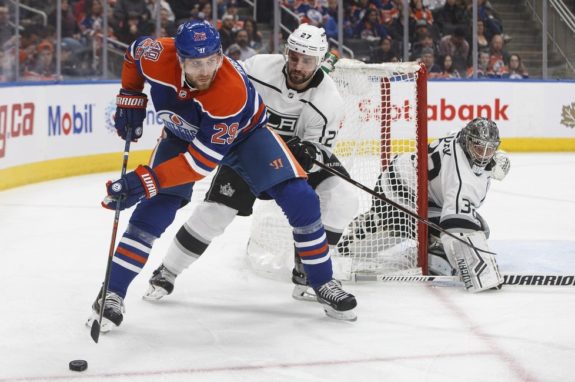 It's easy to get hooked on the idea that those two will light up the league once again, but beyond the McDavid-Draisaitl combination lie many question marks. The return of former fourth overall pick Jesse Puljujarvi does nothing to solidify the Oilers' lack of scoring from the wing, and the news of Oscar Klefbom's potential season-ending shoulder surgery is a big blow to a defensive core that has struggled mightily.
On top of that, the Oilers opted to keep a Mike Smith-Mikko Koskinen goaltending tandem that averaged an abysmal .836 save percentage (SV%) and a 7.23 goals-against average (GAA) during their first-round upset to the Chicago Blackhawks. Since the Jets still have the same offensive weapons as last season, this could be a matchup they take advantage of, as they hold the upper hand in both offensive production and goaltending stability.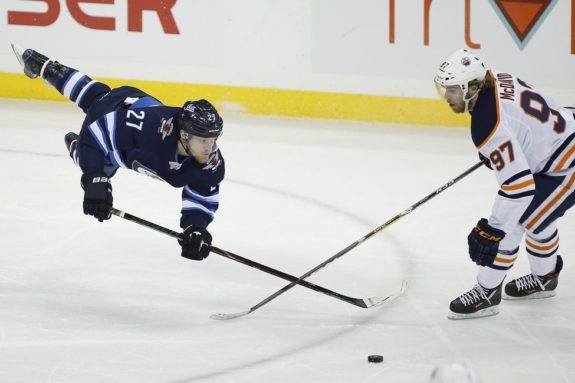 Verdict: This would be an exciting slate of games. The Oilers will be relying on Kailer Yamamoto to transition into a legitimate offensive threat and Tyson Barrie to regain his 50-point form from his days with the Colorado Avalanche. While McDavid and Draisaitl should continue to test Winnipeg's retooled defensive structure, the Oilers aren't the divisional opponents that Winnipeg needs to worry about.
Vancouver Canucks
Jets 2019-20 Record: 2-0-0
The Jets bested the Canucks in both their contests last season, claiming 4-1 and 4-0 victories, respectively. However, that seemed to be a one-off for Bo Horvat and company, as Vancouver was one of the most surprising playoff teams. Sending both the Minnesota Wild and defending Stanley Cup Champion St. Louis Blues packing before falling to the Vegas Golden Knights in seven games, Vancouver's extended playoff run is a telltale sign of their young core's potential.
Goaltender Thatcher Demko played brilliantly in relief of Markstrom, and the Canucks' young stars earned plenty of playoff experience; something that should pay dividends moving forward. With Quinn Hughes and Elias Pettersson approaching the next phase of stardom, the Canucks' performance in last season's playoffs is a promising indication of what's to come.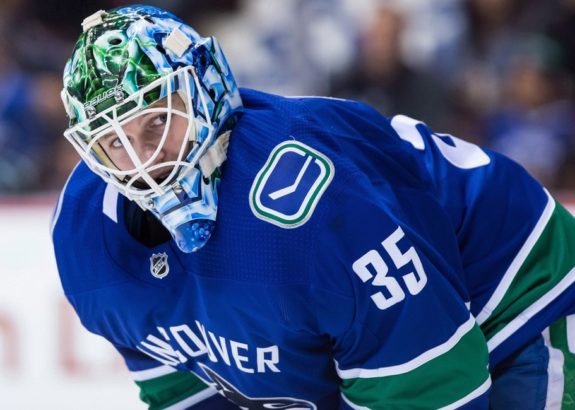 Still, it's important to note what occurred over the offseason. The Canucks suffered a plethora of losses; Troy Stecher, Tyler Toffoli, and the aforementioned Markstrom and Tanev all found new homes. Bringing in goaltender Braden Holtby via free agency and defenseman Nate Schmidt in a salary dump by the Golden Knights were strong moves, but it's uncertain what their impact will be.
Verdict: The Canucks are one of the younger and more exciting teams in the league, so expect names like Adam Gaudette, Jake Virtanen and even Olli Juolevi to fill in for the players who departed. They still have a youthful core that can compete stride-for-stride with the Jets and if Holtby and Schmidt live up to the hype, then Winnipeg will have their hands full when they visit British Columbia. With that being said, I'd consider the Canucks a wild card this season, with a lot still to be determined.
Toronto Maple Leafs
Jets 2019-20 Record: 1-1-0
I'm going to make a bold prediction here; this will be the most exciting matchup for the Jets this season. Once Auston Matthews and Patrik Laine graced the league, it seems that every game between these two teams has been energy-filled with a handful of goals.
In an 8 game sample size, Matthews and Laine have been nothing short of stellar, with the former producing 3 goals and 11 points and the latter notching 6 goals and 7 points. The two teams were evenly matched in 2019-20 and split their regular-season series.
There are a few comparables between the two clubs, as Maple Leafs goaltender Frederik Andersen has found himself in the Vezina conversation before and can compete with Hellebuyck on any given night. Both teams also have offensively-inclined defensemen, and two of the best top-six cores league-wide. If history has taught us anything, both sides like to flex their offensive muscles whenever they match up.
Verdict: The concern here for Winnipeg is that the Maple Leafs have gone through a massive retooling this offseason. The homecoming of veterans like Joe Thornton and Wayne Simmonds will provide another layer of leadership and physicality to their roster, and the additions of T.J. Brodie, Mikko Lehtonen, and Zach Bogosian have significantly improved the backend. These moves have made Toronto one of the best teams on paper.
While the Jets have often played some of their most energetic and high-octane hockey against the Maple Leafs, I expect Toronto to be one of the early favourites to take home the all-Canadian Division crown.
Ottawa Senators
Jets 2019-20 Record: 2-0-0
Despite a pair of convincing victories over the Senators last season, Ottawa seems to be heading in the right direction in their ongoing rebuild. Similar to the Canucks, the Senators have a couple of players ready to take the next step, as both Brady Tkachuk and Thomas Chabot are poised to enter the realm of stardom as the rest of Ottawa's core are set to follow suit.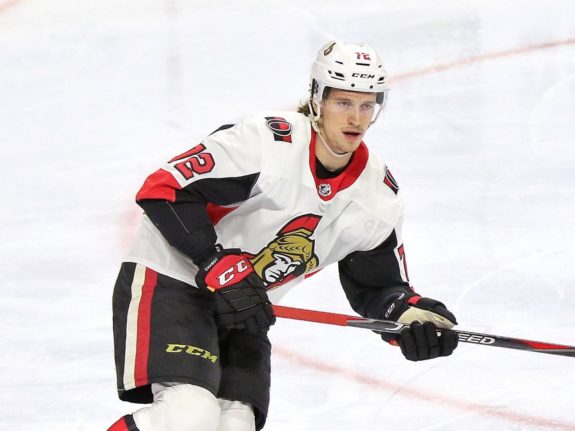 After using the third and fifth overall picks to select Tim Stuetzle and Jake Sanderson in this year's draft, the Senators' prospect capital is quickly becoming one of the league's best. With Alex Formenton, Drake Batherson, and Jacob Bernard-Docker already in the system, a new wave of talent could be on the way sooner than we think.
Verdict: The Jets would be wise to take advantage of their games against Ottawa, considering how congested this division could be. The Senators are the most raw and inexperienced team in this group, and the Jets need all the points they can get if they hope to find themselves in the playoff conversation.
I don't expect that this is the year the Sens take a leap forward. They are the dark horse candidate in this division and shouldn't be written off by any means, but they won't make a significant impact in the league until at least next season.
Montreal Canadiens
Jets 2019-20 Record: 1-1-0
If the Maple Leafs will be Winnipeg's most exciting opponent, the Montreal Canadiens could be their most important. Canadiens general manager Marc Bergevin made enough moves to improve his team, which will look quite different than they did just a few short months ago. With Toronto and Calgary as my favourites for the division, the Canadiens could be the only team standing between the Jets and a playoff berth come season's end.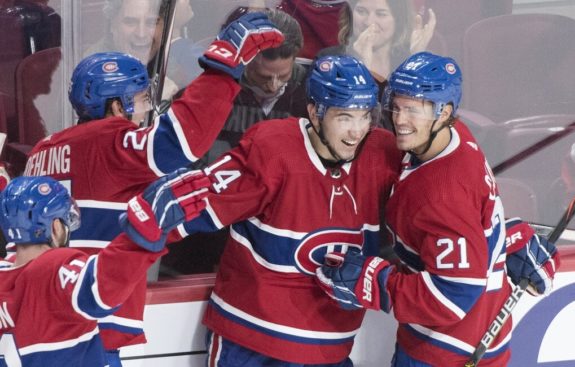 The play-in round was a positive for the Habs, as both Nick Suzuki and Jesperi Kotkaniemi found success against Sidney Crosby and the Pittsburgh Penguins. Couple that with key additions like Josh Anderson, who was acquired in exchange for Max Domi, and Toffoli via free agency and the Canadiens suddenly have some much-needed top-six scoring. Oh, and highly-touted defensive prospect Alex Romanov is set to join the club as well.
Verdict: As captain Shea Weber and goaltender Carey Price (now with an actual backup in Jake Allen) continue to play at an elite level, the Canadiens' lineup structure and style of play draw many parallels to the Jets. Both teams have a Vezina-calibre goalie, a top defensive pairing that's heavily relied upon, and depth scoring. If Winnipeg has any hope of making it out of the division, they will likely have to go through Montreal, in one capacity or another.
The Overall Outcome
With the NHL season still a ways away and no solid plans to date, it's safe to say that an all-Canadian Division is hopeful speculation. However, if COVID-19 protocols and logistics are any indication, a division featuring only Canadian teams is in the works.
Should that take place, the Jets will have their work cut out for them. Every organization has improved, and there won't be any cakewalks here. With Winnipeg longing for playoff revenge, they will likely have more than one familiar opponent standing in the way of their quest for Lord Stanley's Cup.
How do the Jets stack up in an all-Canadian Division? Who is your favourite to take the number one spot? Let me know in the comments.
---
---