By Mike Miccoli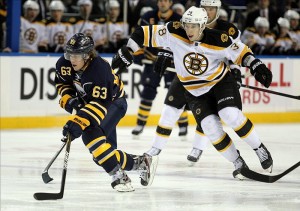 The writing on the wall became a bit more visible once the ink dried on Jordan Caron's latest contract.
Instead of a bump in pay following the expiration of his three-year, entry-level deal where he collected $1.1 million annually, the Bruins opted to offer the restricted free agent a one-year, one-way, $640,000 contract. Gone is the safety net of passing Caron back and forth to Providence to develop his game without the barrier of being swept-up on the waivers. Now, with only one forward spot currently vacant on the Bruins depth chart and plenty of viable competition for the opening, the 2013-14 season now becomes a make-or-break situation for Caron's time in Boston.
In a perfect world, Caron is not only a mainstay on the Bruins' depth chart, but an essential part of the team's core. The Bruins' 1st round pick in the 2009 NHL Entry Draft started out promising in his 2010-11 rookie season. Caron scored three goals in his first seven games and started to get put into the lineup in place of Tyler Seguin, the team's somewhat prized 2nd overall pick from a few months earlier.
His two-way game made him the safer option. His rabid inconsistency has cost him ice time.
It's always been that way, if you think about it. Caron's lack of consistency has been the biggest flaw in his game as he is frequently unable to transition his play onto the professional level. He'll go through games where it looks like he's made the jump and his play could make a difference in the Bruins lineup. And then…nothing happens.
During the 2011-12 season, Jordan Caron went through a four-game stretch in March where he scored three goals and four assists,  while playing some of the best hockey of his career. In his next 14 games, he only scored once with two assists. Caron doesn't need to be an offensive force in every game he plays because in reality, which Bruin is?
The problem with the right winger is that he often becomes invisible, making the same small mistakes without fixing them from game-to-game. He looks lost at times and has had  three seasons to become a better player. Think of the possibilities if Caron was able to use his big frame and fit on a line next to Brad Marchand and Patrice Bergeron. If consistent that line could be dynamite.
There's a level of trust that needs to be established between Caron and Claude Julien. Julien needs to be able to give Caron minutes on the ice to prove how he has grown as a player but first, Caron needs to be able to string a few good shifts together. Julien is well aware of how inconsistent the right winger is and his lack of trust showed in the postseason when guys like Carl Soderberg and Jay Pandolfo were given chances in line-drills in practice with regulars rather than Caron. In the postseason, a time when Julien needed players to step up the most, Caron was an afterthought.
Now with home-grown Bruin prospects such as Ryan Spooner, Jared Knight, and Carter Camper quickly becoming NHL-ready, and the additions of guys like Reilly Smith and Matt Fraser, the competition is as stiff as ever for Caron to crack Boston's lineup. This season could be his last chance.
But really, how realistic is it for Caron to be the 12th forward? Quite realistic. In fact, he might be a lock.
Given that Caron's one-way deal means that he'll have to pass through waivers if he's to be sent down to Providence, it seems likely that, paired with his experience, makes him a frontrunner for the spot. With that said, it's also his spot to lose. If one of the Bruins' prospects has an outstanding camp, and it's possible that one of them will, Caron will no doubt be pushed to battle for the last forward spot. Still, it's a long-shot that Caron doesn't make the team and starts out in the AHL. He'll be given a chance–perhaps his final shot–at becoming a full-time NHL pro.
From there, it's up to Jordan Caron to determine his own fate.
Follow Mike on Twitter for more Bruins updates, news, and commentary.
The NHL regular season schedule was released on Friday. Check out our partners at TiqIQ for the best deals on Boston Bruins tickets for all 2013-14 games.
Mike Miccoli covers the Boston Bruins for The Hockey Writers and has been a credentialed member of the media for all Bruins' home games for the past five years. As a former player, coach and official, Miccoli has been around the game of hockey since the age of three. Along with his work on THW, Miccoli has also been published in the New England Hockey Journal, Improper Bostonian magazine and on BostInno.