Some have looked at soon-to-be unrestricted free agents James Wisniewski and Christian Ehrhoff as ideal replacements for Tomas Kaberle in the Bruins defensive corps. Despite helping the Bruins to their first Cup Championship in nearly 40 years, Kabs came under fire for his seemingly dispassionate and "weak" play, leading to this discussion on his value versus the other top PMDs on the market. How do Kaberle, Wisniewski and Ehrhoff stack up? I examined their past three seasons of stats to find out.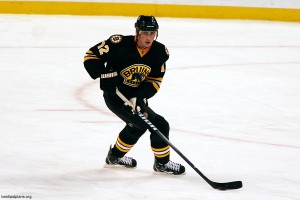 When comparing these three impressive puck moving defensemen, we notice Wisniewski is two inches shorter than both Kaberle and Ehrhoff, but plays a much more physical game, totaling more combined hits than the other two in each of the last two seasons. Kaberle is the one least charged with defensive responsibility, as both Wisniewski and Ehrhoff have each averaged at least a minute of PK time per game in the last three seasons, while he's never seen more than 0:40.
A quick look at their base offensive production statistics evinces the capabilities of each: Ehrhoff is the best goal-scorer in the bunch, averaging double-digit goals over the past three seasons. Kaberle's 37 assists per year is tops out of the three. Wisniewski lags behind at 35 points per season – but his 2010-11 season (51 points including 29 on the powerplay) was undoubtedly a "breakout" campaign and warrants inclusion in this lofty company.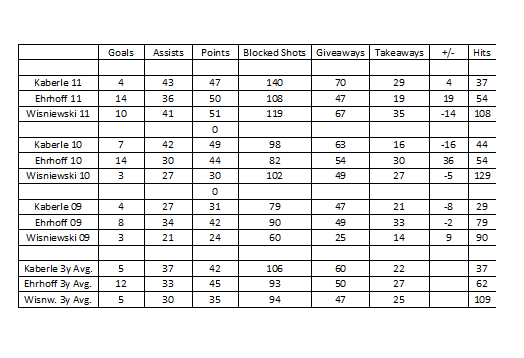 While none of them are frequently charged to handle the best opposition players (which should be expected, considering their offensive prowess) Wisniewski has been most frequently handed tough assignments, with a Relative Corsi Quality of Competition (the average Relative Corsi of opposing players, weighted by head-to-head ice time) in excess of 0.478 in 10-11 and 0.69 in 09-10, whereas neither Kaberle nor Ehrhoff have exceeded 0.24 in any of the past three seasons.
Alternatively, Wisniewski has been the beneficiary of some significantly better linemates, particularly in 2009-10 as we mentioned, where his Relative Corsi Quality of Teammates (the average Relative Corsi of teammates, weighted by ice time together) while with Anaheim was an excellent 2.86. By comparison Ehrhoffs '10-'11 season saw him line up with an excellent 2.36 while playing with the President's Trophy-winning Canucks. Kaberle's RCQoT average over the last three seasons has been the lowest of the three, clocking in at 0.779 – and no wonder, considering he played with a second-rate Toronto squad the majority of that time.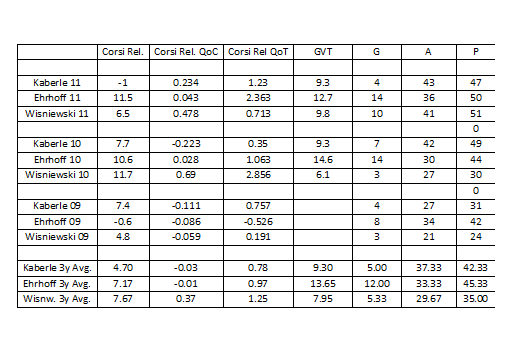 All three of these blueliners get the bulk of their even-strength assists as secondary assists (the assist that did not immediately precede the goal) but the number is skewed more in that direction for both Ehrhoff and Wisniewski. This may account for the impressive even-strength rates-of production from Wisniewski… but that just makes Ehrhoff's even-strength point rates that much less impressive. Additionally, it seems to crown Kaberle as the puck-moving king of this group, as it takes little imagination to guess that a significant portion of his even-strength primary assists were passes off the rush.
On the powerplay these three are the best of the best, accounting for three of the five greatest Corsi Rel's in 5-on-4 play in 2010-11. Ehrhoff has been at or near the top of the pile regarding point production on the powerplay each of the past three seasons. That being said, his vastly superior Corsi Rel QoT on 5-on-4 play might have something to do with it while he played on the first unit of the dominant Vancouver powerplay.  For all the talk of Kaberle as one of the game's best power-play quarterbacks, he was solidly out-produced this season by both Wisniewski and Ehrhoff.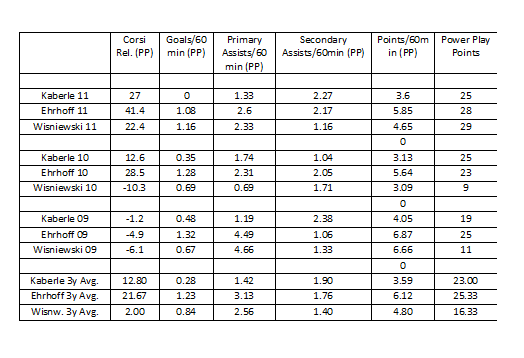 Lastly, Ehrhoff's GVT values (Tom Awad of Hockey Prospectus' Goals Versus Threshold statistic) imply he was significantly better than both Wisniewski and Kaberle. Ehrhoff has had a GVT Value of over 12 each of the past two seasons (12.7, 14.6) while Kaberle has held steady with a 9.3 in each. Wisniewski had a 6.1 in '09-'10 followed by a 9.8 in this breakout year. If one holds the folks at Puck Prospectus in any esteem (and I for one, do) then you must consider this a solid endorsement of Ehrhoff.
After looking at all the data, it's hard to avoid the obvious conclusion – Christian Ehrhoff is the superior player in this PMD-class. His GVT, power-play production, Corsi and other numbers seem to give him a clear lead. Throw in his natural speed and powerful shot and decent (if unspectacular) defensive play and you have one heck of a blueliner.
From the Bruins perspective, getting Ehrhoff signed to a decent deal would be a real coup, and it would instantly and significantly upgrade the team. However, since he turned down a Bieksa-like deal from his former club in Vancouver, I would venture a guess that he's going for the big bucks ($6 million plus?) and given the B's future cap concerns, Chiarelli and Co. would be unlikely to bite.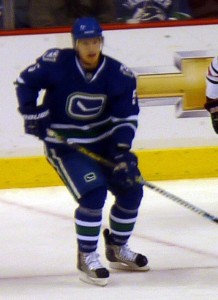 Rumors abound surrounding Wisniewski's preferential destinations, which would seem to include Montreal, where he fit in so well last year and Detroit, for the team he grew up rooting for. Nonetheless, if he's available come July 1, expect the B's to push in a big way for his services – with the understanding that he's the most well-rounded of the three major UFA PMD's.
If he were available for much less than $5 million annually, it would be well worth the risk. James Wisniewski's solitary potent season has me a tad worried that he'll be just a flash in the pan, but his deserving all-around, two-way play and great shot make him a very attractive candidate as well.
This brings us to Tomas Kaberle, who some sources (including TSN's Darren Dreger) have asserted will test the market following an apparent impasse in contract negotiations. I have said for several weeks that if a relatively short-term, relatively discounted agreement could be reached, it would be the ideal situation for Boston. This appears less than likely as Kaberle appears ready to go to the open marketplace, where he could command up to $4.5 million annually. Kaberle's age, combined with what could be the first signs of his skills decreasing (his play for Boston last year and his precipitous drop in Corsi Rel. included) may ward off teams from offering him the money he would have made previously.
So what should the Bruins do? First of all, since it appears all will head to UFA status on July 1st, the B's should not set their sights on any one, but keep their options open in simultaneous negotiations. That being said, they would ideally successfully sign Ehrhoff for a deal around $5-5.5 million annually over 4-6 years. Yes, he's that much better than the other two. Keeping that in mind, signing Wisniewski for something around $4.5m or Kaberle around $4m on 3-4 year deals would be a palatable second choice.
If none of these three are available within the desirable price range then the best option might be to explore the trade market and look intently at the crop of young offensive D's that might be had for a considerable price (Bogosian, Yandle, etc.). Checking out the crop of "secondary" puck movers and offensive defensemen like Andy Greene, Steve Montador or Jonathan Ericsson has some merit. Another option worth exploring would be to promote a player from within like Steven Kampfer, Ryan Button, Matt Bartkowski or dare I say it – Dougie Hamilton?
Bob is a Boston Bruins Correspondent for The Hockey Writers. He lives in the Boston Metro Area with his wife, Amanda and their five-year-old son, Cormac.