Not that he needed to prove it to anyone in Dallas, but Kari Lehtonen's first career playoff victory showed the hockey world the greatness that he is capable of.
Lehtonen put everything he had on display during the Dallas Stars' 3-0 victory over the Anaheim Ducks in Game 3 of the Western Conference Quarterfinals Monday night. A sellout crowd of 19,120 at the American Airlines Center witnessed Lehtonen's first career playoff victory and shutout. It's been a long journey for the 30-year-old net-minder, but Monday night's performance showed the fruits of Lehtonen's years of arduous labor.
[Be sure to check out Best Tickets for all your Dallas Stars tickets needs, this season and next]
Kari Lehtonen Comes to Dallas
On February 9, 2010, the Stars sent defensive prospect Ivan Vishnevskiy and a fourth round pick in the 2010 draft to the Atlanta Thrashers in exchange for Lehtonen. In Atlanta, Lehtonen had struggled to live up to the expectations of being a former second overall pick in 2002. Injuries plagued Lehtonen, and he came to Dallas with a reputation as an injury-plagued goalie with a lot of potential. When healthy, Lehtonen posted respectable numbers, even on struggling Thrashers teams. He registered 94 wins and 14 shutouts while posting average save percentage and GAA numbers over five seasons in Atlanta.
Since arriving in Dallas, the big Finnish goaltender has had to prove himself. He's battled through ups and downs in health, consistency, roster turnover and prominence. However, his calm demeanor in goal and quiet but friendly personality off the ice has remained constant. In little over four seasons, Lehtonen has evolved from a little-known goalie in the Dallas market to one of their most beloved heroes and a growing name around the league. He even receives the classic "we're not worthy" bows at some home games that Stars fans gave Ed Belfour during the Stars' best years.
Lehtonen kicked off his time with the Stars by appearing in 12 games and posting a save percentage of .911 and a 2.81 GAA. Injuries continued to plague Lehtonen in Dallas, but the injuries came less often and for shorter amounts of time. Through his five seasons in Dallas, Lehtonen hit the 30-win mark three times on his way to registering a total of 120 wins and 13 shutouts. Other than his short stint in 2010, Lehtonen has posted a save percentage over .914 and a GAA below 2.67 each season.
Goals and Criticism
Former Stars general manager Joe Nieuwendyk traded for Lehtonen with the vision of him being the team's top goalie for years to come. Safe to say Lehtonen has done that and more in his time with the Stars so far. Lehtonen has become the backbone of the team, playing in 70 percent of Dallas'games since he became the starter. For the most part, the Stars rise and fall with his play in net.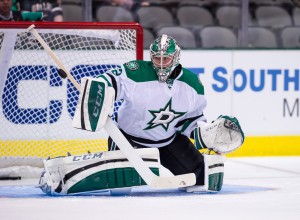 This season, critics seemed to doubt whether or not Lehtonen could handle the pressure of big games more so than in prior years. Three of Dallas' five consecutive seasons without a playoff berth ended in heartbreak within the final weeks of the season. He had led the Stars season after season to the footsteps of the playoffs, but he couldn't carry them through the doors. Just a quick look at the past four games started by the Stars' goaltender demonstrates his importance to the team.
Post-Season Impressions
On April 11, the Stars had a chance to earn their first trip to the post-season in nearly six years with a victory over the visiting St. Louis Blues. Lehtonen led the way with 22 saves in 3-0 win to punch their ticket to the dance. In his first two appearances this post-season, Lehtonen managed 47 saves on 54 shots. He bailed his team out of several big mistakes, but could not get that big save or two that would steal the victory. Lehtonen was good, but he wasn't at his best, and he seemed to play more conservative in both games. He gave the Stars a chance to win, but the team needed a little bit more from him. The Stars fell just short in both games.
In Game 3, the first playoff game in Dallas since 2008, Lehtonen played arguably his best game of the season. He made 37 saves, seldom surrendered rebounds and made enormous saves to give the Stars a chance to win. Usually in the American Airlines Center, Stars fans chant Lehtonen's name once or twice in the span of a game. Monday night, Lehtonen's play prompted at least eight rink-wide chants and several standing ovations. The team responded with confident, determined play en route to a 3-0 victory that gave the Stars life in the playoff series.
http://youtu.be/fP7jHXOh_6E
It's taken a while for Lehtonen to develop into the goalie he was drafted to be, but he seems to have finally reached his potential. Four years ago, the Stars took a chance on an injury-plagued goalie brimming with potential. Today, the franchise and its fans have one of the most underrated and reliable goaltenders in the NHL, and he is determined to lead the Stars to a new era of glory, starting with the 2014 playoffs.