Joel Ward Has A Career Season With the Washington Capitals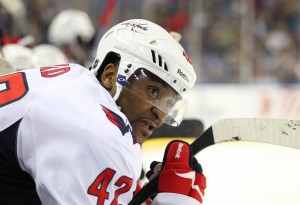 When people first think of the Washington Capitals, they think of Alex Ovechkin or Nicklas Backstrom.  No one really thinks about someone like Joel Ward.  But Ward quietly goes about his business on the ice, and he is one of the finest role players around the NHL that any team would want to have.  Ward has become one of the missing pieces in the Washington Capitals puzzle.  The career highs he posted this season makes him one of the biggest unsung heroes in the Capitals organization.
Ward, 33, is a player who has taken an unconventional route to the NHL.  The North York, Ontario native began playing his junior hockey in Owen Sound of the OHL.  After finishing his junior hockey, he attended the University of Prince Edward Island and played collegiate hockey there.
Ward Goes Pro; Stops in Minnesota and Nashville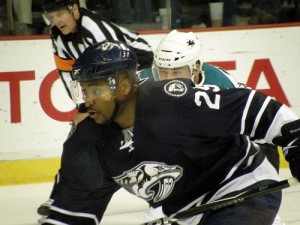 After finishing up his college hockey career, Ward signed his first professional contract with the Minnesota Wild.  He spent the better part of three seasons with the Wild, mainly playing for their AHL affiliate Houston Aeros.
The journey continued for Ward after spending three seasons in the Minnesota Wild organization.  When he finished up in Minnesota in 2008, he headed to Nashville on a one year contract.  He cracked the Predators opening night roster and later evolved into a durable defensive forward.  His good season in 2008-2009 led him to sign a two year extension with the Predators.
Ward became a productive Nashville Predator and made his name known in the 2011 Stanley Cup playoffs.  In the 2011 playoffs, he registered 7 goals and 13 points in 12 games.  He had an incredible playoffs and put a goal starved Predators team on his back by scoring lots of big goals.
Joel Ward Joins the Capitals
After a terrific 2011 Stanley Cup playoffs performance by Ward, he had a busy following summer with lots of offers on the table for his services.  Ward decided to sign a four year deal with the Washington Capitals on July 1, 2011.  His deal carried an average cap hit of $3 million dollars per season.
Ward scored just 6 goals in his first season with the Washington Capitals from 2011-2012.  His lack of production was on notice for a $3 million dollar player, but he was forgiven by everyone after he scored the game winning goal against Boston in Game 7 of the 2012 Stanley Cup Playoffs.

2013-2014 Career Highs in Goals and Points
Fast forward to this past season, Ward became a mainstay on the Capitals third line.  Ward and linemates Jason Chimera and Eric Fehr were one of the Capitals' most consistent lines all season.

Courtesy: Elite Prospects
Adam Oates made a brilliant roster move shifting Eric Fehr to the centre ice position.  This helped stabilize the Capitals third line, which ended up providing some secondary scoring punch.
Joel Ward scored 24 goals and had 49 points which were both career highs for him.  He led the Capitals with a +7 rating, tied with Steve Oleksy.  His 24 goals were third best on the Capitals behind Alex Ovechkin (51) and Troy Brouwer (25).  Ward's 49 points were third best on the Capitals behind Alex Ovechkin (79) and Nicklas Backstrom (79).  He averaged 16:04 of time on ice, sixth best among the Capitals forwards.
Ward saw some powerplay and penalty killing time during the season.  He recorded his first career NHL hat-trick on November 1, 2013 against the Philadelphia Flyers.

Ward led the Washington Capitals with two short-handed goals this past season.  Here is one that he scored against the Columbus Blue Jackets on November 12.

The Difference Maker in Washington
Joel Ward blossomed into one of the best role players the Washington Capitals have ever had.  He wears his heart on his sleeves and never takes a shift off.
His dedication to hockey and blue collar work ethic have become noticed in Washington D.C.  He is constantly getting involved in community events and he makes a constant effort to try and grow the game of hockey.  Joel Ward is a great example of hard work paying off.  He may not be the fastest or the most skilled player in the NHL, but what physical traits he lacks he makes up for with constant hustle and effort.
Thanks for tuning in!