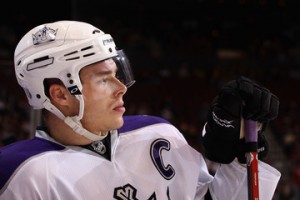 If ever the Kings need a reminder that they aren't breezing through the playoffs like during 2012, they only have to check the game tally after their close, hard-fought 2-1 loss against the San Jose Sharks Sunday night.
All tied up, 3-3. With tonight's defeat, Los Angeles has now lost more games in the first two rounds of the 2012-13 playoffs than they did during all of last year's magical run. Instead, things are all knotted up tight as a drum, the home team winning each game. History isn't being re-written, and yet the Kings are still in prime position to reach the Western conference finals for only the third time in their 45-year existence.
Regarding the home ice advantages each team has enjoyed, San Jose head coach Todd McLellan noted, "It's followed a script. It's time for us to get there and change this story. Obviously, we're going to have to play much better than the last time we were in L.A. They earned the right for home ice. It's our job to take it away from them."
Game six starts with a bang for the Sharks
Fast starts are always important, but especially so in this series, as the team that has scored first has won every game. This fact has not been lost on longtime Sharks center Joe Thornton, who said, "It seems like whoever scores first wins the game," Thornton said. "We did that. Just a huge game tonight."
San Jose possessed the early energy, at one point outshooting Los Angeles 8-2. More importantly, they were also the benefactors of the early whistles. Kyle Clifford was called for charging at 1:14, despite seeming to try to minimize his hit on Patrick Marleau. Although the Kings killed the resulting penalty, momentum was firmly on the Sharks' side, reaching a fever pitch when Mike Richards (hooking) and Anze Kopitar (delay of game) both went to the box within 14 seconds of one another before the game was five minutes old.
Kings head coach Darryl Sutter put it succinctly: "It's not very good that your first two centermen are sitting over in those good seats over there looking at you."
With the 5-3 advantage, San Jose moved the puck around crisply and ultimately struck first, as Joe Pavelski's cross-crease pass was deposited into the net by Joe Thornton, as seen here:
That goal, along with a couple of Sharks' penalties later in the period seemed to awaken Los Angeles, who outshot the backpeddling Sharks 7-0 during the remainder of the period. However, when the horn sounded, it was San Jose that sat on top, up 1-0.
Reflecting on their offensive struggles, Mike Richards said, "Seemed like we had a tough time getting it together and getting sustained pressure. They kept us to the outside most of the night. It's disappointing." He added, "At the same time, it's one of those games you have to put behind you, move on and get right back at it on Tuesday.
Galiardi provides unlikely offense
In a series dominated by defense and goaltending, unlikely heroes often rise to the forefront to score key goals. T.J. Galiardi, with just five goals in 36 regular season games, fits the bill, and at 4:10 of the second period, he delivered. Galiardi streaked down the boards to the left of Jonathan Quick on a 2-2 rush and snapped the puck past Quick for the 2-0 advantage.
"Jumbo has been telling me the whole time, just be patient — you're going to score when the boys need it the most," said Galiardi. "He was a bit of a fortune teller tonight."
Dustin Brown draws the Kings close
The Kings captain has seen his ice time reduced during the series, skating predominantly with the third line over the past two games. Brown has historically responded well to metaphorical swift kicks, and did so tonight, registering three shots and three hits in 18:06 of ice time.
More importantly, he put the Kings on the board with a hard-working shift that saw him streak into the Sharks zone, drop the puck to Dustin Penner, and then deposit the rebound of a Matt Greene blast on a hard angle off Antii Niemi and into the net. With the goal, L.A. was back in the game, down just 2-1.
The Sharks close it out with a terrific third period
During the final 20 minutes, San Jose bottled up the Kings in their own zone for much of the period, keeping them from peppering Niemi with good scoring chances. Los Angeles seemed confused during the final ten minutes, repeatedly turning the puck over in the neutral zone and utterly unable to maintain any sustained pressure. In fact, according to ESPN, not a single third period shot recorded on net was from within 47 feet.
When the final horn sounded, the Sharks had won the shot battle 26-25 and had also dominated in the faceoff circle, winning 31 of 53 draws. L.A. outhit San Jose 41-22, but it wasn't enough, as the Kings fell to the Sharks in game six, 2-1.
Post-game quotes
"I didn't think we played well, to be honest," said Mike Richards. "Everything seemed like it was to the outside and we couldn't generate anything. We have to find a way to do that and obviously on Tuesday night, hopefully."
Darryl Sutter was in no mood for softball questions after the game. When asked by a reporter to comment about Tuesday's game being the first game seven for the franchise in eleven years, he said, "So should we have a major announcement tomorrow that we haven't played a Game seven?"
Anze Kopitar summed the team's situation up well, heading into the decisive game seven: "It's going to be a hard game. We know we've got to bring our best. It's going to be in our home building, so that's a plus. We've been good at home. We've got to continue playing like we did at home."
No, this isn't 2012 anymore. And yet, the franchise's magic carpet ride over the past two seasons can continue with just one more win on Tuesday night.
Walter McLaughlin is a Los Angeles Kings correspondent for The Hockey Writers. He is an avid sports fan, having followed the Kings since living in L.A. in the mid-1970's, as well as suffering through Seattle sports teams' general futility. He has a Bachelor's degree in Finance and has worked in community banking for over 25 years, specializing in SBA loans. He is married and has two daughters.