It is a challenge that no NHL head coach wants to have, but a welcomed one nonetheless: three goaltenders for two positions. This is what Seattle Kraken head coach Dave Hakstol and general manager Ron Francis are facing in the coming days and weeks.
Philipp Grubauer
After spending the first nine years of his career with the Washington Capitals and Colorado Avalanche, Philipp Grubauer tested the free agent market, and on July 8, 2021, the Kraken signed the now 32-year-old to a six-year, $35.4 million contract. This deal served notice that the Kraken found their number one netminder for their expansion season and beyond. In his first season, the German native struggled. He won 18 of 55 games, had a goals-against average (GAA) of 3.16 and a save percentage (SV%) of .889. Not stellar numbers at all, but the team wasn't either.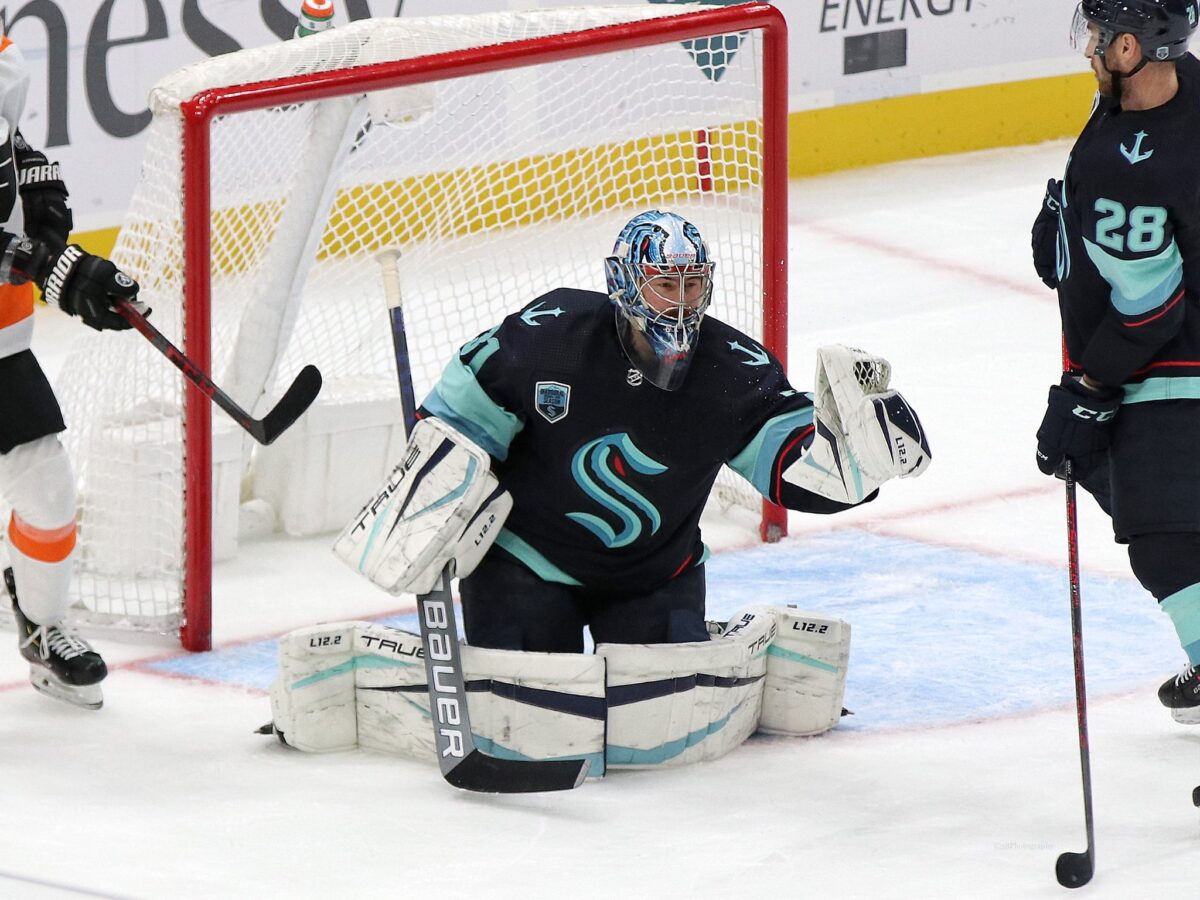 This season, injuries have been the biggest issue. The Kraken placed Grubauer on injured reserve last October with a lower-body injury sustained during a game against the Avalanche on Oct. 21. After missing 13 games, he returned on Nov. 25 against the Vegas Golden Knights. This past January, he started to show signs of turning things around, allowing just seven goals in four starts.
Chris Driedger
Just before the Grubauer signing, Francis inked Chris Driedger to a three-year, $10.5 million contract, but like Grubauer, the 28-year-old had a tough first season, battling injuries and inconsistency. He appeared in 27 games and posted a 2.96 GAA and a .899 SV%. But, that wasn't the worst of it. When the Kraken missed the playoffs, he went over to represent Team Canada at the World Hockey Championship in Finland. It was during the gold medal game against the Finns that he suffered a torn ACL in his right knee. He would undergo surgery that June and his recovery time was anywhere from 7-9 months.
Related: Meet the New Kraken: Defenseman Jaycob Megna
---
Latest News & Highlights
---
After missing 49 games, Driedger returned to practice earlier this week which was a welcome sight to see after nearly nine full months away. There is no word as of yet when he will play, but just to be skating again is a very good sign.
Martin Jones
Name the goaltender in the NHL who has a record of 23-9-3 in 36 games, three shutouts, .891 SV%, and a 2.92 GAA…and is on a one-year, $2 million contract. If you said Martin Jones, then you are correct. While the GAA and SV% could be better, it's been a bounce-back season for the 33-year-old after a tough last few years with the San Jose Sharks and Philadelphia Flyers. Don't forget that Jones was on quite a run from 2015-2019, winning 37, 35, 30, and 36 games respectively in each season with the Sharks, and saw his GAA dip as low as 2.16 and SV% as high as .918.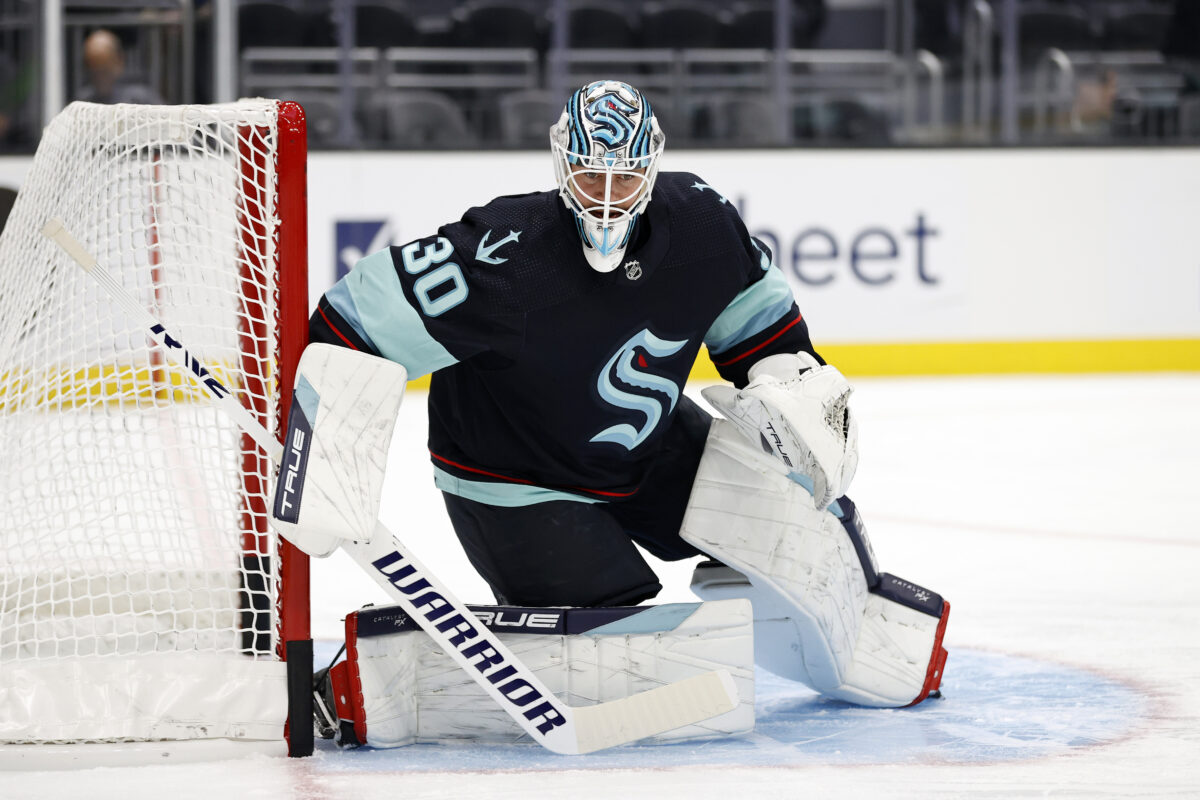 When Francis heard the news that Dreidger would be out for most of the 2022-23 regular season, he had to do something. So, on July 13, 2022, he signed Jones, which has turned into one of the best bargain signings of the season.
At that time, I would assume Francis didn't give a lot of thought to the idea that one day all three goalies would be healthy and ready to play. I can tell you this – he's thinking about it right now.
What Will Francis Do?
That is the question. Yet as daunting a question as this is, the Kraken have options. One, they can elect to keep all three on the roster, which on the surface makes a lot of sense as you have two that have been hurt and dealing with injuries for much of the season in Grubauer and Driedger, and the other who has had to take on the bulk of the workload. In this case, giving each of them some rest between starts would be helpful. If they did this, however, that would eliminate a roster spot for another player.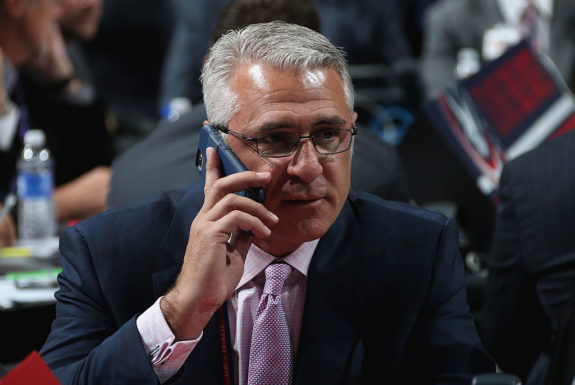 Another option is sticking with two, and that's a very hard decision for Francis. Jones hasn't played as well lately but has carried the team. Grubauer has been playing his best hockey of the season after posting a .940 SV% in the month of January. Driedger of course has yet to see any playing time, but when he is ready to go and fully healthy, what do they do? He hasn't played a hockey game since May 29, 2022.
And then there is the issue of the salary cap and the trade deadline which happens on March 3. As of right now, the Kraken will have just over $2.53 million in cap space to use at the deadline, which, like most teams, isn't very much. However, if they try and pull off a trade involving one of Grubauer, Jones, or Dreidger, that could free up some space and also solve the dilemma of who they will go with for the rest of the season. Grubauer has a cap hit of $5.9 million, Driedger $3.5 million, and Jones $2 million for a total of $11.4 million. That is a lot of money to carry for three goaltenders.
Kraken's Remaining Schedule
With under three weeks to go until deadline day and close to nine weeks left until the last game of the regular season, the Kraken find themselves in a tough spot. They suddenly have dropped into a wild card spot with 63 points. The Los Angeles Kings and Edmonton Oilers are now ahead of them with 65 points while the Vegas Golden Knights sit atop the Pacific Division with 66. Adding to that, the Minnesota Wild and Calgary Flames are both three points back of Seattle, so it's clear that things are getting very tight.
Last season 97 points got you the last wild card spot in the conference. The Kraken have 30 games left to go and to get to that 97-point threshold, they would need 34 points. Very doable for this team. For instance, if Seattle won just 17 of their remaining games, they would get to 97 points. But, the issue is they will have to do much better than that, and it may just come down to who is in goal.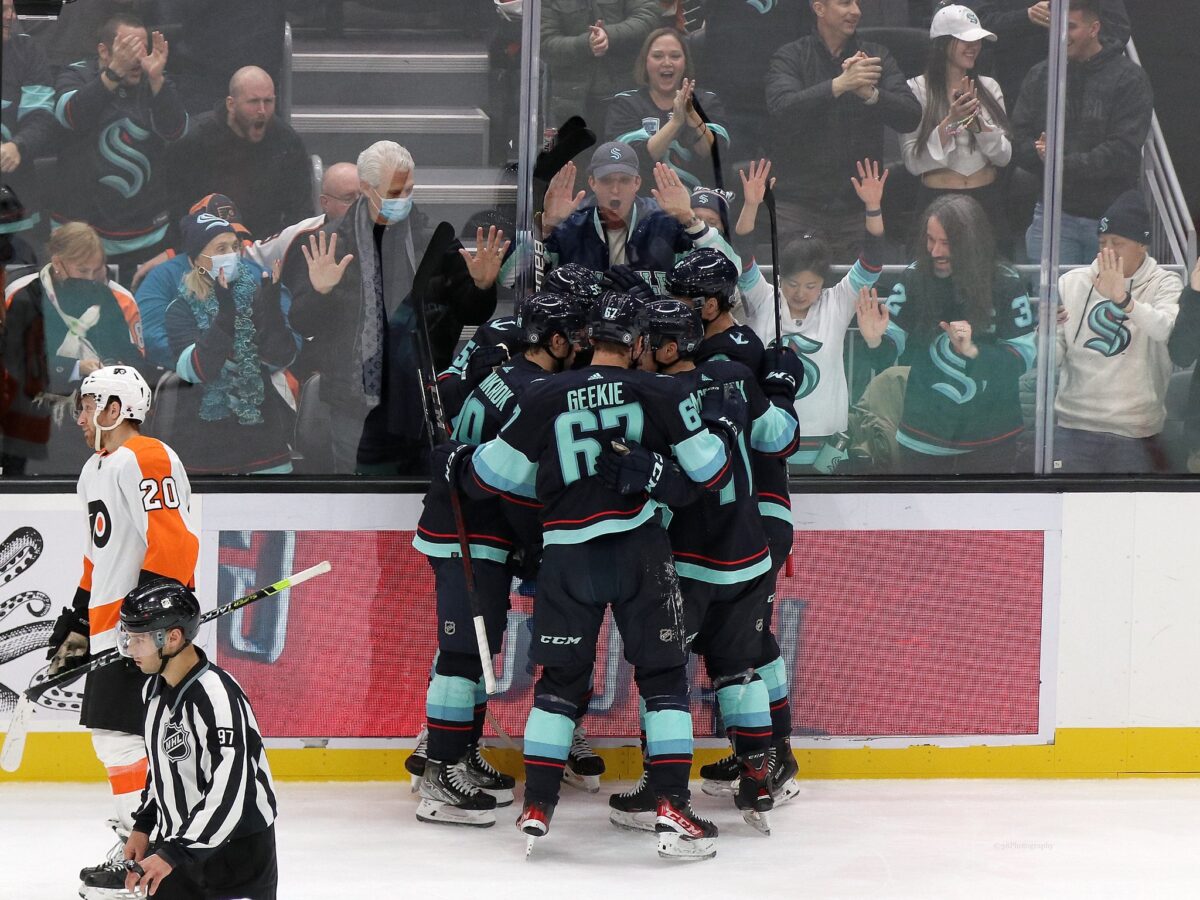 With Francis' head spinning, Hakstol's must be as well. Going through his lineup card and seeing three capable goaltenders to choose from on any given night can be a good thing, but it can also leave him with questions. Is Grubauer going to be the goalie from January consistently through April? Can Jones maintain his play the rest of the way in what has been a very good season? Will Dreidger be game-ready and have enough practice time to take a chance on him? These questions will be answered in the coming weeks.
---
---