The Calgary Flames and forward Kris Versteeg are finalizing a one-year deal that will pay the 31-year-old $1.75 million to remain in Calgary for another season for the 2017-18 season, as reported by Darren Dreger of TSN. Versteeg joined the Flames in October of 2016 on a one-year deal that saw him earn $950,000 following his time in Edmonton on a Professional Try-Out (PTO). Proving to be an invaluable member of the team on an affordable deal, the Flames offered him almost double his earnings from the previous season to stay with the team.
Kris Versteeg and the Calgary Flames are putting the finishing touches on a 1 year contract to keep Versteeg with the Flames. $1.75 mil.

— Darren Dreger (@DarrenDreger) June 29, 2017
In 69 games in a Flames uniform last season, Versteeg scored 15 goals and 37 points. He came alive for the Flames in the postseason, scoring one goal and four points in four games despite the team ultimately being swept by the Anaheim Ducks. Versteeg has always been a reliable forward and is a virtual lock for double-digit goals as a secondary scoring option and will remain with the Flames to help bring leadership to a young core looking to take the next step.
Though the Flames are making changes this offseason, including a goaltending change that saw Mike Smith take the reigns as the new starter in Calgary as well as the addition of defenseman Travis Hamonic, the team elected to keep one of their spiritual leaders in Versteeg for at least another year. Getting the opportunity to remain with the same team again for at least one more season has to be relieving for Versteeg given how well he performed last season, but he's certainly no stranger to changing teams at this point in his career.
Long Journey for Versteeg
In his first two full seasons with the Blackhawks in 2008-09 and 2009-10, Versteeg scored 22 and 20 goals with 53 and 44 points respectively. He proved to be a valuable commodity for the Blackhawks, though as it proved to do so many times in later years, the salary cap forced the Blackhawks to part ways with a plethora of talented players to remain competitive. Versteeg was one of many players to experience that as other talented players like Dustin Byfuglien, Andrew Ladd and Brandon Saad – and more recently Artemi Panarin and Niklas Hjalmarsson have also been moved as the result of salary cap purposes.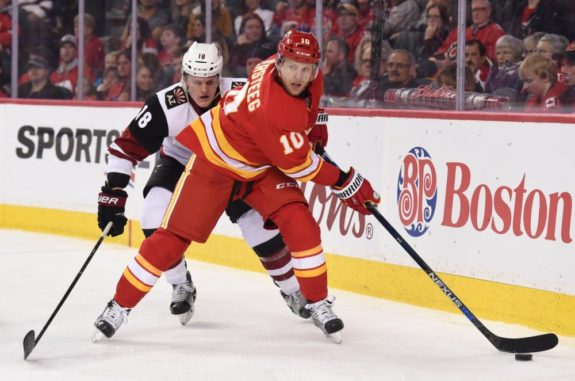 Just one year into a three=year. $9.25 million contract extension, Versteeg was moved to the Toronto Maple Leafs following his first Stanley Cup Victory with the Blackhawks in 2010. This became a common theme for Versteeg who was later moved to the Philadelphia Flyers before signing a four-year $17.6 million deal in Florida. Versteeg has also played for the Carolina Hurricanes, the Los Angeles Kings and briefly saw another stop in Chicago before eventually finding his way to the Flames. It isn't often that a fifth-round draft pick makes the NHL, but at 31 years old, Versteeg has proven to be one of the exceptions to the rule. With 619 games under his belt, Versteeg has scored 146 goals and 350 points and has contributed 18 goals and 48 points in 93 postseason contests. He's also a two-time Stanley Cup Champion with the Chicago Blackhawks in 2010 and 2015.
Brandon Share-Cohen has covered the NHL and various professional sports for seven years. Working with The Hockey Writers, Brandon works extensively on covering the Boston Bruins in addition to his role as the News Team Lead.