EL SEGUNDO, CA — If the Los Angeles Kings expect to take the next step in the 2010-11 National Hockey League season, center Anze Kopitar must take the next step in his career as well.
As soon as the 6-3. 222-pound center from Jesenice, Slovenia hit the ice for the Kings, he became their best center since Wayne Gretzky donned a Kings jersey, starting in the 1988-89 season.
In his rookie year, the 2006-07 season, Kopitar scored twenty goals and tallied 41 assists for 61 points in 72 games.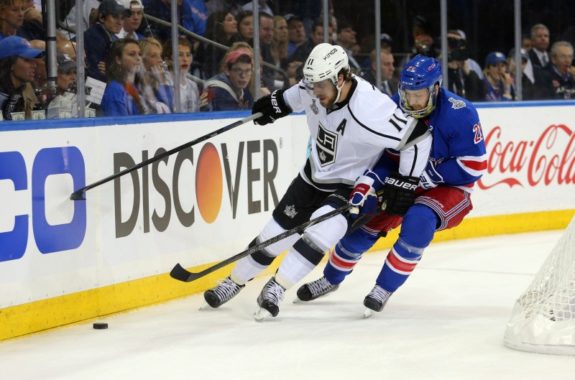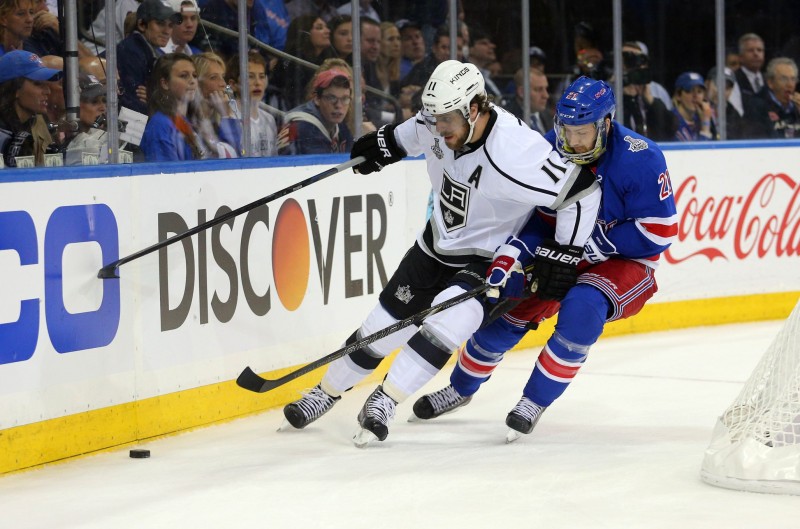 He improved on those numbers in 2007-08, scoring 32 goals and adding 45 assists for 77 points in 82 games.
Kopitar's numbers declined a bit in the 2009-10 season, when he scored 27 goals and contributed 39 assists for 66 points in 82 games, but he got back on the upswing last season, scoring 34 goals and adding 47 assists for 81 points in 82 regular season games.
He also added two goals and three assists in six playoff games.
Looking back at Kopitar's career, the trend is mostly upward and reaching the thirty-goal and 80-point marks last season are certainly nothing to sneeze at.
But his last two seasons have been marked by inconsistency.
In 2008-09, Kopitar got off to a slow start, failing to score a goal until mid-November and by the time New Year's came around, he had scored just ten goals.
In 2009-10, Kopitar started the season so hot, he was melting the ice as he scored 14 goals by November 9 and led the league in scoring for a short time. But after that, he went into a big slump, going a month without scoring a goal and scoring just once more before the New Year.
Kings head coach Terry Murray said that injuries to line mates Ryan Smyth and Justin Williams had an impact on Kopitar.
"It's all a learning curve for him, a young player playing in the National Hockey League, just figuring it out over the early part of his career," said Murray. "Scoring is not just an individual thing, either. It does take a line, and we got very unfortunate with his line this [past] year. They got off to a tremendous start. They were on fire."
"We lose Ryan Smyth [and then], after 22 games, he comes back, [but] in his first game back, Justin Williams goes down," added Murray. "Those were very unfortunate injuries that happened to both players."
"It [took] the momentum, the magic they had going away from the line and away from the team. It does take five guys today in order to generate offense, to score, and to get yourself in position to score on a consistent basis. The way teams are structured on the defensive part of things today, if you're off by a foot or out of position by a foot, [compared] to where you were a month [prior], that's all it takes in order for frustration to set in at any given time."
Indeed, Kopitar appeared visibly frustrated at times, as he struggled during that six-week slump.
"That happens," Murray pointed out. "That's young guys having to learn to make adjustments to those situations. As you mature as a player and grow in the game, you're going to find other ways because it's demanded of you."
"Kopitar is a very intelligent, high-skilled player," Murray added. "He's going to find ways to come through the next time he's in that kind of scenario."
Although many wondered if Kopitar had become worn down, physically, contributing to his slump last season, he denied it.
"I don't think that was physical," he said. "Teams are going to prepare for you, maybe spend a few more minutes looking at your [videos]. Everybody focuses on you, so I don't think it's too much that physical game, meaning that my body can't handle it. Teams are getting ready for you."
"Always, when you get off to a good start, you're going to draw some attention to yourself, so everybody's going to put in some extra work against you," he added. "That's what you've got to deal with."
Kopitar must continue to work on his strength and conditioning in order for him to reach the next level.
"It's a couple of things," Murray emphasized. "Keep the physical, hard work as the priority. When you have skill, you have to bring hard work to your game in order to bring the skill out. That's something I've really been proud of Kopitar in the two years. He brings that kind of importance to his game every day, practice and games."
Like the rest of his teammates, the 23-year-old center spent the summer working out, having been given a training program to follow.
"I didn't do anything new," said Kopitar. "It was just the basic stuff that I did last year when I was here those three weeks with [Kings Strength and Conditioning Coach] Tim Adams. The workouts were a little longer."
To reach that next level, Murray stressed that Kopitar must take on greater responsibility.
"The other thing, and now it becomes a mental thing, is the attitude that you have to continually push yourself," said Murray. "I talk about ownership of the team, taking on more responsibility. For me that's a big part of the next step for Kopitar—more ownership of the team this year in leading the way, setting the example and demanding more of your teammates as one of the premier players on our team."
"That works real well for you as an individual," added Murray. "That will push yourself and get you more into getting done what needs to be done to help your teammates. It's kind of a give-and-take in the demand side of things."
"That was something that was addressed with Kopitar at the end of the year in the exit meetings and it's something we've talked about by phone this summer. I just want him to prepare himself in order to take on more of a challenge, more responsibility as we get started this year."
Murray explained that Kopitar already possesses elite-level skills, saying that Kopitar has the potential to be a superstar.
"I love the plays where he carries the puck with speed through the neutral zone," said Murray. "I remember a goal against Pittsburgh where he comes in off the left wing side and cuts hard to the net and makes a great play to score a goal."
Last season, Kopitar drove to the net more than he did in previous season, adding that threat to his game.
"Overall, he's one of the players in the league that goes to the net pretty well," Murray noted. "He gets that attitude and he's so big and strong that he's able to get that middle lane drive and get going to the net."
"I really like his attack attitude to the net," Murray added. "He's very determined, very demanding of himself, most of the time, to take that puck to the net. Even if he goes around the net, that jam play on the other side is a good play, and he has the range and size to make those good plays happen."
"Just getting pucks through the crease off that wrap-around from around the back of the net—now we have Smyth going to that weak side post. It's a real good play. When it clicks, it's beautiful. [Of course], when it's off by a foot, you're wondering why he went around the net sometimes."
Beyond reaching the next level, can Kopitar attain the superstar status that Murray thinks he is capable of?
To his credit, Kopitar was rather humble when asked what he thought he had to do to get there.
"It's a matter of getting better, doing the things right on the ice, leading the way in all areas that I can," he said. "That's the challenge for every player coming into the season and that's what I've got to focus on. Working hard, being committed to all the things on the ice and off the ice."
"Hopefully, I'll be there someday."
Gann Matsuda is a native of the Los Angeles area who grew up playing roller hockey in the local schoolyard and has been following the Los Angeles Kings since 1973, when he was still a little kid.
Matsuda is the publisher of the popular site, Frozen Royalty, covering the Kings and the NHL. He has been writing about the Kings since 1986, and has been credentialed by the Kings since 1997.
In February 2009, Matsuda became a member of the Professional Hockey Writers Association.