The Los Angeles Kings geared up for the playoffs last week with a couple of notable deadline acquisitions, but Tyler Toffoli could be an in-house x-factor.
Toffoli, 25, broke out in 2015-16 for 31 goals, 58 points and a league-leading plus-34 rating. The winger's offensive numbers dipped last year, partially due to missing 19 games and a career-low 9.7 shooting percentage. Through 65 games this season, the Scarborough, Ontario native owns 21 goals and 38 points and has picked it up with regular center Jeff Carter back in the lineup.
A Second-Line Reunion
Toffoli has been a reliable two-way forward on the Kings' dynamic "That 70s Line" alongside Carter and Tanner Pearson. The trio has been split at times to better balance the lineup, but a rolling top line and newly minted third group should see them earn considerable time together down the stretch.
Anze Kopitar, Alex Iafallo and Dustin Brown have cemented themselves on the top line. Surprising rookie Adrian Kempe has proved to be a stable third-line center and has been flanked with some recent reinforcements in two-way veteran Nate Thompson and speedy Tobias Rieder, whom is packed with potential.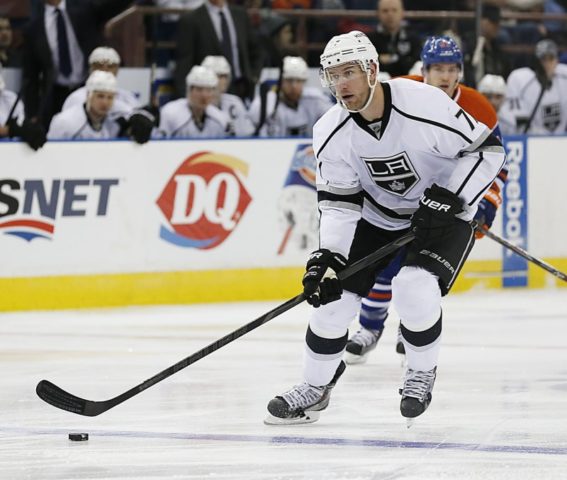 Following a 55-game absence from a lower leg laceration, Carter returned to his regular line, which has combined for six goals and eight points in its first four games back together. They've helped propel the Kings to three straight victories, which include a pair of wins over new division rival Vegas.
"Those Vegas games … it was almost like a book-end to the stretch run. We knew they were big games, we were trying to get our foot back in a playoff spot, so we really put a lot of emphasis on just focusing on those games," Kings coach John Stevens said following Thursday's win over Columbus.
The ever-consistent Carter stirs the proverbial drink as a strong centerman for Toffoli and Pearson. With three consecutive 60-point seasons, his return should help the pair get to the high level they've shown flashes of more regularly.
The Kings' second line has been a large part of their success and 2014 Stanley Cup championship, where "That 70s Line" first found chemistry. All three members post strong possession metrics, steadily generate scoring chances and can find the back of the net. Toffoli and Carter have each hit the 30-goal plateau and Pearson scored a career-high 24 goals last season.
Toffoli's Win/Loss Stats
Kings general manager Rob Blake addressed his team's needs at the deadline, bringing in aforementioned Rieder and Thompson, who came in with veteran defenseman Dion Phaneuf from Ottawa. Patching holes doesn't guarantee a playoff spot, but the Kings currently sit third in the Pacific after winning their past three.
But with a healthy, revamped lineup, the Kings will be a scary team down the stretch. Expect Toffoli to be right in the middle of it.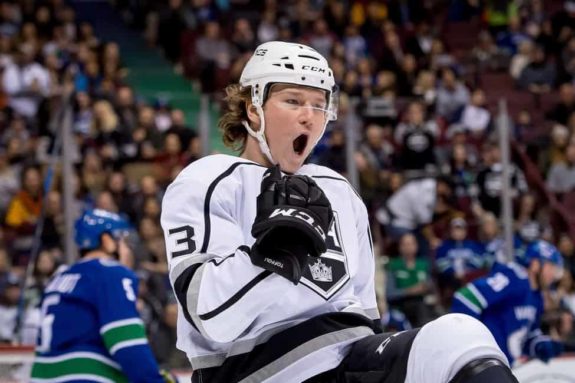 They've been elite when Toffoli's at his best. He's proven to be a game-changer and was an underrated part of Los Angeles' 2014 Stanley Cup team as a 21-year-old.
The Kings are 195-163 in Toffoli's career through strict win/loss numbers, but when you break down his stats in each scenario, his value is clear. In the team's 195 wins, Toffoli has recorded 78 goals, 83 assists, 161 points and a plus-134. However, through 163 losses, he's scored just 27 goals and 25 assists for 52 points to go along with a minus-37.
Toffoli has continued his trend this season, with 15 goals and 29 points through the team's 36 wins. When he's going, the whole team takes note and he's currently riding a four-game point streak.
"I think Ty's game is trending in the right direction, both he and Tanner [Pearson] I think," Stevens said recently.
Postseason Push
With 17 games remaining, more wins are sure to come for the Kings, which means Toffoli is about to get even hotter. Los Angeles will need it in order to return to the postseason after missing out in two of the past three years.
Kopitar is having a Hart Trophy-caliber season, but if the Kings want to reclaim the throne, the depth will need to pick it up and Toffoli will need to find the spark he had during his 30-goal season.
The Kings have been the essence of "just get in." They won the Stanley Cup as the eighth seed in 2012 and then again in 2014 as the sixth seed. With an ability to ride a hot streak into the playoffs and Jonathan Quick in the crease, they could be eyeing another title.