LEAFS DAILY:
Please Note: This article contains player stats current before the start of the Leafs/Avalanche game on Monday, December 21st. 
The Leafs beat the Avalanche last night in an extremely entertaining game, and while they do have another game left before the break,  holiday activities will prevent me from writing this on Christmas Eve, so I figure we're close enough to just go with it.
Currently, the Leafs have played 32 games – which is less than most teams – and while the Ducks and Blue Jackets are tied for last with 29 points each, the Leafs are the next worst team, sitting in last place in the Atlantic, as well as second last in  the Eastern Conference and the league with 31 points.  Their twelve wins is also tied for the lowest amount in the NHL.
The state of the team, however, isn't as bad as it looks. For one, 13 of the NHL's 30 teams are within six points (three losses) of last place overall. A couple of wins and the Leafs could easily jump to the middle of the pack, and the team is on a seven game point streak.
Also encouraging is that the Leafs have played the toughest schedule in the league so far and have the easiest schedule remaining.  Not to mention that it is highly unlikely that whatever goalies they use the rest of the way will sabotage them in the way that Jon Bernier's play has so far.  While certainly disappointing, Bernier has played so far below his career averages that it is more than reasonable to assume that he will improve as time goes on.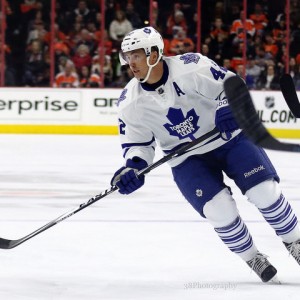 The same can be said of Nazem Kadri.  There is no doubt among anyone who's watched the Leafs play this season that Kadri has been their best player. He plays the most minutes among forwards and has shot and scoring-chance totals that  put him with the most elite players in the NHL.
Now, he has not scored point totals that put him in that company, but if he keeps up his good play, he eventually will.  (Note, he does have six points in his last six games, an 82 point pace). Prior to this season, Kadri scored on over 10% of his shots, while this year he is shooting just 3.5%.  As the season goes on, this will rise and he will score more points. In fact, since November 20th Kadri has been shooting 10%, which is in line with his career total and a sign that he's out of his luck-based slump.
With an easier schedule, closer to expected production from their best player and improved goaltending, the Leafs should put points up at a much more frequent pace than they have so far this year.
Stats and Stats…
Prior to the Colorado game last night, the Leafs had the eighth worst amount of 5v5 goals for so far this year, but they are ninth best in goals allowed. If you consider that their top centre spent so much time in an incredibly unlucky cold-streak, and that they got such bad goaltending from their opening-day starter that he had to go to the AHL, these stats are both fairly incredible, and, I think, give credence to the idea that they should end up a little higher in the standings than they currently sit.
The Leafs have another reason to expect to improve: Their power play. The Leafs lead the NHL with the best possession stats on the power-play, and yet they sit tied for the fifth fewest amount of goals scored with the man advantage.  This is almost certain to balance out, and while they likely won't finish the year with the best power-play possession, they are more than due to rack up some PP goals, which will have a positive effect on their record.
When it comes to even-strength possession, the Leafs are just a notch below 50% and sit 15th in the NHL.  That might not sound good, but if you consider their roster and the expectations, it is quite impressive. To sit right in the middle of the league in possession, but last in points suggests that the Leafs have come out on the wrong side of the luck equation and that things will work out better for them in the future.
No guarantees, but they do have probability on their side.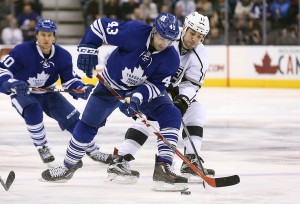 Individual Players
I don't want to get too bogged down here, so I'm just going to list off some of the things I think are pretty impressive.
 Brad Boyes has 7 even-strength points and a nice 1.88 points/60.  Considering he was healthy-scratched at one point, his contributions have been, in my opinion, underrated. He should be able to garner the Leafs a nice mid-round pick later in the year. He also has a team leading 56% CF rating.  He is an impressive player who doesn't seem to age.
2.   Leo Komarov has 13 goals and 21 points, leading the team in both categories. He is also                                rocking a pretty impressive 53% Corsi rating.  The fact that he's racking up the points while                        playing elite defense is very impressive.
3.   Kadri, playing top line minutes and being the offensive focal point of the team, has a                                      fantastic 51% CF rating, is 5th in the NHL in individual scoring-chances among forwards, is                          15th among centres in scoring-chance differential (good because he plays on a bad team)                              and he is 3rd in total shots for among centres (all these stats are 5v5).  If we include all                                 players in all situations, Kadri is 9th in the league in shots.
Though his 3.5% individual shooting percentage is hurting his totals, he has played an                                   amazing two-way game and has developed to the point where he is a useful player even                               when he doesn't score.
In conclusion, the Leafs – for a team almost unanimously considered to be the worst in the league, and currently sitting in last place – actually have a lot of reasons to be impressed so far. It took a massively unlucky streak for Kadri, the toughest schedule in the league, and their starting goalie being sent to the AHL for it to happen, so I think there is a lot to look forward to the rest of the way.
Well, unless you actually want them to finish last, that is. If that is the case, I think you might find yourself disappointed when it's all said and done. The way things look, the Leafs figure to finish just outside the Playoff picture and in that no-man's land where you don't get to play in the playoffs or pick high in the draft.  But, I believe that the Leafs might actually have an outside chance at a playoff spot, because their team is well balanced, well coached, deeper than people think and due for some better luck.
The Leafs are also in an unusual situation in that they could move out players at the deadline and replace them with players just as good.  For example, Peter Holland could play for Tyler Bozak, William Nylander would likely be (at worst) the third best forward on the team, and Martin Marincin, Scott Harrington and Stuart Percy could replace Roman Polak, Matt Hunwick and Dion Phaneuf without losing much, if anything.
With the team playing better than expected and roster moves sure to come, it should be an exciting rest of the season.
Thanks for reading.
All stats waronice.com