LEAFS DAILY:
The Leafs (8-13-5) are in St.Louis tonight to take on the Blues (15-7-4). While the Blues will start emerging superstar Jake Allen, the Leafs will counter with  Garret Sparks for his third NHL start because James Reimer re-injured himself Thursday against the Wild.
It was a nice story when Sparks shutout the Oilers to become the first Leafs goalie to get a shutout in his debut. The story took a dark turn though when the Jets then feasted on an AHL goalie, putting six past Sparks Wednesday night.
Hopefully Sparks can make good on his debut, but he's in tough against a Blues team that is among the league's best.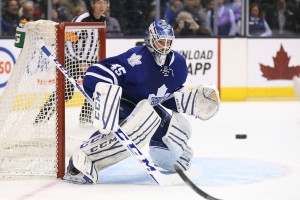 Revolving Goalies
I didn't really talk much about sending Bernier down, but it's kind of crazy that that actually happened. I really don't feel too bad for millionaires all that often, but it's got to suck getting sent down like that and then having the teams play in the same town.
I don't think Bernier is as bad as he's been this year, and I am sure he'll find his game and revive his career. Is that going to be with the Leafs? I doubt it, but who knows?  If we know anything about hockey, it is that you cannot predict what a goalie will do year-to-year.
I mean, I expected a weird season, but Reimer emerging as one of the NHL's best while Bernier heads to the AHL? That isn't something anyone could have predicted. The sad thing is that this goalie drama has been about the most interesting thing happening so far this season.
Mike Babcock confirms that Reimer will sit the next two games and Jonathan Bernier will remain with the Marlies.

— Jonas Siegel (@jonassiegel) December 5, 2015
Is that the weirdest thing though? I think having Bibeau backing up Sparks against the Blues only two months into the season is perhaps even more unexpected.
This is good news for Tank Nation though.  Probably.
Toronto Marlies
The Leafs might be terrible, but at least the farm club is doing well. The Marlies currently lead the AHL with 33 points and a 16-5-1 record.
Last night, Bernier made his unexpected 2015 AHL debut and recorded a 4-0 shutout. That has to be a relief.
William Nylander leads the AHL with 26 points in 20 games. T.J Brennan sits just outside the top-ten with 19 points. Both players would improve the current Leafs team.
Here are the Leafs top five prospects.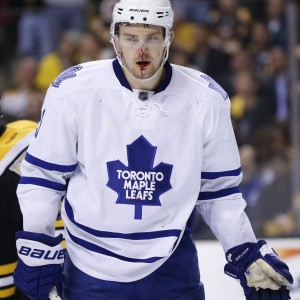 Stats/ Advanced Stats Update
The Leafs might be a terrible team so far this year (and no one really expected different) but it's still interesting to check into the stats from time to time.
Leaders
Points: James Van Riemsdyk 16
Goals: Leo Komarov 10
Shots: Nazem Kadri 97
5v5 points: JVR 9
Corsi For% : JVR 55.97 %
5v5 TOI: Jake Gardiner 17.59
Thanks for reading
Covering the Leafs for the Hockey Writers.