LEAFS DAILY
Well, another week closer to the trade deadline. That's about all you can say for the last week of the Leafs season. They won two games during the week and then were blown out Saturday by the Senators.
But who cares?
It's hard to get up for losses and even harder to get up for wins that only hurt the future.
This has the effect of leaving the fans of the team in some kind of hockey purgatory. At least that is my feeling. Maybe there are some super hardcore fans out there who still hope a playoff date can still be arranged. I will never be mistaken for a realist, but that ship has sailed.
Whether you just want the team to do well or you're embracing the losses in the hope that they become Auston Matthews or something similar, you may be facing the same problem I am: Indifference.
Last year there were high expectations, so the losses hurt. This year, they just don't matter. It's weird when you consider that this market is usually so wrapped up in their team, so insanely attached to every little bit of minutia involving the team. But this year? It's like "wake me up for the trade deadline then let me sleep until the draft."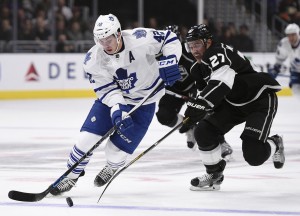 And that sucks.
I think I would have more rooting interest if the team was at least playing some kids who are a part of the team's future. That's next year's plan. This year, we got Morgan Rielly but mostly we have P.A Parenteau and Brad Boyes, who are good players, but trade fodder, not dudes you get attached to.
Worse than the players we know aren't going to be here next year is the continued employment of players who might be, players who got us to this point in the first place and yet remain potentially unmovable: Tyler Bozak, Joffrey Lupul, Roman Polak or Dion Phaneuf (although to be fair, I remain a huge fan of Phaneuf, personally).
Finally, while there are some good players on the team — Jake Gardiner, Nazem Kadri, James Reimer — you just don't know if they'll be here or not. So what you have is this boring old season where it's hard to cheer, harder to care and the best thing that can happen is the kind of losing streak the team only seems to go through when you want them to win.
In the end, let us hope and pray to the head Maple Leaf (Mats Sundin) that the injury Bozak suffered on Saturday is not severe and that he can be properly traded at the deadline.
Trade Deadline:
If you don't count today or the actual day of the action, then there are 20 days left until the trade deadline. Hopefully GM Lou Lamoriello gives us some action before then though, 'cause I am seriously bored. I mean, OK, 10 years out of the playoffs means I guess I can handle one more, but wow………..see above!
The New Logo
Some people asked me why I never discussed the Leafs' new logo in this column. Well my friends, if I am honest it is because I just do not care. I personally like the logo they had, but changing it won't ruin my day.
I think the new one looks a little worse than the old one its replicating but again, I don't care too much either way.
The Week Ahead
The Leafs are headed west and will be visiting the Calgary Flames, Edmonton Oilers and Vancouver Canucks this week. Of course both the Flames and Oilers are young teams that are fun to watch. We can hope the Leafs will have the kind of fun young talent these teams have soon. We might not care too much about the results, but no doubt it will be fun to watch Johnny Gaudreau and Connor McDavid.
But, as is typical for the Season of Indifference, the Leafs play Vancouver on Saturday, their fellow most-boring-team-in-the-league. It just happens to be the one night when you really wouldn't mind seeing a watchable game.
Oh well, things might be a little boring right now, but for once they seem to be on the right track.
Thanks for reading.