Kevin Shattenkirk is the biggest name surrounding the NHL Trade Deadline. There has already been talk that he declined a trade, possibly to the Tampa Bay Lightning, and refused to sign a seven-year, $42 million contract extension. Teams remain interested in the 28-year-old defenseman. One of those teams is the Toronto Maple Leafs, according to TSN's Darren Dreger.
The Maple Leafs biggest weakness is definitely their defense. While their goaltending has had it's ups and downs, it's the defense in front of Frederik Andersen that has been suspect more often than not. That has led to speculation about any big-name defenseman that has been supposedly put on the market. Jacob Trouba? Cam Fowler? Both have been linked to the Leafs at some point this season.
Shattenkirk is the new name on the market. An unrestricted free agent at the end of the season, it is doubtful that he will re-sign with the St. Louis Blues. Obviously, trade rumors have popped up every now and again. The Leafs have been a team on the periphery of those rumors for some time now.
If the Leafs were to acquire Shattenkirk, it would solve a couple problems. It would take some pressure off of Morgan Rielly and Jake Gardiner. It would also give the Leafs a great top-four of Rielly, Shattenkirk, Gardiner and Nikita Zaitsev for the next two seasons.
But Wait, There's More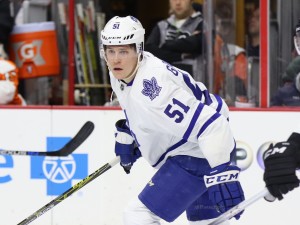 However, there are a couple problems with the potential acquisition of Shattenkirk. You might wonder why I only said for the next two seasons. Well, Gardiner's contract is up after the 2018-19 season. You'd have to think that Shattenkirk's new contract, wherever he ends up, will be for $7 million a year minimum. If the Leafs were paying Shattenkirk that much, do they have the money to pay Gardiner? The Leafs also need to re-sign William Nylander, Mitch Marner and Auston Matthews in the next few years. Trading for and/or signing Shattenkirk is basically a death knell for Gardiner's tenure in Toronto.
Trading for him also causes a problem with the upcoming expansion draft. As it stands, the three defensemen the Leafs will protect will be Rielly, Gardiner and Connor Carrick. If the Leafs acquire Shattenkirk, he is obviously going to be protected. That leaves Carrick exposed with a very high chance that the Vegas Golden Knights would take him. It's not like the Leafs have many other players that would be enticing to George McPhee. So bringing Shattenkirk in before the deadine costs the Leafs Carrick now and Gardiner later.
Also, if you thought that the Leafs long-term injured reserve savings would save them, think again. They lose $3 million of that after this season when Stephane Robidas' contract ends. Another $5.25 million vanishes with Joffrey Lupul's contract ending after the 2017-18 season. After that, the Leafs will only have Nathan Horton's $5,137,834 on the books until the end of 2019-20.
Sure, the Leafs could make some moves to free up cap space in order to keep everybody, but that is highly unlikely. Would Shattenkirk look good in a Maple Leafs uniform? Of course. It just causes too much of a mess that the Leafs would have trouble cleaning it up.
Toronto Maple Leafs Writer At The Hockey Writers.