A large crowd of people turned out at practice today to watch a very special Winter Classic Alumni Team practice. The crowd was estimated to be over 1,000 people to see the likes of Eric Lindros, John LeClair, Jeremy Roenick, and many more hit the ice.
The atmosphere at practice was very fun and very loose. One reader said to me, "I feel like this is the Field of Dreams seeing all of these former Flyers legends on the ice together."
The crowd cheered their old heroes and even the 60+ crowd looked like they could still make some plays on the ice at times. It looked as though the old veterans were enjoying this just as much if not more than the fans were.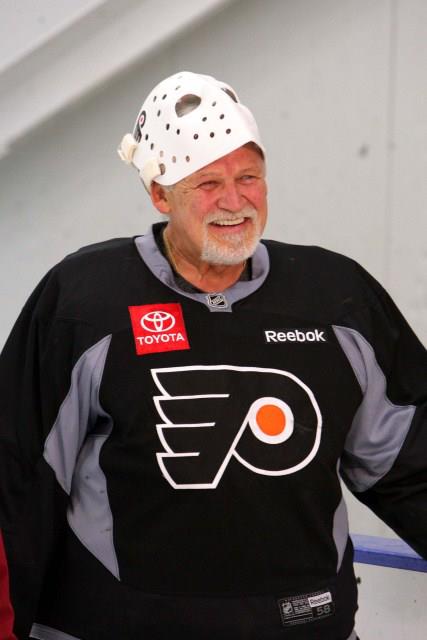 Following practice, the alumni made their way back into the locker room at the Flyers Skate Zone in Voorhees, NJ where cold Labatt Blue cans were waiting on ice for them. Many of the Flyers players from the 70's and 80's were quick to crack open a cold one. Many of the former "Broad Street Bullies" often joke about the beer drinking days of the 70's. Flyers alumni head coach Pat Quinn made his way around the locker room to catch up with the alumni players as well as the media.
Flyers legendary goaltender Bernie Parent charmed the media as he always does with his enthusiasm about being on the ice with Flyers stars of several past generations. "That was cool, that was cool," Parent said. "To be around [them], they're all stars. To be out there with them, that was cool."
Parent later announced via his Facebook account that Alumni head coach Pat Quinn told the 66-year-old he will start in net tomorrow for the Alumni Game. "Game day tomorrow and I am pumped!" Parent exclaimed. "Coach told me I am starting in net!"
One former Flyers legend who was notably absent on the ice for the alumni practice today was Bob Clarke. Toward the end of practice the media headed into the locker room where Clarke was sitting on the bench ready to answer questions. A reporter jokingly asked him if he had an upper or lower body injury today. "Lazy," Clarke joked. "They had enough guys out there."
Clarke said he was looking forward to getting back on the ice with so many old friends but joked about the production we can expect from his line with Reggie Leach and Bill Barber. "There won't be a lot of work done on our line," Clarke said. "I don't think they got enough old players to play against us."
As one would predict, the subject quickly changed to Clarke's thoughts on reuniting with Eric Lindros. A question was posed if he was happy to put the saga behind him and see Eric and play on a team with him on Saturday afternoon. "No more or no less than any other player," Clarke said. "Lindros was very important to the Flyers and I've seen him as a kid play and I've seen him with the Flyers and I loved the way he played hockey."
"This is about the Flyers, it's not about individuals," Clarke said.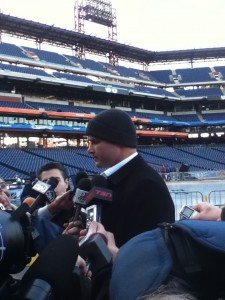 Eric Lindros echoed that sentiment.
"It was nice of [Flyers GM] Paul [Holmgren] to give me a shout and I'm looking forward to going out and having a good skate tomorrow and the whole weekend too," Lindros said. "The big game is on Monday and I'm excited to watch it. Our crew is going to stick around town for the most part and we're going to go and watch that game."
Lindros also said he was thrilled but not surprised at the huge turnout to watch the alumni practice. Lindros was cheered loudly when he first skated out, as well as every time he touched the puck at the practice.
"Big turnout for a little get together," Lindros said. "It's nice to come back and skate on Flyer ice and do what we did as kids and what we did as professionals and come back and enjoy it."
Lindros also stated that he was going to go with some of his old teammates to watch the Eagles-Redskins game at Lincoln Financial Field on Sunday. "I know the Eagles are a touchy subject around here right now," Lindros joked.
Another fan favorite Jeremy Roenick is ready to go and was very happy to be back in Philadelphia. He was skating pretty well on the ice during practice and took a few breaks to throw pucks to the fans in attendance at practice, as well as sign autographs after practice was complete.
I asked Roenick if he plans to take it easy on the old timers tomorrow given that he's only been out of the game for two years and looked pretty fresh out there. He shook his head no right away.
"If I can keep my wind for more than 15 minutes I'll be good," Roenick joked. "I've only skated like six times since I retired."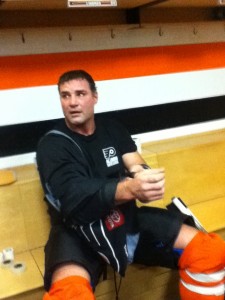 One thing is for sure, and that is if there is any lack of adrenaline the 40,000+ will probably give JR enough wind for an extra 15-20 seconds on his shift. If today is any indication, that special feeling will be even greater tomorrow as the alumni take the ice for what Eric Lindros called a celebration of hockey.
Today wasn't a celebration just because of an outdoor game. Today was a celebration of Flyers history. Today was a celebration of the best Flyers eras of all time. The Flyers fans have always had a special connection with alumni and former stars.
Today was a reunion. A reunion with players who were adored. A reunion with players who left on not the best terms. But as Flyers Chairman Ed Snider and COO Peter Luukko always say: Once you're a Flyer, you're a Flyer for life. We saw live proof of that today.