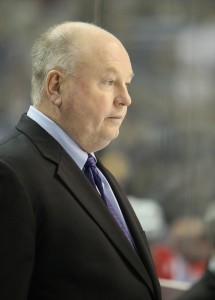 Each Friday, Ten Fantasy Thoughts brings you valuable insight to line changes, buy-low candidates and updates on why a player may be struggling or surging for the past few weeks. This week, Ten Fantasy Thoughts will be discussing the effects of coaching changes in Washington, Los Angeles as well as Anaheim. It will also shed light on some low-valued players around the league.
1. Bruce Boudreau signed on the dotted line with the Anaheim Ducks on December 1st only days after being fired by the Washington Capitals. Here is how the Ducks have been playing before and during the Boudreau reign:
| | | |
| --- | --- | --- |
| | Under Boudreau | Under Carlyle |
| Record | 3-7-2 | 7-13-4 |
| Goals For Per Game | 2.58 | 2.21 |
| Goals Against Per Game | 3.5 | 3.08 |
| Powerplay Percentage | 16.2% | 17.2% |
| Shots For Per Game | 25.8 | 26.5 |
| Shots Against Per Game | 32.1 | 31 |
From this table, one can see that the Ducks are scoring more goals, but the defence remains horrendous and has actually been worse while under Boudreau. It is nearly impossible for a team to win while giving up almost four goals a night, so the record is well represented.
2. Tim Stapleton earned a line promotion for last night's game against the Kings. Stapleton played next to the red-hot Evander Kane and Blake Wheeler. The Winnipeg Jets run a 1A/1B style powerplay, so it's difficult to say that Stapleton is on the top powerplay, as they traditionally have about six forwards with equal amount of powerplay ice time. He has averaged 9:50 in ice time per game this season, but with this adjustment, he could be worth a look in the short-term.
3. In a one-year point's league, is Stefan Elliott or Erik Johnson more valuable? Elliott was called up to replace Erik Johnson while injured, but has managed to force his way into the lineup (with the help of a Wilson injury as well) and has five points in his last nine while Johnson is pointless in his last five. Erik Johnson will forever hold the prestigious rank of being a first-overall pick, but Elliott appears to be on his way up offensively, while Johnson seems to be working as a two-way defender. Stefan Elliott is only five-percent owned on Yahoo!
<iframe width="560″ height="315″ src="http://www.youtube.com/embed/6AQo2GwK4Wk" frameborder="0″ allowfullscreen></iframe>
4. The Florida Panthers have been one of the biggest offensive surprises this season thus far. They sit tied for 15th in the league in goals for, but the biggest surprise is for the first time in team history, Florida has four players on pace for over 65 points. The problem, reality may finally be setting in as the Cats have twenty-two goals over their last eleven games. Could this be the time to sell high on Florida Panthers?
5. Brad Boyes returned to the Sabres lineup on Monday after missing twelve games with a knee injury. In his return, he picked up an assist while playing 15:30. On Wednesday, he played 18:30 with 3:26 being played with the extra-man. The former first-rounder has lined up next to Derek Roy and Drew Stafford since his return. Stafford has points in seven of his last ten and Roy with seven in his last eleven which is considerably better than early in the season. Boyes may not be the thirty or forty-goal player we have seen in the past, but he'll get the minutes to get back on track especially with the Sabres losing six of their last eight.
6. Marek Zidlicky finally put up some points last night with three assists. Coincidentally, it was while Jared Spurgeon was a scratch with a lower body injury. Zidlicky has had a 40 point pace season for six of the seven years he has been in the NHL. This season, he is on pace for 29 points. As long as Spurgeon is injured, it will be Zidlicky retrieving the puck on the point and passing it up to the likes of Dany Heatley and Mikko Koivu. If you're reaching for a defender, this Czech is only 14% owned on Yahoo!
7. Former London Knights coach Dale Hunter hasn't been faring much better than Ducks coach Bruce Boudreau. Let's take a look at how Hunter has been affecting the team from a fantasy standpoint:
| | | |
| --- | --- | --- |
| | Under Hunter | Under Boudreau |
| Record | 6-6-1 | 12-9-1 |
| Goals For Per Game | 2.62 | 3.14 |
| Goals Against Per Game | 2.46 | 3.27 |
| Powerplay Percentage | 18% | 16.3% |
| Shots For Per Game | 27 | 30.6 |
| Shots Against Per Game | 29.4 | 29.7 |
The coaching change had a depressing effect on the Washington Capitals offense. The team is shooting and scoring less while not one player is at point per game under coach Hunter. This could all change as a familiar face is expected back soon.
8. The word from Dale Hunter is that Mike Green could be back late next week. He will have a major impact on many Washington Capitals due to the big minutes he plays as well as his dynamic offensive abilities. Disregarding Greens final game where he faced an injury on November 11th, Ovechkin had seven points in seven games, ten in seven for Backstrom and six in seven for Semin with him in the lineup. Although, John Carlson has 21 in 28 without Green and only one in seven with him. It will be interesting to see how Greens offense is implemented under the new system, but one should expect an increase in Caps' offensive production.
9. Darryl Sutter has the best coaching record out of any of the newly hired this season in the NHL. He currently sits 3-0-2 as the Kings bench boss and has had the team under defensive lockdown since his arrival. The Kings have only allowed seven goals in his five games, but in terms of offense in fantasy hockey, he has led the team into an offensive oblivion. Los Angeles has only managed to score nine goals during the five games and only Anze Kopitar has more than three points. Quick appears to be the only player earning fantasy value from this transition.
10. Recently, it seems like a daily crapshoot as to whether Ales Hemsky will be suiting up for the Edmonton Oilers or sitting out with either the flu or a shoulder injury. Ales Hemsky had 42 points in 47 games last season and has 0.93 points per game over the last four seasons. So why has he started the season with 11 points in 23 games? The downfalls of Hemskys production this season lie mostly on his shoulder injury as well as the Edmonton Oilers depth at forward which causes the team to rely less on him in offensive situations. He may not be a good add in the next few weeks, but if the Oilers continue to be on pace to miss the playoffs, he could be dealt to a contender and the new team could spark his production.