Contract negotiations have begun in Toronto, but so far those have yet to involve Jonathan Bernier.
News broke this past week that the Toronto Maple Leafs and centre Nazem Kadri had started negotiations on a new long-term contract. The 24-year-old will be a restricted free agent at season's end and this year the London, ON native has shown he has been a valuable part of the team, after some doubt in previous years.
#Leafs start cont' negotiations with Kadri on potential long term deal. Leafs in ballpark of 5 yrs 22.5M. May not be enough to buy #UFA yrs

— Nick Kypreos (@RealKyper) January 21, 2015
A Very Valuable Leaf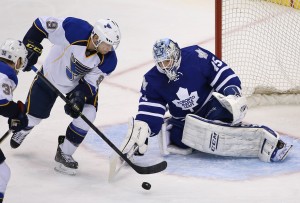 Another Leaf who has been equally invaluable to the Maple Leafs is Bernier. The Leafs brought in the 26-year-old last season and he already looks to be the team's goalie of the future. Bernier will also become a restricted free agent at the end of the season, but so far contract talks and rumours about who will be moved have come at the hands of Kadri and defenceman Cody Franson.
This season Bernier is 16-14-3 with a 2.76 goals against average, .914 save percentage, and two shutouts. His GAA is the 31st of 43 goaltenders in the league, though the Leafs also allow the third most shots against per game. He has played the 18th most minutes this season and has faced the 13th most shots and stopped the 14th most.
There is no question that since his arrival in Toronto, he has given his team the opportunity to win, but poor defensive play and even poorer offence of late have impeded that. Last year in his first season as an NHL starter, the 2006 first round pick, went 26-19-7 in 55 games. He had a 2.68 GAA and a .923 SP, which was the 10th best in the league.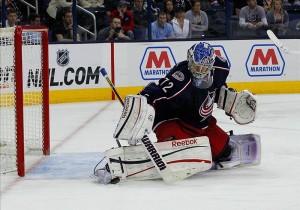 Despite a mediocre season, when compared to last year's numbers, Bernier's numbers still rival some of the high-end goalies in the league. His .914 SP is equal to that of Tampa Bay Lightning's Ben Bishop and ahead of former Vezina Trophy winner Sergei Bobrovsky and San Jose Sharks Anti Niemi.
Leverage for the Leafs
Bernier is in his final year of a two year contract that is paying him $3.4 million with a cap hit of $2.9 million. If the Maple Leafs are looking to save every penny they can, they might point to the experience of the Laval, QC native. Bernier has played just 151 games in the NHL with 89 of them coming in the last two seasons. He has proven that he can be among the game's elite, but sustained greatness has not yet been seen.
This year he has six RBS (Really Bad Starts: a save percentage below .850%). In just 34 games this season, it is already one more than he had all of last year. He has 13 fewer quality starts (starts where his SP was higher than the average or .885%) than he did last year. Meanwhile his goals saved above average (the goals he prevented given his save percentage and shots against versus the league average) has been dramatically lower than last year. He had a GSAA last season of 15.07 last year, while this season the total is just 1.04.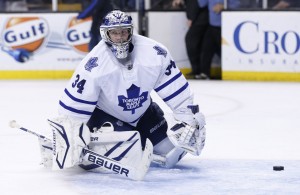 What He's Worth
To Bernier's credit though, during his time in Toronto he has shown to be a goalie worth betting on. During his 89 games with the Leafs he has a 42-33-10 record, a .919 SP, and a 2.73 GAA. And nearly 60% of his games have been quality starts. Many suggest his injury towards the end of last season played a big role in the Leafs dramatic collapse at the end of the season. In his relief James Reimer went 2-10-0 in his final 12 games between March 3 and April 12.
There is little question that Bernier will want a higher dollar amount whenever negotiations do start. His experience in the league should be a big bargaining chip for the Leafs. Looking at some contracts of goalies with similar numbers: Cory Schneider- $4 million, Niemi- $3.8 million, Jaroslav Halak- $4.5 million, Mike Smith- $5.6 million, and Steve Mason- $4.1 million. Considering those numbers a dollar figure in the $4 million range seems the most likely.
There has been seemingly no initial negotiation between Bernier and Leafs management or none that have been made public. A deal will be made likely during the off-season, but with him being restricted, there is no real rush to begin talks just yet.