The Vancouver Canucks third-highest paid player returned to the lineup over the weekend.
It's hard to say that many missed him.
While Loui Eriksson was out of the lineup for 14 games, the Canucks strung together a solid record of 7-4-1, including a road trip where the team went 4-1-0.
Usually, when a team loses one of their highest-paid players, it results in more losses, not wins, for the organization. Not that Eriksson is to blame for the Canucks .500 record at the moment, but he's been less than advertised for someone making $6 million per season.
Loui Eriksson went from underrated to overrated and is now back to underrated again. It's just a shame the #Canucks had to give him a $6 million contract in the small window he was overrated.

— Daniel Wagner (@passittobulis) November 15, 2017
The Canucks are 2-3-1 with Eriksson in the lineup this season, which doesn't bode well for the Swedish winger. Still, he wasn't signed by Jim Benning for absolutely no reason at all. Eriksson does bring value to the Canucks.
Eriksson's Strengths
Eriksson was roasted for a number of reasons last year, with a lack of scoring being at the top of that list.
Last year, Eriksson just didn't get the puck to the net enough. He was out-chanced by most of the Canucks regular forwards, with Henrik Sedin, Sven Baertschi, Michael Chaput, and Brendan Gaunce being the regulars to direct fewer pucks towards the net.
What Eriksson does do well is that he does get most of his shots on target. Last season, he got almost two-thirds of the shots he took on target. Most players on the team were hovering around the 50 percent mark.
Part of that is just the game that Eriksson plays. Eriksson was brought in to be the unofficial 'king of garbage goals.' He's primarily a passer until he gets within a few feet of the net. If Eriksson is going to score, he needs someone to get the puck to the net for him.
I've been really impressed by Loui Eriksson's effort in the past 2 games….. He is looking like a goal is right around the corner

— Alex Auld (@alexjauld) November 15, 2017
That knack for scoring goals around the net needs to be utilized on the power play. Even on the Canucks woeful power play last season, Eriksson was second on the team with five power play goals. The year before in Boston, he had ten goals on the man advantage.
During the last two seasons, he has scored on more than 25% of his high danger chances. That means he's scoring more than once in every four times that he tries to bang a rebound home by the net.
The other area of the ice where Eriksson excels is with his 200-foot game. He had the fifth-lowest scoring chances against total on the Canucks last season. Even though he's only played six games so far this season, his scoring chances against total is still fifth-lowest on the club.
Eriksson is a talented player who can play on your penalty kill, power play, scoring line, and checking line. Travis Green just needs to find an area where he's most comfortable with Eriksson in order to set him up for success.
Expectations for Eriksson
The bar has been set substantially lower for Eriksson this season. Part of that is to avoid the utter agony of paying a forward to play like a second or third-line winger.
No one is expecting Eriksson to hit 30 goals and 60 points again. I think most people around the league would be shocked if he was able to do that.
You could say the bar for Eriksson has been lowered to around the 40-45 point mark. Maybe after the 12 games he's missed so far this season, the 40-point mark is an attainable total.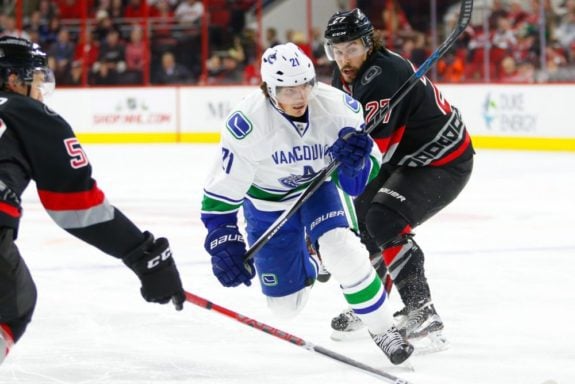 That's setting the bar low for someone making $6 million, but it's also hard to fault Eriksson for Benning throwing too much money his way. What's a guy going to do?
The other question is, where in the lineup do you put Eriksson for him to have the most success? I originally liked the idea of putting Eriksson with Horvat, but that was before Brock Boeser firmly planted himself as the Canucks' top right-winger.
Now, it looks like Green is going to try and rekindle some magic between the Sedins and Eriksson. That comes at the expense of Jake Virtanen, much to the chagrin of Canucks fans. However, Eriksson has looked good on that line in two games since his return. Green would be wise to keep rolling with that unit until the magic dries up.
It should be a priority for Green to find a spot for Eriksson on this team. Green's four-year contract, after all, is only one year shorter than Eriksson's.