When the Dallas Stars shipped former All-Star Loui Eriksson to Boston as part of a package for Tyler Seguin, the general consensus was that the Swedish winger would be a great fit on the Bruins second line.
Track Record
Eriksson had earned his reputation as one of the NHL's best two-way wingers.  He had scored more than 25 goals in the last four non-lockout seasons, while tallying more than 70 points in three of those four campaigns.  He was selected to the 2011 NHL All-Star Team as a member of the Dallas Stars.  In his last two full seasons (excluding the lockout shortened year), he finished top five in the voting for the Lady Byng Award, while also receiving some consideration for the Frank J. Selke Award.  The only place that Eriksson has not achieved success is in the playoffs, as his Dallas Stars failed to qualify for the postseason for the past five years.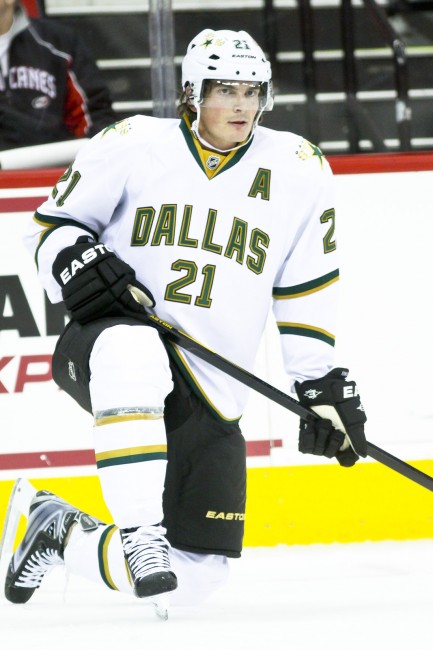 Injuries
Loui Eriksson's first season in Boston has been derailed by a pair of concussions, causing him to miss 20 games.  It's worth noting that Eriksson had only missed three games since the beginning of the 2008-2009 season, so by no means is this an injury prone player.
An adjustment period was to be expected, but that process was drawn out as each of the concussions seemed to send him back to square one.  Before the first concussion, Eriksson was struggling to develop chemistry with his new team, leading Claude Julien to shuffle the lines.  When he returned following that concussion, he began to show glimpses of the player we had seen in Dallas, but consistency was still an issue.  The second concussion was more alarming, as it came just a month after he had returned to action following the first concussion.  This time around, he missed more than a month before returning in the middle of January.  He was able to get into a dozen games before the Olympic Break, heading to Sochi on a positive note, after recording his third multi-point game as a Bruin.
Expectations
As the biggest name coming to Boston in the Tyler Seguin trade, expectations were high for Loui Eriksson in his first season with the Bruins.  An elite shutdown line of Brad Marchand, Patrice Bergeron, and Loui Eriksson was a dream, as the Bruins could ice three players with 20+ goal potential, while also possessing the potential to neutralize their opponent's top offensive threat.  Taking that a step further, Bergeron and Marchand represented upgrades over Eriksson's linemates in Dallas.
Wait and See
The Bruins are in the last leg of the regular season, pushing towards another playoff berth.  Loui Eriksson has slotted in on the third line, alongside Carl Soderberg and Chris Kelly.  Soderberg and Eriksson have shown great chemistry, generating many scoring chances and consistently putting the Bruins on the board.  If Eriksson remains on the third line, the Bruins will have three lines that they can rely on to score in the playoffs.  That represents a luxury the Bruins haven't had since their Stanley Cup run in the spring of 2011.
Due to injuries and his adjustment to a new team, we have only seen the tip of the iceberg with Loui Eriksson this year.  He has missed 20 games and yet, he's tenth on the team in scoring.  Since returning from the Olympic Break,
Eriksson has looked re-energized
, recording points in his last four games.  As he continues to build his confidence, Eriksson's game will make strides towards his standard level of play, something the Bruins are anxiously awaiting.  The Bruins are comfortably atop their division and Eriksson hasn't played his best hockey this season, but when he does, Boston will be extremely dangerous.
In today's NHL, most fans are looking for instant gratification from the players that their team receives in a trade.  That desire for results is magnified when their team is trading a young player with superstar potential, as was the case when Boston traded Tyler Seguin.  For Loui Eriksson, the short-term results have fans up in arms and ready for a change.  Peter Chiarelli and his staff know that a move would have been short-sighted, and they also recognize that Eriksson could be a critical piece to the puzzle in their quest for the Stanley Cup.
So before you complain about Loui Eriksson's production in Boston, just keep in mind what he has had to deal with and what he's accomplished on a regular basis before this year.
Do you agree?  Are you disappointed in Loui Eriksson?  Let me know what you think in the comments or follow me on twitter @kirkvance.