The onset of the Calgary Flames rebuilding process has created a lot of opportunities for young players in the organization. Due to departures of veterans, injuries and other reasons, a lot of young players have gotten a shot in Calgary, with many of them getting their feet wet in the professional ranks for the very first time. As of this writing, eight different players have made their NHL debuts with the Flames this season. To provide a glance at the Calgary Flames and who they have in the pipeline, here's a quick rundown of the organization's top prospects as of March 2014.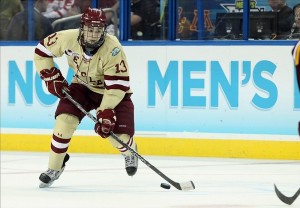 For the purposes of this discussion, "prospects" are considered players under the age of 25 who are not yet everyday NHLers. This means that under-25 players like Sean Monahan, T.J. Brodie, Lance Bouma and Joe Colborne are not included, as they're already considered to have graduated from this listing. In terms of "ranking" the prospects, I base it on which player I would choose in an expansion draft situation, with no other players on my roster – emphasis is placed on a player's development ceiling, as well as their likelihood that they'll achieve that potential.
#1: LW Johnny Gaudreau – Boston College Eagles (NCAA)
Acquired: 2011 fourth round draft pick
I can't think of a Flames prospect over the last decade or so that has been more hyped or heavily anticipated than Johnny Gaudreau. Blessed with speed, hockey sense and a great set of hands, Gaudreau would've been a high pick in the 2011 NHL Draft if not for his size. Currently a junior at Boston College – a veritable hockey factory in recent years – Gaudreau has steadily increased his offensive production in each of his three college seasons, emerging as the top scoring threat in the entire NCAA. He'll never be the biggest guy on his team, but Gaudreau's offensive skills are undeniable. The big question is how he'll be able to translate his game to the pro ranks.
#2: RW Emile Poirier – Gatineau Olympiques (QMJHL)
Acquired: 2013 first round draft pick
One of three Calgary picks in the first round of the 2013 NHL Draft, Poirier was met with some skepticism and head-shaking, especially considering WHL standout (and Calgary native) Hunter Shinkaruk was still on the board. Poirier's play – first at Calgary Flames training camp and then this season with the QMJHL's Gatineau Olympiques – have silenced most of his critics. Poirier is fast, skilled and plays the game with an edge. He's fought several times and may be poised to take a run at Jarome Iginla's team record of Gordie Howe hat tricks. He may need to play with less reckless abandon as a pro than he does in junior, or he's liable to get clobbered by somebody, but Poirier's got a great combination of speed, size, aggression and talent. If he can add some muscle to his frame over the next while, he'll be well-positioned for a jump to the pros.
#3: LW Sven Baertschi – Abbotsford Heat (AHL)
Acquired: 2011 first round draft pick
Possibly nobody's had a tougher last year than Baertschi in terms of Flames prospects. Between injuries, demotions and being a scratch in Calgary, Baertschi's struggled to find his footing as an everyday pro. He's shown flashes of brilliance, and his offensive numbers in the NHL weren't horrible, but right now Baertschi's ranking is based on (as of yet) unattained potential. While immensely talented, the young Swiss product will need to show an increased resolve towards becoming a well-rounded player to avoid getting lost in the shuffle, as guys like Sean Monahan, Johnny Gaudreau, Emile Poirier, and potentially Calgary's top picks in 2014, have all out-shone him in recent months.
#4: Markus Granlund – Abbotsford Heat (AHL)
Acquired: 2011 second round draft pick
Once thought of merely as Minnesota Wild forward Mikael Granlund's kid brother, Markus made the jump to North America this season. He surprised many when, after recovering from a training camp injury, he turned out to be arguably Abbotsford's best first-year player. Quick on his feet, an excellent fore-checker and blessed with a quick, accurate shot, Granlund racked up just under a point-per-game as an AHL rookie and impressed in Calgary during a brief stint before going down recently with an injury. He earned power-play and penalty-kill duties with the Flames, a sign that the coaching staff has a great deal of confidence in the young Finn.
#5: Bill Arnold – Boston College Eagles (NCAA)
Acquired: 2010 fourth round draft pick
Teammate Johnny Gaudreau may get most of the spotlight, but Boston College senior Bill Arnold has quietly emerged as arguably the top three-zone player in the NCAA. He's big (listed at 6-feet and 200 pounds), he's increased his scoring rates steadily each year, and he brings the intangibles that allows a guy like Gaudreau to flourish – whether it's shot-blocking, passing or getting in the face of anybody that takes a run at his diminutive teammate.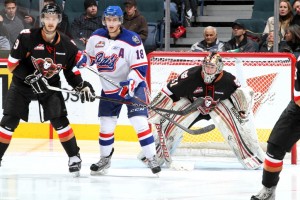 #6: Morgan Klimchuk – Regina Pats (WHL)
Acquired: 2013 first round draft pick
Sean Monahan (6th overall) may be more physically mature and Emile Poirier (22nd overall) may have more offensive flash, but Morgan Klimchuk (28th overall) may be Calgary's most complete three-zone pick from 2013's first round. A smart player with or without the puck, Klimchuk plays a lot in every situation for Regina and is very effective at reading coverage and finding holes for passes or creating turnovers. His one hindrance may be his size, as he'll need to add some muscle to withstand the bigger blueliners of the NHL.
#7: Corban Knight – Abbotsford Heat (AHL)
Acquired: trade with Florida Panthers
The Flames had visions of a potential top center when they acquired Knight, a former Hobey Baker contender, from the Panthers for a fourth round pick this past spring. He's had a few growing pains in his transition to the AHL, likely worsened by Abbotsford's wacky travel schedule. But despite the headaches, Knight has become a steady contributor as an AHL rookie – when he was recalled to Calgary at the trade deadline, he had 37 points in 57 games. He didn't look out of place in Calgary, but projections of him as a top-line guy may've been premature. At worse, he may emerge as a strong depth option and bottom-six scoring depth at the NHL level. The role may not be flashy, but you can't have championship teams without strong players in those roles.
#8: Kenny Agostino – Yale Bulldogs (NCAA)
Acquired: trade with Pittsburgh Penguins
While he's had a bit of a quieter senior year with Yale, as the team hasn't been quite as good as last year's NCAA championship squad, Agostino was one of the top two-way players in his conference. He's got size and hockey sense, though it's unclear how much his offensive acumen will be able to adjust to the increased speed of the pro ranks and the increased size of defenders.
#9: G Jon Gillies – Providence College Friars (NCAA)
Acquired: 2012 third round draft pick
After an excellent freshman campaign in the NCAA last season, Gillies had a bit of a rough patch this year. He had a disappointing performance with Team USA at the World Juniors over Christmas, and his play suffered for a few weeks due to a lingering lower-body injury. However, when healthy, Gillies is an athletic, big-bodied netminder with sound positioning tat gives his team a chance to win every night. Time will tell if this year's adversity will help or hinder his long-term development.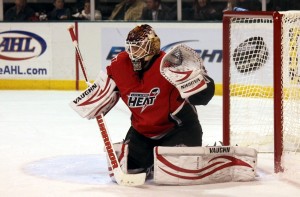 #10: Joni Ortio – Calgary Flames (NHL)
Acquired: 2009 sixth round draft pick
Ortio came over in the 2011-12 season to play with Abbotsford. He got into 9 games, didn't look great, and then due to the Miikka Kiprusoff injury and ensuing organizational goaltending shuffle, he found himself back in Turku looking for playing time with his old club team. Two years – and a lot of games in Finland – later, he's more composed, more mature and more focused on being an NHL goaltender. Ortio was excellent in the AHL this year and has recently made the jump to the NHL as the de facto #2 guy behind Karri Ramo.
Honourable Mentions:
Max Reinhart – Abbotsford (AHL), Mark Jankowski – Providence College (NCAA), Tyler Wotherspoon – Abbotsford (AHL), Michael Ferland – Abbotsford (AHL)