On this day, Jan. 19, 2006, in his final season with the Los Angeles Kings, Hockey Hall of Famer Luc Robitaille surpassed the great, and fellow Hall of Famer, Marcel Dionne as the Kings all-time goal scorer. In honor of that accomplishment, we are re-running this THW Archive piece originally published Dec. 12, 2013.
Robitaille Was a Legend Before He Started
On February 17, 1966, in Montreal, Quebec, a future hockey legend was born. Eighteen years later, eventual prodigy, Luc Robitaille was drafted 171st in the ninth round of the 1984 NHL draft. In fact, he was drafted late as a result of his poor skating skills. Little did the hockey world know what it was in for.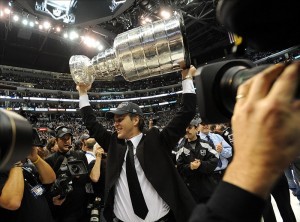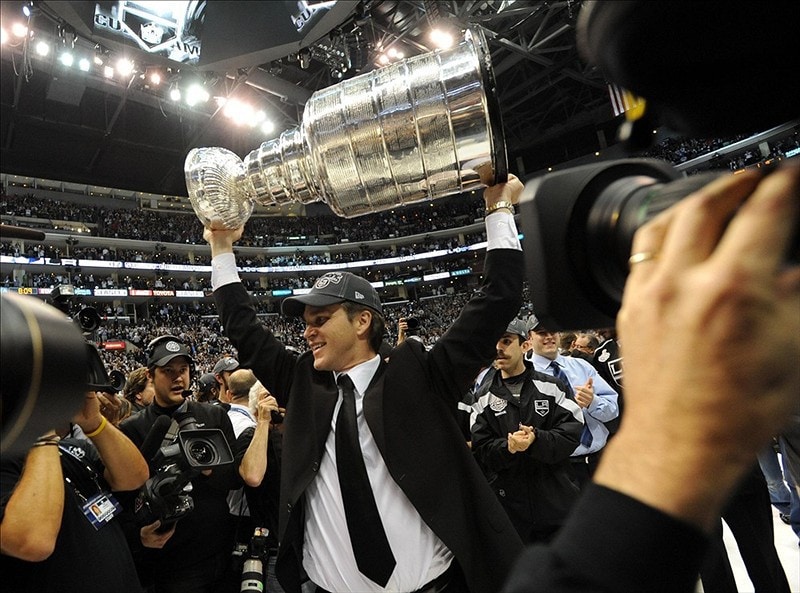 Following the draft, likely very few people anticipated that this same poor skater would eventually earn his spot in the NHL Hall of Fame. However, he would later surprise those who questioned his potential by finishing his career alongside former line mate, David Taylor, as one of the lowest drafted NHL players to record 1,000 career points.
After the draft, Robitaille went on to play junior hockey for the Hull Olympiques of the Quebec Major Junior Hockey League. In this capacity, the future star had his first experience making hockey history. During his tenure with the QMJHL, he amassed over 400 points in 202 games. His remarkable performance resulted in the league creating the Luc Robitaille Trophy, awarded to the team that accumulates the most goals per season. Soon after "Lucky" would continue to make history.
Taking the NHL by Storm
Robitaille made his NHL debut with the Kings during the 1986-1987 season, piling up an impressive 45 goals and 39 assists. With his stellar rookie campaign, he became not only the first Los Angeles Kings player to win the Calder Memorial Trophy, but he also helped the Kings make the playoffs with a 31-41-8 record.
Though Robitaille did not play his entire NHL career in a Kings uniform (having also played for the Penguins, Rangers and Red Wings, respectively) he finished his career where it started in Los Angeles. On April 17, 2006, the talented winger played his last NHL game at the HP Pavilion against the San Jose Sharks. That night, he was bid farewell by his teammates, opponents, and over 17,000 fans.
Robitaille left behind him a legacy, retiring as the Kings' all-time leading goal scorer (557). Moreover, he became the fifth player in Kings' history to have his jersey #20 retired, joining the likes of Wayne Gretzky, Rogie Vachon, Marcel Dionne and Dave Taylor. Though his days on the ice were behind him, the superstar would continue his legacy.
A Star on and off the Ice
Robitaille's career has been characterized by constant evolution. Following his retirement, Robitaille continued to impact people's lives. He and his wife Stacia established Echoes of Hope, a non-profit organization working with at-risk and emancipated foster youth.
In addition to his community involvement, Luc also maintains a position in the Kings' front office as President of Business Operations. To add to his diverse collection of experience, the star has also appeared in a commercial, multiple television shows, and multiple motion pictures.
In sum, what does all of this mean? Has this hockey legend lived a life that some would consider a fairy tail? Perhaps to some. However, to others, his career may not demonstrate luck or rarity — rather, it demonstrates hope, resilience, dedication, strength and perseverance. No matter what anyone says, hockey history confirms that Luc Robitaille was undoubtedly a King of his time.