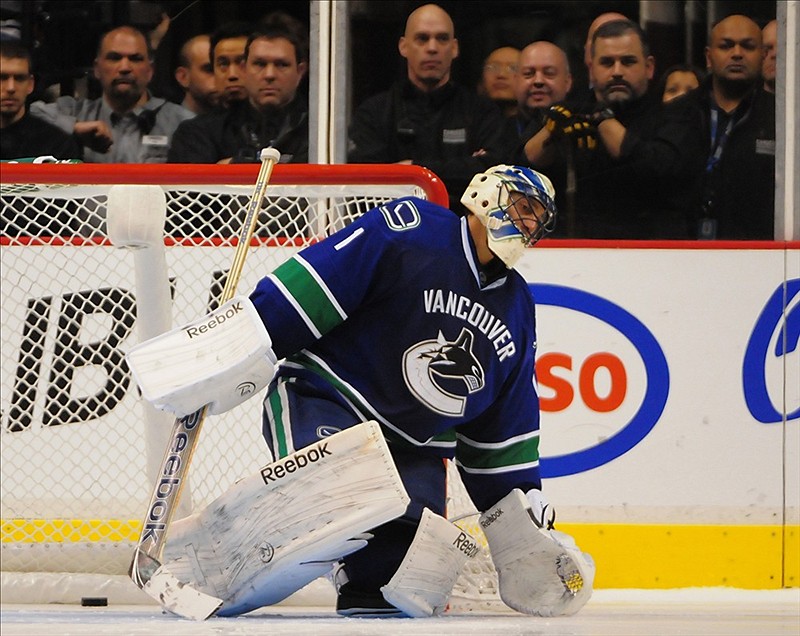 It's been a tough few weeks for Roberto Luongo, who was probably first in line at the airport gate, banging on the plane's door and screaming for the pilot to let him in.
Just as the freefalling Vancouver Canucks looked to be on the verge of snapping a six-game win streak against the Maple Leafs on Saturday, a third period collapse saw John Tortorella's men slide to a miserable 7 straight losses, leaving Luongo facing some stats he'll want to ignore.
Luongo has been far from the most blameworthy member of Vancouver's group – here's looking at you, John Tortorella – but the loss left the 34-year old with the ugly picture of starting 5 of the Canucks' 7 losses, with an .880 save percentage.
Luongo has been nothing if not candid over the years, and his assessment Monday that it had been a "rough couple of weeks" is probably an understatement. It's been nothing short of awful in Vancouver over that period, which began with Tortorella's ill-advised theatrics against the Calgary Flames three weeks ago.
"It's good the change of scenery for two weeks, [to] have a different approach, and maybe get back in a couple of weeks and feel better about ourselves," said Luongo, alluding to the basement-dwelling confidence levels that the Canucks dressing room must be experiencing.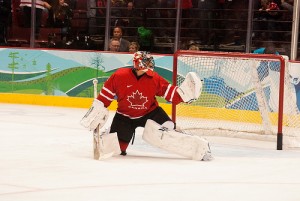 Should Luongo get the nod over Carey Price on Thursday, the game should provide an opportunity for a major personal confidence boost – especially if 2010 was anything to go by. In Vancouver four years ago, Luongo started Canada's opening game against Norway, and made 15 saves to record a shutout in the 8-0 victory. This year, Canada kick off their campaign against… Norway.
It may not be a test, but it'll certainly make a refreshing change from getting peppered with shots on a nightly basis and will at least remind him what it feels like to win a hockey game (barring an astonishing Norwegian episode of giant-killing), an experience that's eluded the goaltender since an overtime victory over the Coyotes on January 26th.
Of course, a start against Norway isn't guaranteed. The Montreal Canadiens have had an unspectacular 2014 but have approached Sochi on a three game winning streak – and with Price currently boasting a solid .925 GAA it'll be a close call for Mike Babcock. You wonder whether the humanitarian in the head coach might be tempted to hand the reigns to Luongo.
Tortorella Plays The Backhanded Blame Game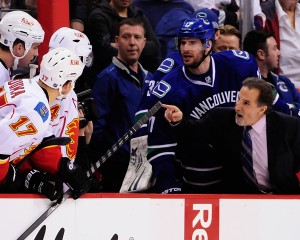 John Tortorella chose his words extremely carefully after the loss to Toronto, blaming himself and his coaching staff for the repeated errors he said his players had made over the past few games.
"It's pretty obvious the coaching staff here has not done a good enough job in teaching details of situational play," he told reporters after the game. "We just have not done a good enough job because our players are not consistent at it."
Tortorella said he took "full responsibility" for the fact that his players "continue to make the same mistakes". It was rather like a parent telling a wayward child: "Well, that's my fault for not teaching you not to draw on the walls." Whilst on the one hand he's accepting the blame for his players failings, he is, at the same time, expressing his frustration that his players were not grasping fundamental aspects of the game.
It's difficult to imagine his players being entirely happy with his assessment – though perhaps sympathy should be in short supply for both the coaching staff and players during this skid. Tortorella was magnanimous enough to apologise for his antics in Calgary – it's now time for both he and his group haul themselves to their feet and find a way to win.