The Philadelphia Flyers are finally rid of the R.J. Umberger and Vincent Lecavalier contracts. It's been years since Ilya Bryzgalov and Danny Briere's cap hits plagued the team. Even the Luke Schenn and Nicklas Grossmann deals are in the rear view mirror.
For the first time in a long time, the Flyers won't be weighed down by multiple bad contracts heading into the 2016-17 season. But one still remains in the form of defenseman Andrew MacDonald's $5 million cap hit for the next four years.
With so many bad contracts off the book, the ire of Philadelphia fans is pointed directly at MacDonald, who makes the second-most on the Flyers' blueline and the fourth-most total. Just consider: Wayne Simmonds, who has led the team in goals for the past three seasons makes less. Or Michael Del Zotto, who logs over 20 minutes a game costs $1.235 million less than the former Islander.
In comparison, MacDonald spent over half of the 2015-16 season with the Lehigh Valley Phantoms in the AHL, and saw only 28 regular season games with the Flyers. He mustered eight points during that stretch while playing at even strength with rookie phenom Shayne Gostisbehere, who posted 46 points.
But put into context, MacDonald's contract really isn't as terrible as everyone's making it out to be.
Andrew MacDonald's Play
Despite spending 43 games with the Phantoms last season, it wasn't MacDonald's play that earned him his demotion. It was rather the Flyers' need for money in a pinch and even though sending the defenseman to the AHL only saved the team $950K, it was necessary.
GM Ron Hextall was not a fan of the move from the very beginning:
"It's disappointing I guess, but we're caught in a tough place here and had to make a tough decision. Obviously, we know Mac is a good NHL player. Is it what we wanted to do? No. If we could have avoided it, we would have."

– Ron Hextall (from CSN Philly)
A little over a month after Schenn was traded in January and cap space was cleared, MacDonald was back with the Flyers.
According to General Fanager, Philly will have just over a million in cap space for this upcoming year, but if Jordan Weal is demoted the team will have $1.6 million in space allowing for minor shuffling.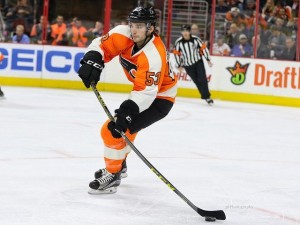 MacDonald averaged 20 minutes of ice time with the Flyers last year, same as in 2014-15, paired with Gostisbehere after the two spent time together with the Phantoms. With the cap space, ice time and chemistry all packed together, there is no reason for MacDonald to be relegated this season.
Besides that, MacDonald is a capable player. Lecavalier and Umbeger were virtually useless on the ice for the Flyers, while Grossmann and Schenn were healthy scratches often.
The same can't be said for MacDonald. He's still a fine third-pairing defenseman that can play on the penalty kill and on the second power-play unit in a time of need.
If he was making half of his $5 million salary at a shorter term, there would be little to no issues with the Nova Scotia-native. But even with a big deal, it may not faze the Flyers too much.
Flyer's Cap Outlook
Philadelphia won't be swimming in cap space this year, but things get a bit easier after that. Next summer, Mark Streit and Nick Schultz come off the books, freeing over $7 million in cap space, plus Michael Del Zotto, who may be replaced by a cheaper, younger defenseman.
Gostisbehere will need a big raise and Steve Mason and/or Michal Neuvirth are due for new deals but there should be plenty of money, granted the cap doesn't go down. The expansion draft could also create cap room if Matt Read is selected.
MacDonald will be exposed too, which brings up another plus. His contract does not have an NMC. If it did, the Flyers would be forced to protect him and waste a valuable protection spot.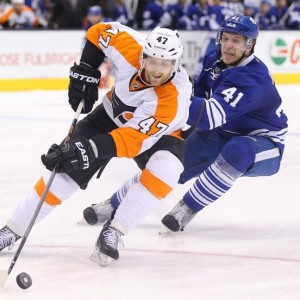 Fitting in an overpaid defenseman gets a lot easier from there on out. In 2018-19, Sam Morin and Robert Hagg will need new contracts, but neither have made any marks on the NHL yet.
Travis Sanheim, Ivan Provorov and Travis Konecny are up next in 2019-20 and if the future goes like the team and especially the fans are hoping, they could earn big raises on their ELCs. However, all three are still under team control and working out bridge contracts or short-term deals will be simple.
The best part? The Flyers will be entering their prime for a Stanley Cup run at that point and MacDonald will have just a single year left on his contract. Moving him or waiting for that final year to end will be much simpler.
Despite all this, Philly will not want the burden of MacDonald's contract over that period of time. The team will expose him in the expansion draft, but there's not a high chance he'll be taken. They may be able to trade him in a couple of years, but salary retention will still be needed.
MacDonald's contract is still bad, but it's not an albatross like some are making it out to be or compared to some former contracts.