It's been almost a decade since Grant Fuhr worked as a goalie coach in the NHL and the Hall-of-Fame netminder says he's ready for a return to the rink.
"It's something I'd like to do again. I enjoy being around the rink. That's the fun part – I've never lost the love for the game," said Fuhr during a recent 30-minute interview to promote the documentary film about his life Making Coco: The Grant Fuhr Story. "I enjoy helping other people. I'm definitely looking forward to trying to get back into the game again."
The 56-year-old, who played 868 regular season games in the NHL before retiring in 2000, will have knee surgery in November and after he recovers, Fuhr said he will seek employment in the hockey world. Fuhr, who set the record for most assists in a season by a goaltender when he collected 14 helpers with the Edmonton Oilers in 1983-84, worked as a consultant for the Calgary Flames for two seasons following his retirement and he was the goalie coach for the Phoenix Coyotes from 2004 through 2009.
Related: The Return of Grant Fuhr
After he left the Coyotes, Fuhr found work in Desert Hot Springs, California as the director of golf at Desert Dunes Golf Club. It was a good fit for him, as a regular on the golf celebrity tour circuit for years, but now he's looking to get back into the sport he loves most.
State of Goaltending in the NHL
While the NHL has changed a bit since his playing days in the 1980s and 1990s, Fuhr said the basic role of the goalie remains the same: "I think it's just different. Goaltending as a whole doesn't change a lot. You still work in the same area, you're still trying to stop the puck. The game went through a transition where it became all angles because most teams played a defensive system."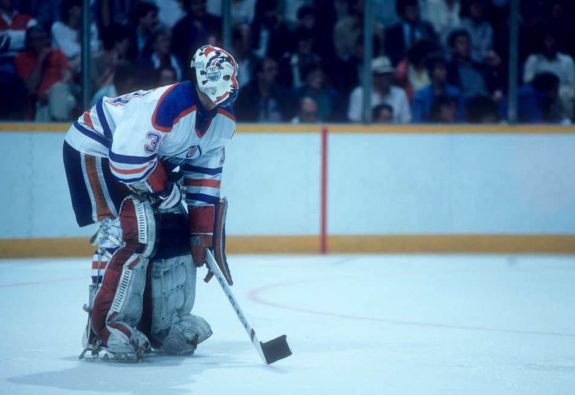 "I think if you look at the game now it's starting to open up and become a little more offensive, and as it becomes more offensive goalies are going to have to become more mobile again and adjust to different things, so I think you're starting to see a transition again where it's going back to the mobile goalie again and goalies are having to adjust to that," said Fuhr, who was inducted into the Hockey Hall of Fame during his first year of eligibility in 2003.
Fuhr made a name for himself with the Edmonton Oilers before playing for the Toronto Maple Leafs, Buffalo Sabres, Los Angeles Kings, St. Louis Blues and Calgary Flames. He said he remains a fan of the Oilers and he enjoys taking in games at Rogers Place.
Fuhr's Thoughts on This Year's Oilers
"I follow the team closely. If you look at two years ago, they were really good. You look at last year and they weren't very good. I think this team is somewhere in between the two," said the 1988 Vezina Trophy winner. "Everybody had good years two years ago, everybody had bad years last year. If everybody has good years, or average years, they're a better team than last year, but maybe not quite as good as they were the year before."
Fuhr said he thinks the Oilers will compete for a playoff spot and he expects starting goalie Cam Talbot to bounce back from a rough season in 2017-18.
Related: Oilers' Goalie Cam Talbot – Bounce Back or Bust
"I like Cam. I think he's going to be a great goalie," said Fuhr, who is third on the all-time playoff wins list behind Patrick Roy and Martin Brodeur. "He had a phenomenal year two years ago and he had a good year last year, but because he had that phenomenal year the year before people don't realize you're having a good year. That's the bar they go by. He didn't have a bad year last year. Yeah, the wins weren't quite there but he still had a good year and he didn't really get credit for that. I think he's going to be better."
Making Coco Documentary in Edmonton
When Fuhr shows up at Rogers Place on Wednesday, Oct. 17, it won't be to watch the Oilers play. Instead, he'll be watching Making Coco as it makes its Edmonton premiere. The film, which has been screened in Toronto and at the closing gala of the Calgary International Film Festival, starts at 7:30 pm and tickets are $20 each. Those who attend are expected to be part of one of the largest documentary audiences in Canadian history. Following its limited theatrical release, Making Coco will also air on Sportsnet in November.
The documentary about his life, which was directed by Don Metz and produced by Adam Scorgie, is a glowing reflection on Fuhr's illustrious career but it doesn't avoid some of the low points he experienced, including devastating injuries and his lengthy suspension for substance abuse during the 1990-91 season.
CANT WAIT for the #MakingCoco premiere this Wed at @RogersPlace

With less than a couple hundred tickets left, this will be the largest audience my team & I have ever presented to & probably one of the largest documentary audiences in 🇨🇦 history.

TKTS: https://t.co/GdPfYJpPjI pic.twitter.com/X90VOO2Gs0

— Adam Scorgie (@AdamScoreG) October 16, 2018
While Oiler fans have grown accustomed to seeing Fuhr's No. 31 banner hanging from the rafters, some may be surprised to learn from the documentary that Glen Sather, the team's general manager between 1980 and 2000, as well as star defenseman Paul Coffey, were both opposed to drafting the Spruce Grove goalie after they saw him turn in a poor performance at the 1981 Memorial Cup.
"I remember saying to [director of scouting] Barry, 'I don't block shots … we need a better goalie,'" Coffey recalled in the film.
Sather: "I'm Not Drafting This Guy"
Sather was blunter in his advice to Barry Fraser: "I'm not drafting this guy," he said. The Oilers' GM ultimately listened to Fraser, who had watched the athletic netminder play much more than Sather or Coffey had, and Fuhr was selected eighth overall in the 1981 NHL Entry Draft.
"Glen saw me on a couple of nights where I was awful, so it was completely understandable why he wouldn't want to draft me," said Fuhr, adding that the Oilers' rookie goalie, Andy Moog was coming off a playoff sweep of the Montreal Canadiens during which he had played lights out.
"Did I think I was going to fit into Edmonton? Probably not," said Fuhr. "My agent at that time thought I'd be going somewhere but we had no idea where or when. It wasn't something I really focused on. If I got drafted it was great. To be drafted in the first round was beyond expectations and to come to Edmonton is like a dream come true. How many kids get to go back home to play? You couldn't ask for a better place to be drafted to."
After winning five Stanley Cups with the Oilers, it really was a dream come true. In the near future, Fuhr will turn his focus to winning another Stanley Cup, this time as a coach.
Ian Wilson is a life-long hockey fan who was initially drawn to the sport by the Edmonton Oiler dynasty of the 1980s. He brings decades of journalism to the table as a former editor and reporter with the Calgary Sun.