The Edmonton Oilers have built a dramatically deeper prospect pool since 2015. While the Oilers have been determined to improve their depth down the middle, on the blue line and in goal, right winger Kirill Maksimov is the most exciting prospect in the system.
Selected in the fifth round (146th overall) of the 2017 NHL Draft, Maksimov has torn up the OHL with the Niagara IceDogs over the past 21 months, scoring 58 goals in his last 100 OHL games. His natural scoring ability is a coveted asset for an Oilers team that desperately lacks pure shooters to play alongside franchise cornerstones Connor McDavid or Leon Draisaitl.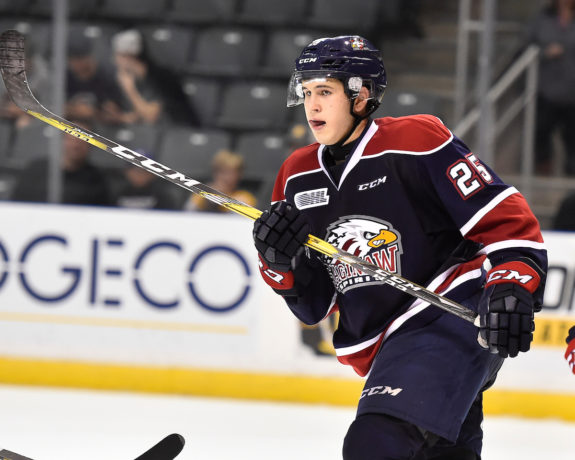 Brock Otten, the founder of OHLProspects.blogspot.com, was a big fan of the Oilers' 2017 draft because of savvy selections like Maksimov. In his annual 31 Teams in 31 Days series, Otten ranked Maksimov third among Oilers' OHL prospects behind Evan Bouchard (10th overall, 2018) and Ryan McLeod (40th overall, 2018).
His bread and butter is his shot and release. This guy can fire a puck. But he also works very hard to get himself in scoring position. In the offensive end, he doesn't stop skating and is consistently first to loose pucks in the slot or goal area. Just a true goal scorer. His size certainly helps here too, and he played with so much more fire this season. He's actually starting to develop into a power forward, a guy who exerts himself physically and gets under the skin of opponents.  — Brock Otten (July 27, 2018)
Maksimov Emerges as Junior Hockey Star
Born and raised in Moscow, Russia, Maksimov played his youth hockey with CSKA Moskva. In 2013, his family relocated to Concord, Ontario, to further their 14-year-old son's career in Canada, and allow him to chase an NHL dream. Maksimov spent the 2013-14 season with the Toronto Jr. Canadiens AAA Bantam team, and played in three late-season games with the club's AAA Midget squad.
Related – Oilers Prospects Update: Benson, Maksimov & McLeod
He paced the AAA Midget team in goals (16) and points (33) and tied for the team-lead in assists (17) in 28 games in 2014-15. He also had two goals and four points in six games in the 2015 OHL Cup tournament. That summer, Maksimov was selected in the second-round (38th overall) by the Saginaw Spirit in the 2015 OHL Priority Selection.
Maksimov had six goals and 21 points in 54 games as an OHL rookie in 2015-16. After putting up six goals and 16 points in 37 games in his second campaign with the Spirit, Maksimov was traded to the Niagara IceDogs, where he blossomed offensively. He finished the 2016-17 season strong with 15 goals and 22 points in 29 games, which caught the attention of the Oilers' scouts.
Last season, Maksimov led the IceDogs in goals (34) and finished second on the team in points (80) and third in assists (46) as a true 18-year-old (although it was his draft plus one year), and helped Niagara reach the second round of the playoffs. Now, in his fourth and final major junior season, Maksimov has become one of the most dynamic offensive players in the OHL.
The Russian sniper has nine goals and 14 points in nine games, tying him for eighth in OHL scoring and he's four points back of Ryan Suzuki (2019 draft eligible) for the league lead. Maksimov, who is on pace for 68 goals and 105 points in a full 68-game season, could become the first Oilers' OHL prospect to score 50 goals since Rob Schremp in 2005-06 and the first to record 100 points since Connor McDavid in 2014-15.
Overcoming the Odds
Since the day he was drafted, Maksimov has proved that most NHL teams should regret allowing him to slip to the fifth-round. Still, players chosen later in the NHL draft, like Maksimov, do not commonly get as many early opportunities as first or second-round choices. Maksimov wasn't on either of the top two lines at the Oilers' rookie camp and didn't see any time on the power play, despite having an unrivaled slap shot from the top of the circle.
Related – Kirill Maksimov: A Thrilling Oilers Prospect
Oilers' 2018 draftees, Bouchard and McLeod received an extended look with the big club during the main camp, while Maksimov was returned to his junior club without playing a single preseason game. Many Oilers fans were not impressed with the decision. There's no doubt that Bouchard and McLeod deserved to stick around as long as they did, but Maksimov, coming off an 80-point season as an 18-year-old in the best junior league in the world, surely warranted at least one game in the exhibition schedule.
Internationally, Maksimov represented Russia at the 2016 and 2017 IIHF World U18 Championships, captaining his team to a bronze medal in 2017. However, he was a notable omission from Team Russia in last year's tournament. In fairness, Russia's World Junior teams are mostly made up of under-20 KHL players (only eight of the 23 players on last year's team played in North America).
Nevertheless, when the Russians finalized their roster prior to Christmas Day last year, Maksimov was in the middle of a scoring streak with 16 goals in 18 games. That kind of production is noteworthy at any level. The 19-year-old should be a lock to not only make Team Russia for the 2019 World Juniors but play in the top six.
If Maksimov can dominate the OHL for the rest of the season and with a great showing at the World Juniors, he will be impossible to ignore when he arrives at Oilers camp a year from now as a 20-year-old. Like most prospects, he will probably need some time in the AHL before making his NHL debut, but no one should be surprised if his goal-scoring prowess forces him on to the team sooner than later.
Eric Friesen is a freelance sports broadcaster and journalist in Saskatoon, Saskatchewan. Eric has diplomas in Broadcasting from Mount Royal University in Calgary and Sports Journalism from Centennial College in Toronto. A lifelong hockey fan, Eric has followed the Edmonton Oilers for more than 20 years. He cheers for the Oilers because of his hockey hero Wayne Gretzky, who played his more productive seasons in Oil Country.