Victor Olofsson is quickly answering the question of whether his skills will translate to the North American game. A forward for the Buffalo Sabres' AHL affiliate, Rochester Americans, was selected as the CCM/AHL Player of the Week for the period ending Oct. 14, 2018. The 23-year-old winger piled up seven points in three games and two of his three goals were dramatic game-winners to go along with his four assists. The Amerks won all three of their games after starting the season with a pair of losses.
NEWS | Rookie forward, @vickeo has been named CCM/AHL Player of the Week.

Olofsson scored three goals – including two game-winners – and added four assists for seven points in three games last week as the #Amerks went 3-0-0-0.

📝: https://t.co/kIKEfKDVsZ pic.twitter.com/XgTY3Gsc7i

— Rochester Americans (@AmerksHockey) October 15, 2018
What a Week for Olofsson
Olofsson scored his first career AHL goal and added two apples in the Amerks' 6-3 win over the Syracuse Crunch. A few nights later, the native of Ornskoldsvik, Sweden registered an assist on the game-tying goal and then buried the game-winner with a filthy backhand shot less than a minute remaining in regulation time. The Amerks won 4-3 over the Bridgeport Sound Tigers.
The next day, Olofsson duplicated the feat in a 3-2 rematch win against the Sound Tigers. He helped set up the game-tying goal in the third then scored the winner at 1:46 of overtime, flying through three defenders and going bar down.
.@vickeo entered the zone 1-on-3 but the rookie ripped the game-winner to give the #Amerks a weekend sweep‼️‼️‼️#AmerksWIN pic.twitter.com/Kph5YHX36Z

— Rochester Americans (@AmerksHockey) October 14, 2018
All told, the versatile winger has eight points (three goals and five assists) in the first five games of his AHL career. He's skating on a line with Danny O'Regan and Rasmus Asplund and ranks second in the AHL in scoring. Some fans have taken to calling him 'Goalofsson.'
'Swede' Words for Olofsson
Olofsson has played more than 200 games in the Swedish Hockey League. In 2017-18 for Frolunda, he scored a league-best 27 goals adding 16 assists for 43 points in 50 games. It was a career-best year for him.
Fellow countryman, Rasmus Dahlin knows Olofsson has plenty of talent and joked during the Sabres development camp that Olofsson doesn't impress him anymore. His skill level is so high that he sees it on display all the time, adding, "He has the best shot I've ever seen. His shot is amazing. Put him in power play, and he will score so much goals," (from Rasmus Dahlin on Sabres' Olofsson: 'Best shot I've ever seen', The Buffalo News -5/8/18).
The Sabres' prospect pipeline has rarely had a late-round diamond in the rough. Olofsson, who was chosen by the Sabres in the seventh round (181st overall) of the 2014 NHL Entry Draft, is a pure goal scorer whose bread and butter is his tremendous shot. The speedy winger knows how to find open ice and the back of the net, but his small 5-foot-11, 172-pound frame is often on the wrong side of a physical play. He projects to be a bottom-six forward at the NHL level, chipping in with secondary scoring, something the Sabres sorely lack.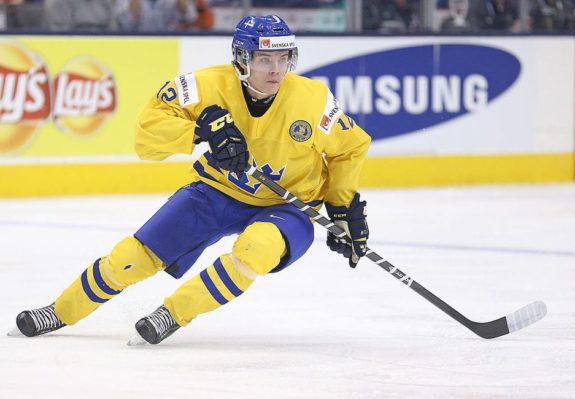 Amerks head coach, Chris Taylor is impressed with Olofsson's early play. "I think he's doing a good job. It's a totally different league than what he's used to. He's finding the net right now but there's some things he needs to improve on. Some wall play and trying to get inside of players. We're doing video with him every day and trying to get him better. We're trying to get him to a place that he feels a lot more comfortable on the ice."
Sabres Could Use Olofsson's Secondary Scoring
The Sabres signed Olofsson, a left-handed shot, to a two-year, entry-level contract worth $1.85 million in April. They're excited about his future, especially his slick release. "I don't think anyone has seen his speed as of yet right now because I think he's still a little hesitant on what he can do," said Taylor. "That will come with confidence."
Amerks coaches have told Olofsson to concentrate on his offense and get pucks to the net and fight for rebounds. They want him to work on playing the inside and find open ice to use his laser-like shot. He's following their instructions and making an impact.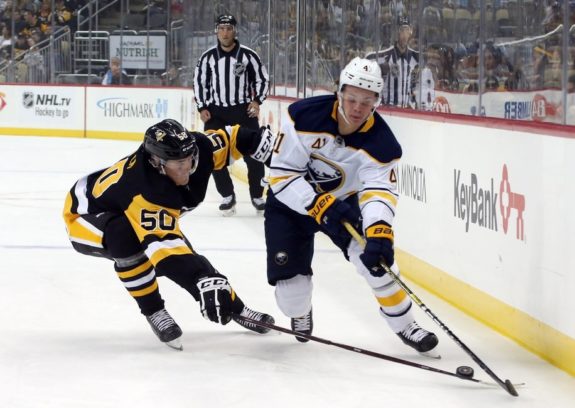 Though Olofsson started the season in Rochester, the winger will likely see playing time in Buffalo with the Sabres. So far, his transition to the smaller ice surface and the quicker decision-making that's necessary in the North American style of play has been seamless. Every team need players with good shooters, especially the Sabres who have struggled to find the back of the net with any regularity for nearly a decade. This year, they've scored just 11 goals through five games, with more than half of those coming off the stick of Jack Eichel and Conor Sheary.