In the end, it was yet another disappointing season for Toronto Maple Leafs fans. With a bit of a twist – the team actually won a playoff series; however, the end was the same. The team was once more eliminated from the postseason after a 3-2 overtime loss Saturday night to the Florida Panthers.
The bottom line for the Maple Leafs was their inability to generate enough offence to win games. That lack of scoring proved to be the team's downfall. In this post, I'll analyze the team's postseason and outline what I believe are the factors that contributed to their early postseason exit. I'll also look ahead a bit to what might happen during the upcoming offseason.
Critical Area One: The Maple Leafs Goaltending 
Despite what I've heard other analysts say, I believe the Maple Leafs' goaltending was solid enough to win in the postseason. But it wasn't good enough to steal a couple of games. In contrast, that is exactly what Sergei Bobrovsky did. He shut down the Maple Leafs when they needed to score, and he did it again and again and again.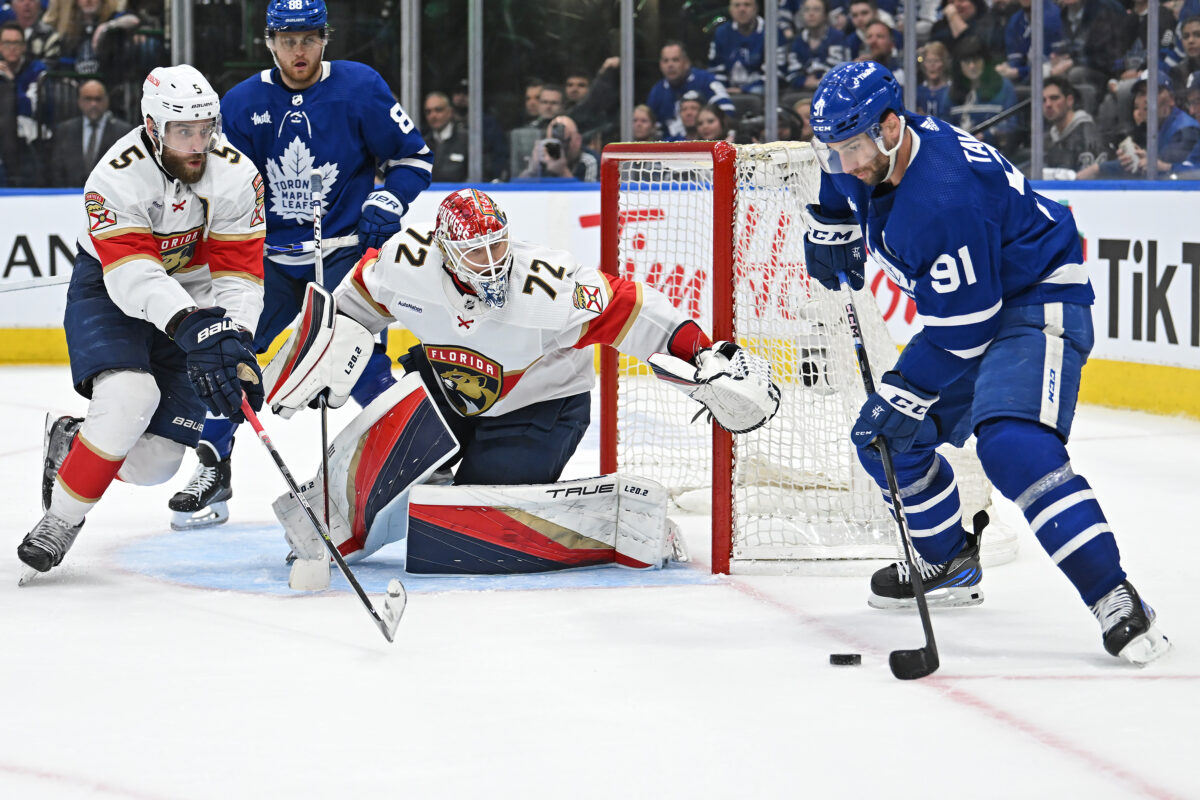 This season the Maple Leafs had good-enough goaltending. Obviously, Matt Murray's season will be looked at as a bust because of his injuries. But Ilya Samsonov was a good goalie for the team. And, Joseph Woll looks like he will be a good goalie long-term. But they are not there yet.
Critics will look at the goalie play for the past number of seasons and call it a persistent issue for the team. From what I've seen as I've studied how the NHL works over the past six seasons now that I've covered the Maple Leafs, the situation seems to be that a team usually must develop their own goalies. From what I've seen, it's tough to trade for a real game-changer these days. 
Related: Maple Leafs' Biggest Concern Is in Net
After the Philadelphia Flyers gave up on Bobrovsky in 2012 and traded him for what amounted to a bag of magic beans (three draft picks) to the Columbus Blue Jackets, he's been with only two organizations – the Blue Jackets and the Panthers. He didn't have for some reason a stellar season in 2022-23 (with a record of 24-20-3). That said, he was only a single season away from helping his Panthers put up the best NHL record in 2021-22.
His record was 39-7-3 last season. He lived up to that ability this postseason. His stellar performance showed why the team invested $10 million per year in him.
Over the seasons since I've been covering Toronto, they have had serviceable goalies. Frederik Andersen was good, but he too could not steal a postseason game and sometimes allowed iffy goals at the worst possible times. Jack Campbell was fun and loveable, but he was similar in his makeup. He just wasn't good enough to steal a postseason victory.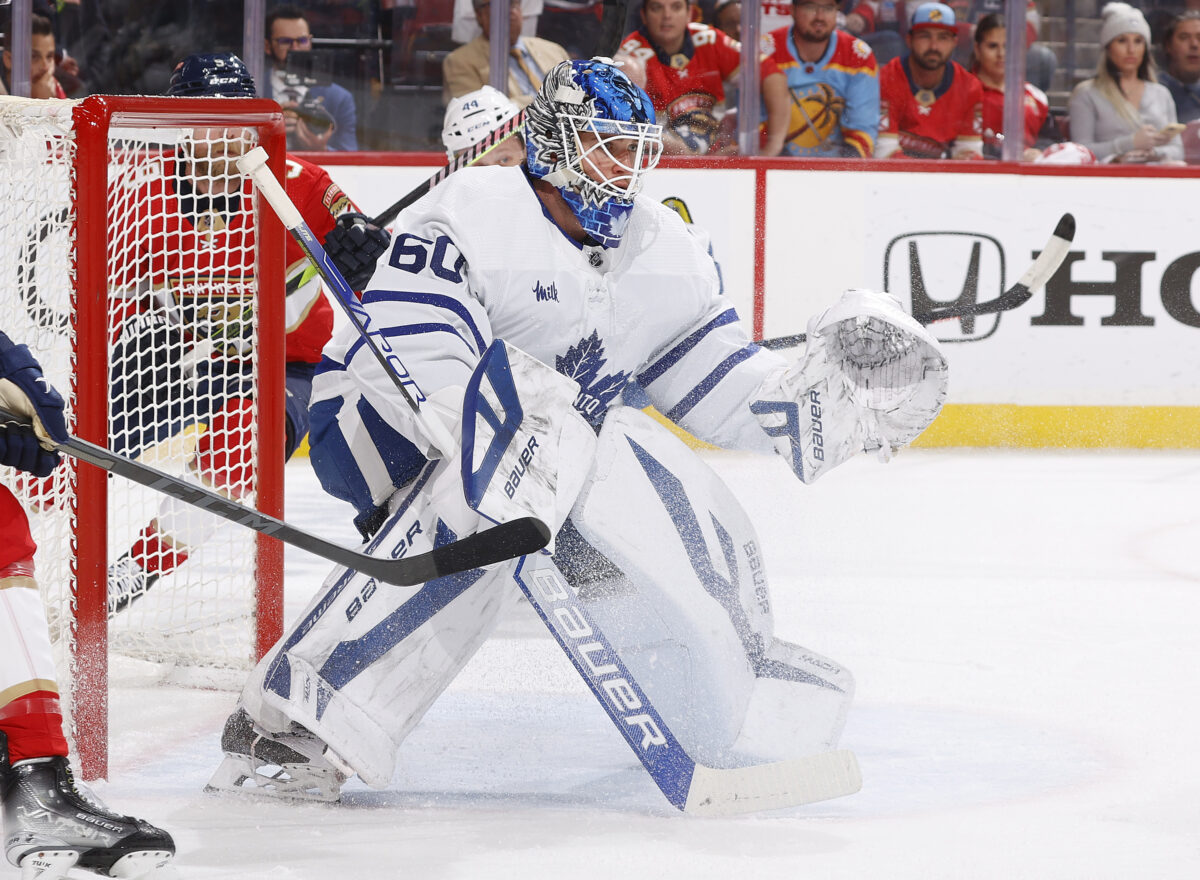 Perhaps Woll is the answer. He's now 24 years of age and seems to have a solid enough grounding, good enough skills, and the kind of mental makeup that a successful young goalie needs. Samsonov just turned 26, so he too is young. He could become a stronger and more consistent goalie. Neither is Bobrovsky or Vasilevskiy (yet). Perhaps they can become that, but in this postseason, given their own team's lack of scoring, they couldn't shut the door tightly enough.
Critical Area Two: The Maple Leafs' Lack of Scoring
As I noted at the start of this post, the Maple Leafs' key problem that dragged them to defeat was their lack of scoring. Had their postseason offensive struggles been mitigated by a timely goal or two, they would have won this Round 2 series. The fact is that the Maple Leafs played better than the Panthers in this series (mostly). Had Morgan Rielly's goal counted instead of being waved off, they would have won Game 6. [That's not whining or complaining about the call, just the point that the game was that close.]
Related: Ranking Every Hart Trophy Winner From 2005 to 2022
Despite being built around four highly-skilled forwards that averaged a point a game during the regular season, the team's biggest setback was their inability to score consistently. Throughout the series, the Maple Leafs suffered because they lacked the offensive production they needed to win. 
The Maple Leafs played five games against the Panthers and scored two goals in every game. Auston Matthews, who only last season had scored 60 goals, had a disappointing season overall. In the postseason, he played well enough as a 200-foot player, but his scoring was underwhelming.
Matthews simply failed to lift his game to a different level. He did not demonstrate that he could be a dominant postseason player when it mattered most.
---
Latest News & Highlights
---
Mitch Marner also played well enough but he, too, didn't score enough either. John Tavares was almost completely absent on the scoresheet. And, William Nylander was about the only one of the Core Four who played consistently well and he did that often without the help of any of the other big guns.
How Does What Happened in Round 2 Shape the Offseason?
As far as anticipating any offseason changes, it would seem clear that there will be some. However, what they are will likely take some time to sort out and sift through. 
Looking ahead, changes seem necessary to address the team's inability to win during the postseason. However, as far as timing goes, it's likely that any on-ice changes will be made second to changes in the team's leadership. 
Related: Ex-Maple Leafs' Defenseman Jake Gardiner: Where Is He Now?
As I've noted in previous posts, there will be questions about general manager Kyle Dubas. His contract extension remains uncertain. There are similar questions about head coach Sheldon Keefe. If neither of those two return, those moves need to be made before the organization evaluates how the plans match up with reality.
It would seem that leadership questions come first and player questions come second. Stay tuned for a busy offseason for the team.
---
---