The Toronto Maple Leafs kicked off the 2023 Playoffs in the most Maple Leafs way imaginable. Coming in on a four-game winning streak looking deeper than they ever had before, Game 1 could have been considered a contender for the worst game they've played all year. Falling 7-3 to the Tampa Bay Lightning, they were dominated from the first minute of the game and played right into Tampa Bay's antics, tallying a total of 15 penalty minutes by the end of the game. 
Related: Bunting's Suspension Provides Opportunity For Other Maple Leafs
In the middle of all that drama in Game 1, to no surprise, was Michael Bunting. The forward has become somewhat of an enemy of the officials throughout the season, so when he laid a controversial hit on Lightning defenseman Erik Cernak near the end of the second period, he was immediately assessed a five-minute game misconduct. In a subsequent hearing with the Department of Player Safety, he was given a three-game suspension for the hit.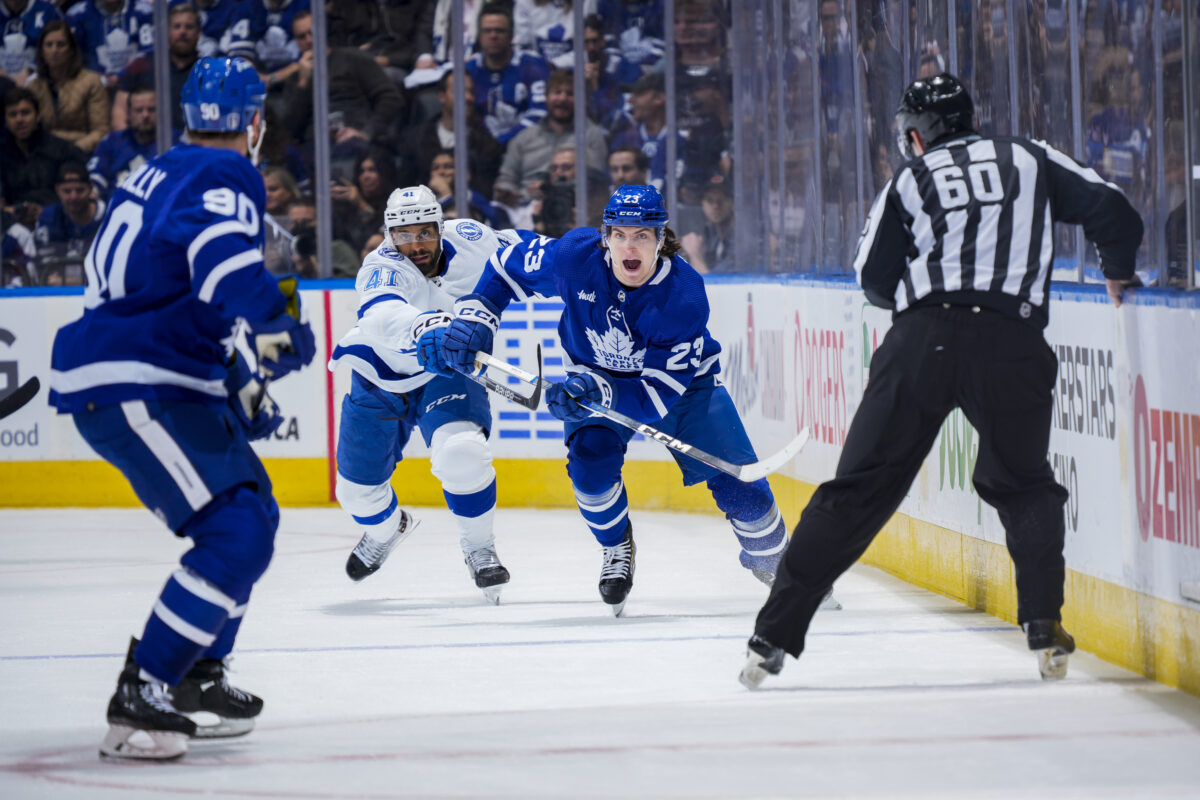 With 23 goals and 49 points this season, the suspension is a loss for the Maple Leafs, but on the flip side, it's opened up an opportunity for top prospect Matthew Knies. The team's second-round pick in 2021 joined them with three games left in the regular season, and made his playoff debut alongside playoff veterans Ryan O'Reilly and Noel Acciari on the third line. While he didn't register a point, he certainly didn't look like a player in his first-ever playoff game, and Bunting's suspension could open up an opportunity for him.
Knies Impresses In Third Line Role 
After loading up their top six for Game 1, the Maple Leafs opted to spread things out a little bit on Thursday night. While keeping the "core four" in the top six, they dropped O'Reilly to center the third line alongside Knies and Acciari. While one game is too small a sample size to set anything in stone, Knies looked extremely comfortable playing alongside his new veteran teammates. 

His name didn't appear on the scoresheet under the goals or assists tab, but he finished the game with 13:10 of TOI (time on ice), and he threw five hits, tied for most on the team with Zach Aston-Reese and Luke Schenn. His presence was notable on the ice all night, using his big frame at 6-foot-2 and 210 pounds to protect the puck from Lightning forecheckers. He also used his frame to drive the net and came close to scoring his first goal a couple of times. 
Let's not give Knies all the credit either, because his line as a whole last night made a serious case to stay together for at least the next few games. With the physicality that he and Acciari bring on either wing (the latter had three hits Thursday night and seven in Game 1), combined with O'Reilly's strong defensive play and extra offensive touch, they have the potential to be a real issue for the Lightning, and ideally future opponents if they can get out of the first round this year. 
Knies' Debut Reminiscent of Chris Kreider in 2012 
The New York Rangers found themselves in a similar situation back in 2012. Three years after selecting power forward Chris Kreider in the first round of the 2009 NHL Draft, they signed him to his entry-level contract after he scored 23 goals and 45 points in 44 games with Boston College. Unlike Knies, he didn't get to play a regular season game, instead making his debut in the 2012 Playoffs. He made a pretty solid impact for a then-20-year-old, scoring five goals and adding seven points in 18 games during that run.
It's hard not to notice the similarities between Kreider and Knies. They're both power-forward-style players and had similar production in their final year of college hockey, with Knies putting up 21 goals and 42 points in 40 games this season with the University of Minnesota. At 20 years old, he's the same age that Kreider was when he jumped into the Rangers' lineup for the first time, but like Kreider, he plays much older than his age, with tons of confidence and no visible nerves. 
---
Latest News & Highlights
---
It's unknown how the Maple Leafs will continue to use Knies in these playoffs, but even if he sticks on that third line, it's hard to envision a scenario where he doesn't make an impact. Whether that's through scoring goals, throwing big hits, or a little bit of both, he looks incredibly comfortable playing alongside someone who's been all the way before in O'Reilly, and he'll only get more comfortable with each game he plays. 
Knies Should Stay in the Lineup Regardless of Bunting's Suspension 
With Bunting's three-game suspension, he's set to make his return in Game 5 when the Maple Leafs return to Toronto. This is where things are going to get dicey for head coach Sheldon Keefe. Truth be told, they sort of benefited from Bunting's absence from the lineup, with fewer penalties called and fewer altercations with the officials. That being said, I can't envision a scenario where he stays on the bench after the suspension is over, and he honestly shouldn't.
You May Also Like
From that point forward, the Maple Leafs will have to sort of play it by ear when it comes to who sits in the press box. Either way, there should be a valiant effort made to keep Knies out of the sit-start rotation unless he has a really bad game. His presence alone on the ice gives the Lightning another player to keep tabs on, and he looks like he's been playing in the NHL for years. Probably not the way you'd expect a second-round pick's career to start, but he's certainly earned the consideration.