Canada's two best shots at a Stanley Cup (no disrespect intended to the Winnipeg Jets) are the Edmonton Oilers and Toronto Maple Leafs and both find themselves down 0-1 in their respective best-of-seven series. The Oilers had Game 1 in hand against the Los Angeles Kings before falling apart in the final eight minutes and taking multiple bad penalties that let the Kings tie the game with 16.7 seconds remaining. Los Angeles eventually won it in overtime. On the other hand, the Maple Leafs were only close to being competitive in Game 1 versus the Tampa Bay Lightning for about three minutes. The final score: a blowout with the Leafs losing 7-3.
On the surface, it might sound like the Maple Leafs' loss is a whole lot worse, but is that actually true?
Both Teams Got a Wakeup Call
For the Oilers, they outplayed the Kings for most of the first game. But, despite a two-goal lead late in the third period, undisciplined plays and an inability to lock down a lead versus a pesky Kings team that knows how to hang around was costly. A bad crosscheck that became a high stick by Evan Bouchard and then an errant stick that wound up being a tripping call against Vincent Desharnais in overtime was all the room Los Angeles needed.
---
Latest News & Highlight
---
For the Oilers, they've been not-so-subtly reminded that there are no moments off in a playoff game. You can play 52 minutes of sound hockey and still lose. If Edmonton wants to get back into the series and go to Los Angeles tied 1-1, there needs to be 100% commitment from the entire roster for the entire 60 minutes. It's been a question mark all season long, up until just after the trade deadline when the Oilers seemed unbeatable.
Related: Maple Leafs Reliving Familiar Situation With Bunting Match Penalty
Meanwhile, the Maple Leafs learned that the Tampa Bay Lightning are not to be overlooked. Tampa may not be the favorites this season, but Toronto quickly learned that if you're not ready, the Lightning will flip their Stanley Cup switch and embarrass you. This was a poor showing by a Leafs' team that shouldn't need any extra motivation to get off to a strong start in a series that has lasting implications.
Which Message Sinks In and Which Loss Can Be Shaken Off More Quickly?
There's this thing that hockey players do after a bad loss where they shrug it off and tell themselves, 'That won't happen again.' The Leafs are now in that position. Frankly, it's going to be hard to repeat such a flat performance. Some fans are blaming the officiating and others are already worried this team hasn't learned a thing, but if you ask the roster, to a man, they'll probably all quickly put this loss behind them and get back to Game 2 with a renewed sense of urgency.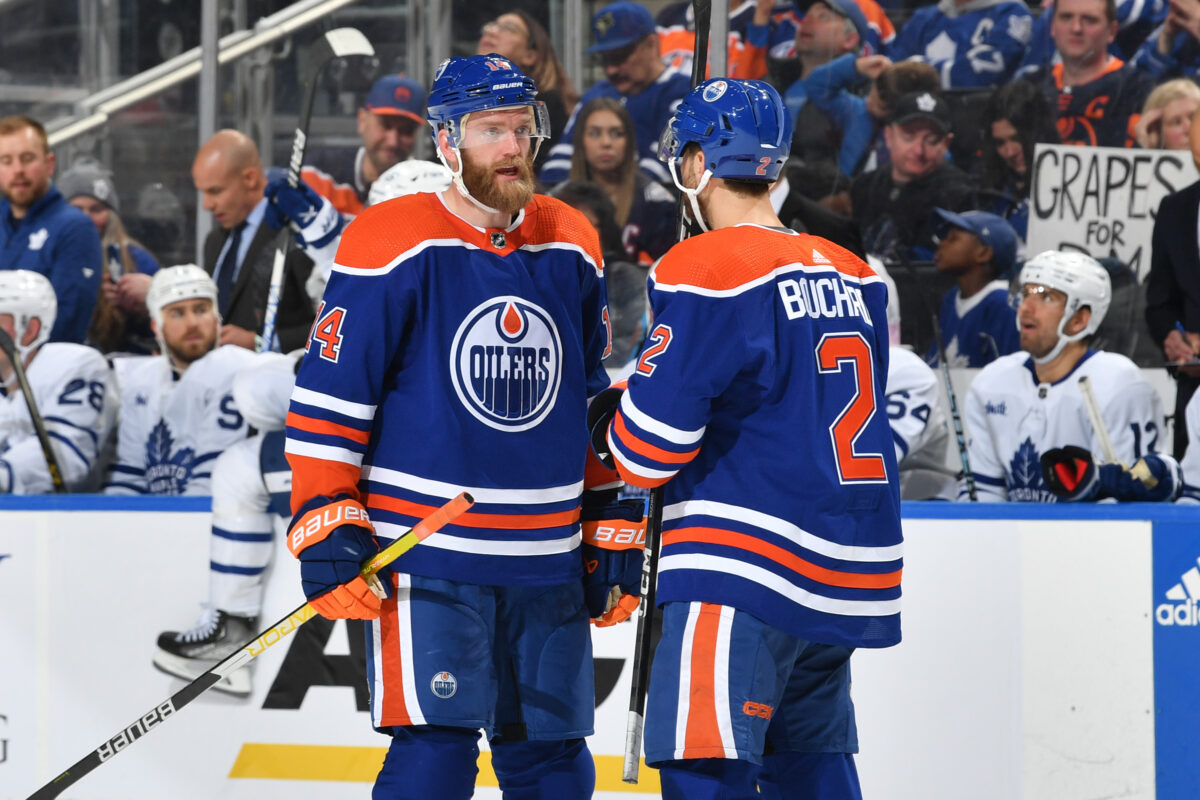 The Oilers, however, might be questioning whether they can hold off a surging Kings late in a game. Going into the playoffs as the hottest team in hockey, Edmonton took a bullet in Game 1. Did it ricochet right off them? Or, are they wounded?
They've been here before and were down 0-1 in the series last year, but this Kings team is better, and the players who took bad penalties for the Oilers lack some playoff experience. Edmonton will likely understand they are better than what they showed in the final moments of the third period, but there may also be some doubt about their ability to hold a lead or win a close game.
They know this Kings team is good, whereas the Leafs know they need to be much better. Those are two very different things.
Too Early To Tell for Both Teams
The good thing about the playoffs is that each series is long. Neither the Maple Leafs nor the Oilers are out of this and it's only one game. One game does not make a series and how each respective roster rebounds will say a lot about what these teams are actually made of.
Each team knows what they have to do. The question will be, can they do it? Can the Oilers get an early lead and hold it? Can the Maple Leafs show up and dictate the pace of a game against the Lightning in the early going? Edmonton gets a chance first to make things right. They'll have their entire roster back to help do so. Toronto faces the Lightning in Game 2 on Thursday. They could be without Michael Bunting as they try to tie the series.