For what was supposed to be a high-scoring game between the Toronto Maple Leafs and the Edmonton Oilers, it was a dud. The Maple Leafs lost 3-1 to a defensively-minded Oilers' team.
From the Oilers' point of view, an ugly win is still a win. On the other hand, from the Maple Leafs' point of view, the players' responses seemed surprised – as in "Where were our legs?" or "How come our lines looked out of synch?"
Related: Maple Leafs' Rasmus Sandin's Development Derailed For Two Reasons
The point is that, for as high as the team was after two wins in a row, today is an emotionally down day that includes a good measure of self-searching. On top of that, there's bad news that NHL veteran Joe Thornton was injured and there's no timeline about how long he might be out.
In this edition of Maple Leafs News & Rumors, I'll look at some of the news and analysis from the game.
Item One: Auston Matthews' Goal Scoring is Down this Season
Auston Matthews is on a point-a-game pace for the young 2020-21 season, but his goal-scoring is down. During Wednesday's loss to the Oilers, he scored his second goal of season. It isn't as if Matthews is playing poorly; in fact, I'm watching him skate and hit all over the ice. That said, his production on the score sheet is lower than Matthews is used to.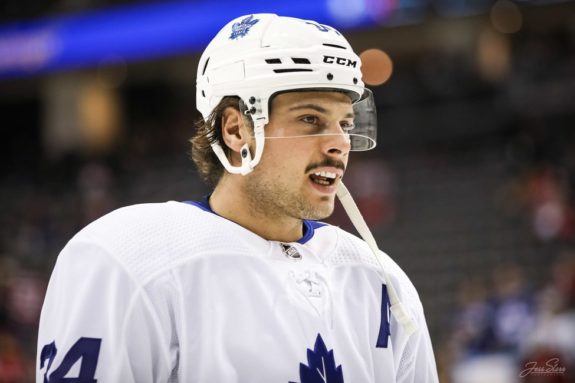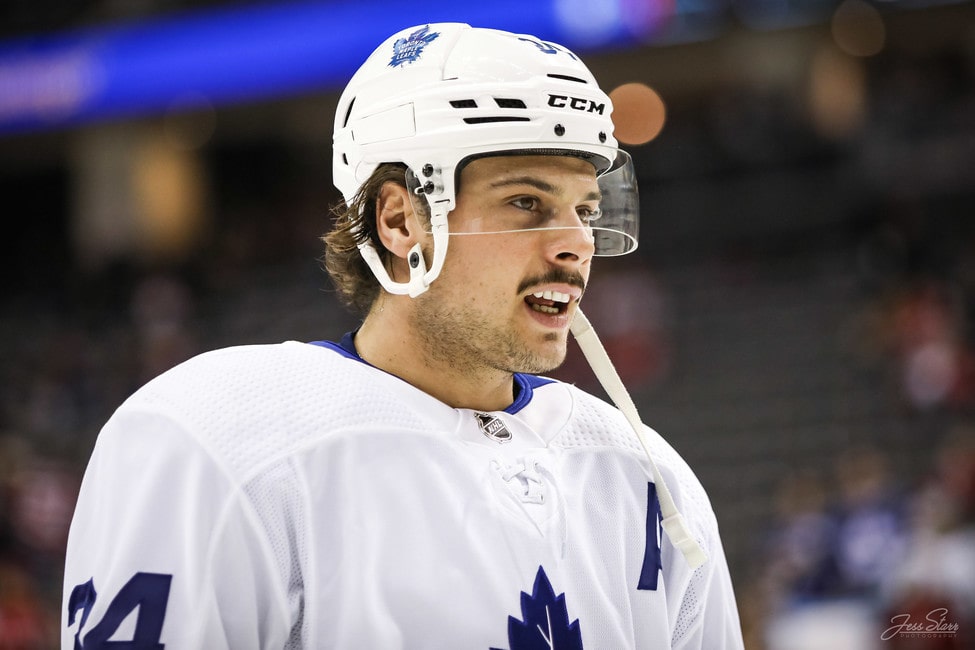 Whenever a hockey game features the kind of stars the Oilers and the Maple Leafs ice on a night-to-night basis, you'd expect fireworks. Wednesday evening; not so much. The game didn't live up to its advanced billing, which is more on the Oilers than the Maple Leafs.
You might have thought it was the Maple Leafs and the Columbus Blue Jackets given the way the Oilers played on defense. For the Oilers, it worked. However, it rendered the game a bit lifeless. 
Related: Why the Vezina Trophy Deserves Its Name
Still, Matthews did score from a sharp angle on Oilers' goalie Mikko Koskinen. That goal tied the game 1-1 in the third period. Sadly, for the Maple Leafs, it was all the offense the team could generate.
The 23-year-old center now has two goals and five points in five games to begin the season, which by Matthews' standards is off his usual pace. Matthews was involved: he finished the game by registering six shots on goal and even had six hits in 24:27 of ice time. The team's young star now has scored at least a point in four of his team's first five games and, for the season, has now totaled two goals and three assists (for five points in five games).
Item Two: Frederik Andersen Suffers Behind Insipid Maple Leafs' Offense
Frederik Andersen was on his game Monday against the Winnipeg Jets, stopping 27 of 28 shots as the team scored a 3-1 victory. The 31-year-old goalie was trying to earn his third win of the young season against the Oilers, but it was not to be.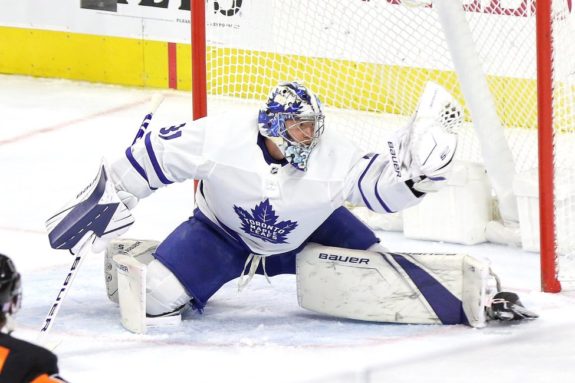 It wasn't as if Andersen played poorly, he stopped 19 of 21 shots (the Oilers' last goal was into an empty net). However, Andersen got little help from his teammates who didn't seem able to match the Oilers' physical game.
For those critics who believed Andersen would be a bust this season in the Maple Leafs' net, that hasn't happened. He started poorly in the team's first game, but he seems to have turned his game around. In fact, he's only given up three goals on 49 shots over his last two games.
Related: Boston Pride 2021 Season Preview
Andersen's record now sits at 2-2-0 with a goals-against average of 3.01 and save percentage of .886. Obviously, those statistics could improve greatly, but Andersen seems to be moving in the right direction. He's going to be needed on those evenings when his team's scoring opportunities dry up against a strong defense.
Item Three: Thornton Injured in an Innocent But Awkward Play
The Maple Leafs lost veteran Joe Thornton on an innocent-looking but awkward play when Oilers' forward Josh Archibald hit him along the boards during the third period. Thornton left the game, tried to shake out the injury, but quickly went to the locker room.
The initial word was that the 41-year-old NHL veteran wouldn't be able to play in the team's next game, which would be a rematch against these same Oilers on Friday. If Thornton's sidelined, potentially Adam Brooks or Pierre Engvall will be inserted into the Maple Leafs line-up.
In addition to losing Thornton, which is bad enough, if head coach Sheldon Keefe is right that Thornton will 'definitely' miss time, there's a corresponding implication on the team's available salary-cap space. Because the Maple Leafs have little cap space available, general manager Kyle Dubas will have to creatively scramble to manage the cap space.
Until we hear more about Thornton's injury, he'll be considered day-to-day. It's likely Zach Hyman will be slotted into the top line in Thornton's place for the time being.
Item Four: Maple Leafs Move Travis Boyd to their AHL Affiliate
The Maple Leafs assigned Travis Boyd to their AHL affiliate the Toronto Marlies. Boyd hasn't played yet during the 2020-21 season. He scored three goals and 10 points in 24 games with the Washington Capitals last season. The move isn't a surprise, and Boyd will likely move back-and-forth during the AHL and the Maple Leafs' taxi squad this season.
What's Next for the Maple Leafs?
Hockey is a funny game. Wednesday night's game would have been one most hockey fans would have put on their calendar as a must-watch game. Who would have suspected that a match-up between Matthews and Connor McDavid would have been boring? But, in many ways it was a hard game to watch. It sure didn't live up to people's offensive imaginations.
Related: Maple Leafs Radical Trade Rumors: Nylander, Ekblad, Nurse & Subban
The question is "Now what for Friday?" If I'm the Oilers, I'd play the same defensive game tomorrow as I did on Wednesday. It was a bit of a dud of a game; but, for the Oilers, it was a needed win in a season where all the Canadian teams will be fighting for a playoff spot.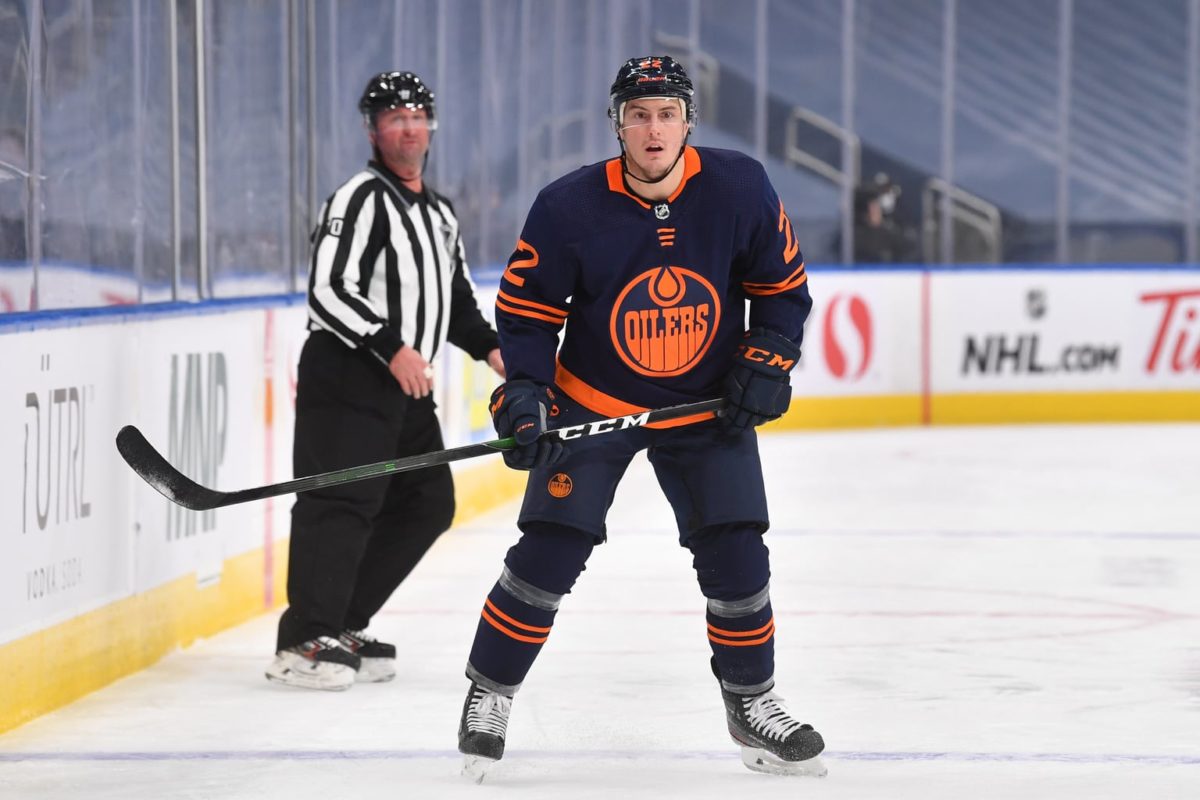 As it stands now, Friday night's game is huge. Perhaps the Maple Leafs can overwhelm the Oilers offensively – or vice versa. But the team will have to be motivated not to lose back-to-back games to the Oilers at home.
---
---