We've officially reached the point of the NHL season where the focus starts to shift away from the regular season and towards the playoffs. The priority for teams who have already clinched, like the Toronto Maple Leafs, becomes resting key players and getting depth players some extra reps in an effort to ensure a fully healthy roster by the time Game 1 rolls around. The Maple Leafs still have to clinch home ice against the Tampa Bay Lightning, so they aren't in playoff mode quite yet, but we're starting to see them rest veterans and play younger players during stretches with a high volume of games. 
For example, the Maple Leafs shut out the Ottawa Senators 3-0 on Saturday night, then used their Sunday night game against the Detroit Red Wings to rest Mitch Marner, Jake McCabe, and Mark Giordano. Subsequently, players who likely won't be in the playoff lineup such as Wayne Simmonds, Radim Zohorna, and Nick Abruzzese got into some game action.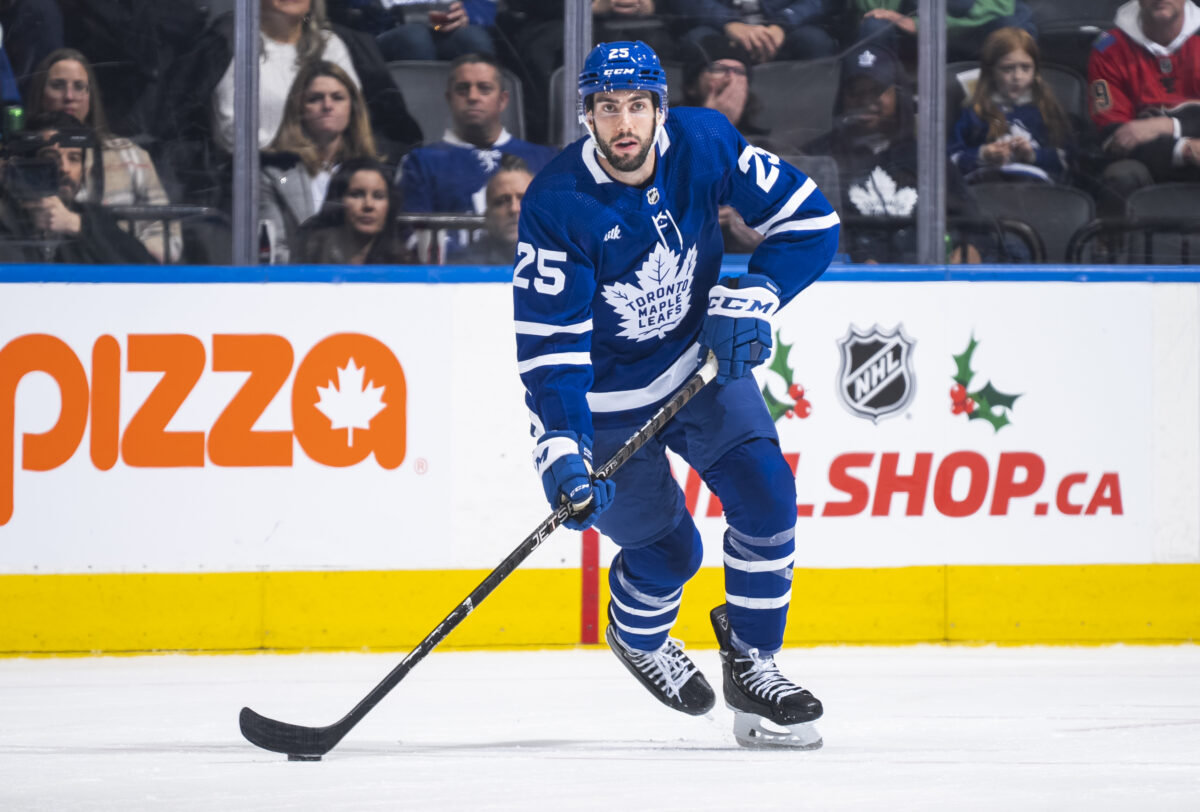 That also included defenseman Conor Timmins, who played his first game since Feb. 24. He was acquired by the Maple Leafs in November and although he didn't play every game, he made an impact in the games he did get into, tallying 13 points in 24 games from the back end. But, ever since the deadline acquisitions of McCabe, Luke Schenn, and Erik Gustafsson, his playing time has drastically decreased. That being said, he seems to have a good handle on the situation.
Timmins in Good Spirits, Content With His Role 
For somebody like Timmins, getting a fresh start with your hometown team only to fall down to ninth on the depth chart despite producing whenever you're in the lineup could be demoralizing. But, any concern that there's a rift brewing between him and the coaching staff was cleared when he met with the media following Sunday night's game against Detroit. 
For somebody who grew up cheering for the Leafs around the GTA, Timmins certainly understands how high the stakes are this year. And, although there probably wasn't much else to say, for him to come out and say something like this is a strong display of maturity and probably sits well with head coach Sheldon Keefe and the rest of Maple Leafs brass. Especially considering he delivered more than what was expected of him and got rewarded with a month and a half on the bench.
Related: Sheldon Keefe Has Maple Leafs Playing Fire Drill Hockey
---
Latest News & Highlights
---
The Maple Leafs extended Timmins on Feb. 9, which was certainly a nod to what he did with his opportunity. The reality is, the three defensemen they brought in all crush him in the experience department, and Schenn has two Stanley Cups under his belt, both with the team that Toronto is set to play in the playoffs in a few weeks. As a young defenseman, there's a good chance that regardless of what you do, a crop of acquisitions like that will push you out of the lineup during crunch time.
Timmins Has a Future In Toronto 
I wrote about it when they traded for him, but when the Maple Leafs acquired Timmins, it wasn't your prototypical depth-for-depth trade. A former projected first-round pick who was drafted 32nd overall in 2017, he's had about as tough a break as you can get since getting drafted. Between a concussion to end his junior career, several other injuries, and COVID, he's cumulatively lost roughly two years of his development. That being said, the potential is still there, and a big reason why the Maple Leafs extended him despite the lack of playing time lately. 
For as much as the Maple Leafs love Justin Holl, it would be hard to justify bringing him back with Timmins and Timothy Liljegren both looking to step into bigger roles next season. Timmins has certainly done enough in 2022-23 to warrant getting a proper, regular look in the lineup next season, likely including some secondary power play time and occasional top-four looks if he can stay healthy. If he can take a step forward next season, the value of that $1.1 million annual cap hit will look much stronger. 
Maple Leafs Can't Take Foot Off the Gas
How many times have we heard the term "take the foot off the gas" coined in a discussion about the Maple Leafs? Well, it applies just as much now as it will in Game 1, Game 2, and all the way to Game 7. The Maple Leafs are in a good spot, sitting four points ahead of the Lightning with a game in hand, but the latter have won three games in a row, and goaltender Andrei Vasilevskiy has looked lights out in recent games. 
You May Also Like
We already know this, but the Lightning are a team you simply cannot cheat. They are beat up on the back end, they didn't do much at the trade deadline, and generally haven't looked as dominant this season as they have in the past. None of that matters at all. If the Maple Leafs are going to make all the trades they did at the expense of Timmins and so many other players, they can't take any games off, and it will only get more important as we inch closer to Game 1.