The Toronto Maple Leafs set the tone for their trade deadline plans on Feb. 17, swinging a blockbuster trade with the St. Louis Blues to acquire forwards Ryan O'Reilly and Noel Acciari. With the former being a Conn Smythe (Stanley Cup Playoffs MVP) winner for the Blues during their Cup run in 2019 and the latter being a key bottom-six forward on the Boston Bruins teams that eliminated the Maple Leafs in 2018 and 2019, it was a trade that said they meant business this year. 
---
---
What followed was another blockbuster trade, this time with the Chicago Blackhawks, to acquire defenseman Jake McCabe and forward Sam Lafferty, and two individual trades to bolster their defensive depth, scooping Erik Gustafsson from the Washington Capitals and former fifth overall pick Luke Schenn from the Vancouver Canucks. We've already spent more than enough time talking about these deadline moves, so today we're going to focus on the impact that one player could have on their lineup in the playoffs.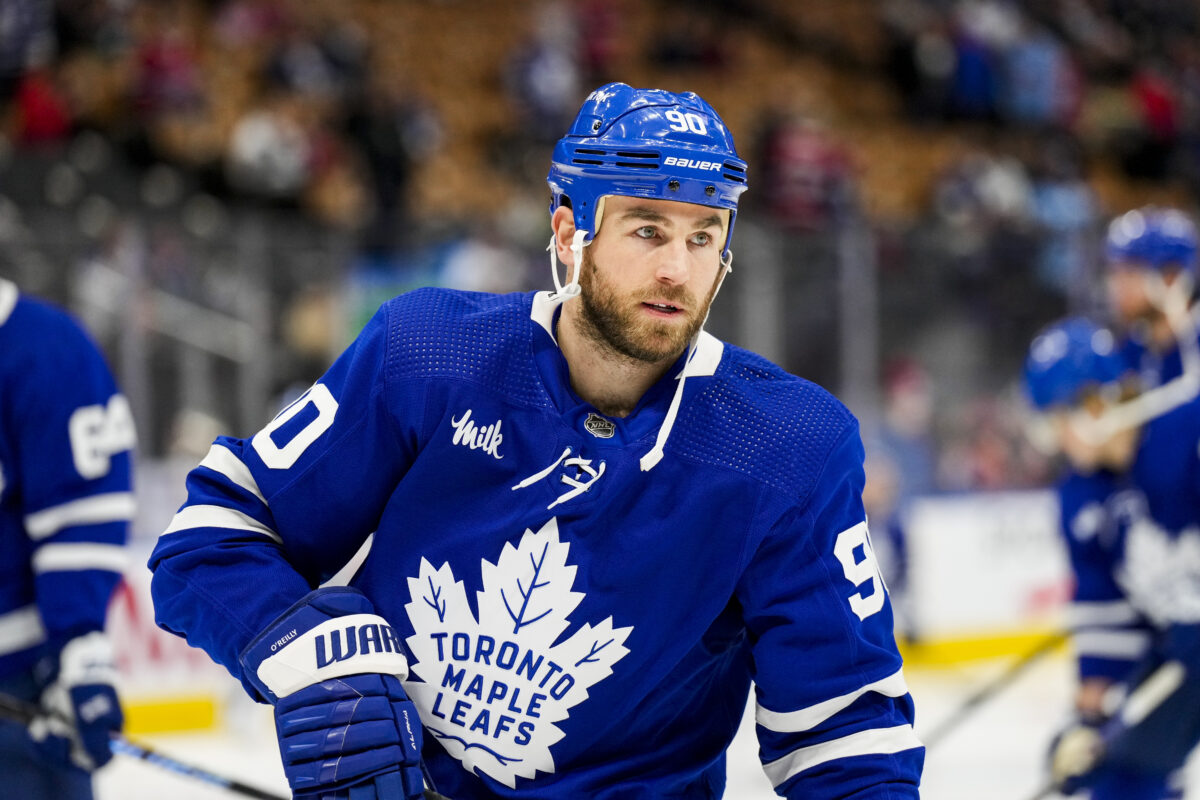 O'Reilly hasn't played since March 5, when he was forced to leave the game against the Canucks with a finger injury after accidentally blocking a shot by teammate Auston Matthews. He could return sometime next week, giving the Maple Leafs a massive boost as they face their impending first round matchup with the Tampa Bay Lightning, and his versatility could give them multiple options when it comes to lineup deployment. 
O'Reilly Can Play Anywhere in the Top-9 
When O'Reilly first got to Toronto, the Maple Leafs did everything they could to set him up for some early success, starting him on the second line in between John Tavares and Mitch Marner. It was a good start for the Mitchell native, tallying five points in eight games before suffering his injury, including a hat trick against the Buffalo Sabres, his former team. Of course, the injury didn't help the notion that it would end up like another Nick Foligno trade, but they shouldn't be compared considering the nature of both players' injuries. 
Related: Maple Leafs Should Prioritize Re-Signing Samsonov in Offseason
---
Latest News & Highlights
---
O'Reilly has been skating with the team this week, and if the stakes in the playoff race were higher, he likely would have played against the Florida Panthers on Wednesday night. But, since they've already locked up a playoff spot and currently sit six points up on the Lightning, it's understandably a priority for them to make sure he's at 100 percent. When he comes back, it wouldn't shock me to see him return to his spot on the second line for the first few games, but looking at a seven-game playoff series, I have a hard time believing he'll stick in that role. 
The success of Calle Jarnkrok on the top line with Matthews and Marner relieves some pressure to load up their top six, and assuming Michael Bunting sticks with John Tavares and William Nylander, O'Reilly has a home up the middle on the third line. Centre depth is a crucial thing to have in the playoffs, and a three-headed monster of Matthews, Tavares, and O'Reilly up the middle is a tough out no matter which team you're facing. This all being said, just because theoretically, his best spot would be on the third line, doesn't mean we should see him there in all situations. 
Lineup Suggestion #1 – Defending a Lead/Tie Game 
My colleague Shane Seney wrote a piece predicting the lineup the Maple Leafs will ice in Game 1 against the Lightning, and although a great read and one worth checking out, we have different takes on how they should deploy their forwards. A Game 1 lineup is a fresh slate, and one where, ideally, all of your forwards are healthy. And, the lines I would want them to run with while defending a lead or in a tie game are pretty much exactly the ones they should deploy to kick off the series, so you can consider this my take on their Game 1 lineup as well. 
Calle Jarnkrok – Auston Matthews – Mitch Marner 
Michael Bunting – John Tavares – William Nylander 
Alex Kerfoot – Ryan O'Reilly – Sam Lafferty
Zach Aston-Reese – David Kampf – Noel Acciari 
At face value, this lineup is the deepest we've seen in the Matthews era. No other third-line centre the Maple Leafs have had throughout the past few years can hold a candle to O'Reilly, and this isn't even including the fact that it pushes David Kampf to the fourth line. He was their third-line centre for much of last season and did an excellent job, further proving how deep this lineup is with the recent additions.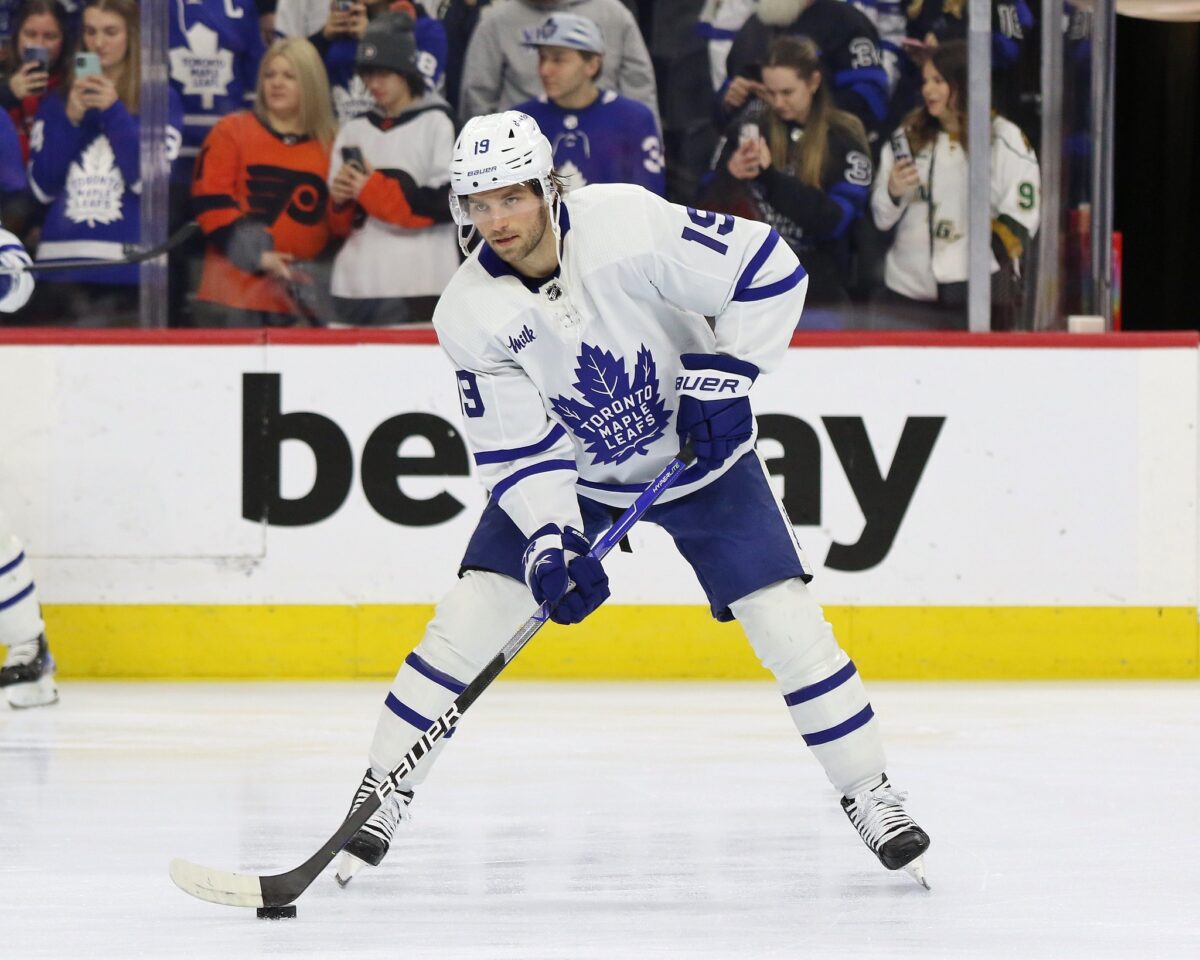 Although he won't have a star winger playing alongside him, Kerfoot and Lafferty aren't slouches on his wings. For as critical as I've been of the former, he's one of their better defensive forwards and would drive possession on that line. Lafferty on the other hand, despite a slow start offensively, is one of their most relentless forecheckers and would be the gas pedal on the line. 
Lineup Suggestion #2 – Chasing a Lead/Desperate For Goals 
If the Maple Leafs ever find themselves in a situation where they're down by a goal or two in the third period, they should be tweaking their lines to load up the top six. O'Reilly would be the easy candidate to bump up here, despite only 24 points in 48 games so far this season. He's a bit of a rare case in that he has a better point-per-game average in the playoffs than he does in the regular season, so if history repeats itself, they should put him in a position to deliver. 
Calle Jarnkrok – Auston Matthews – Mitch Marner 
John Tavares – Ryan O'Reilly – William Nylander 
Michael Bunting – Sam Lafferty – Noel Acciari 
Alex Kerfoot – David Kampf – Zach Aston-Reese 
If you're Lightning head coach Jon Cooper and you send your top shutdown line to face Matthews, Marner, and Jarnkrok, and the Maple Leafs respond by following up with O'Reilly, Tavares, and Nylander, it's a look that probably strikes fear more than it did last season. Like I said early on, O'Reilly looked good on the second line in his time there, so whether or not that trio will work isn't a concern so much as whether it's the best way to deploy their forwards.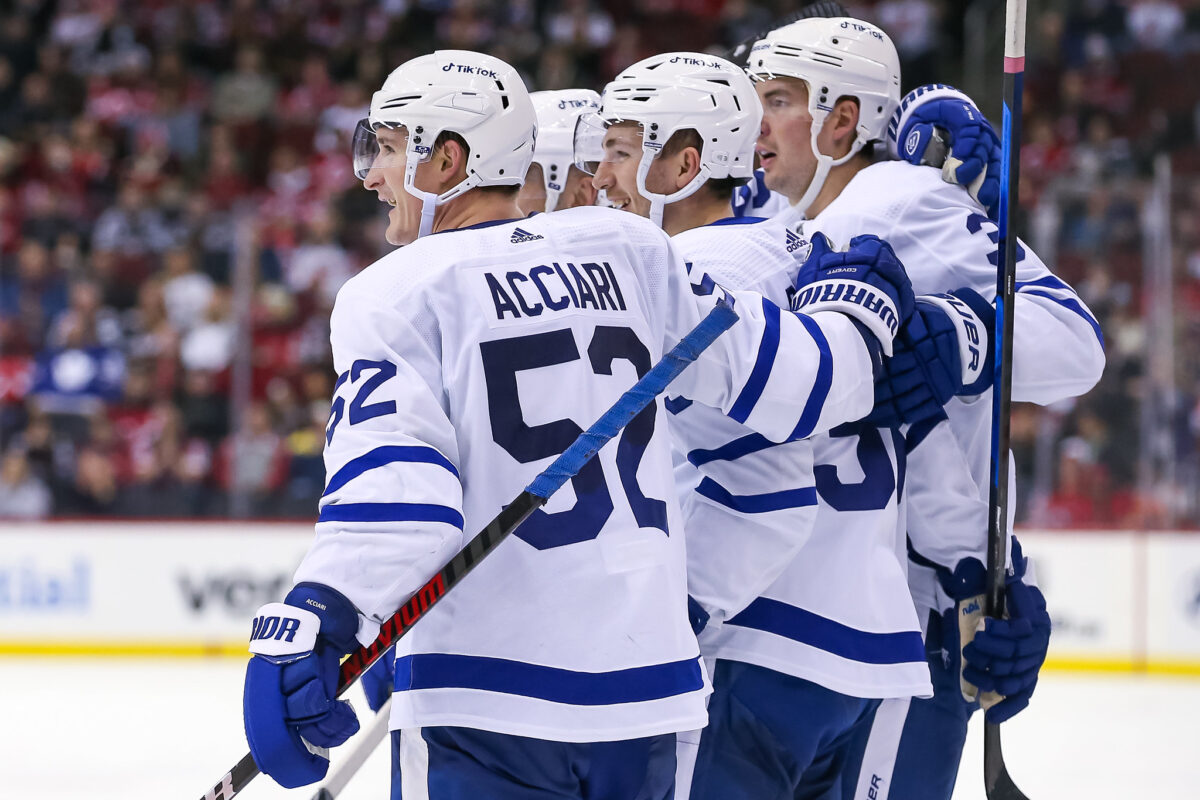 But, like I said, this lineup ideally would only come out if they need to score some goals. And, to add icing to the cake, a third line of Bunting, Lafferty, and Acciari would easily be one of the most frustrating to play against. The only reason I bumped Acciari up and dropped Kerfoot was that it would be better to have the latter playing on the left side where he's most comfortable. That, and he already has experience playing alongside Aston-Reese and Kampf. Either way, the priority of this lineup will be to score some goals, so we'd likely be seeing the top six more often than the bottom six anyways. 
Maple Leafs' Playoff Lineup Still Up in the Air 
The purpose of this article was merely for me to share my take on how I think they should deploy O'Reilly and the rest of the team depending on the situation. But, the way they deploy their forwards might vary depending on the game, and it might not even be anything close to the way I mapped it out. The team has seen an uptick in running games under the 11 forwards, seven defensemen format, and as they get more comfortable with it, it's entirely possible we see them use that formation, especially with the overabundance of defensemen they have.
You May Also Like
We also haven't considered the possibility that Matthew Knies signs with the team at the end of the season and impresses enough to get a playoff game in. It's important to temper expectations with him, considering he's a second-round pick drafted only two years ago, but he's demonstrated during his time in the NCAA that he has a tendency to score goals when it matters, which is something the Maple Leafs could use in the playoffs. Either way, the acquisition of O'Reilly was made precisely to give them these extra options in a playoff series like this, and it will be interesting to see how it all plays out.