The top-seeded Windsor Spitfires know that their opening round Ontario Hockey League (OHL) playoff series with the Kitchener Rangers isn't your typical one versus eight matchup. They got a reality check very quickly on Thursday night, dropping Game 1. Now, they've got two days to figure out the next step.
---
---
Both clubs spent the season loading up with talent. While the Spitfires have names like Matthew Maggio (New York Islanders), Shane Wright (Seattle Kraken), and Brett Harrison (Boston Bruins), the Rangers counter with veterans Francesco Pinelli (Los Angeles Kings), Francesco Arcuri (Dallas Stars), and Danny Zhilkin (Winnipeg Jets). It took a bit longer for them to find their game, which is why they finished eighth, but they're in a great position to make a statement. They did that on Thursday night.
Rangers Stun in Game 1
Last season, the Spitfires had a tough opening series against the eighth-seeded Sarnia Sting, who took them to Game 6. Despite the club's 4-0 record against the Rangers this season, most expected this to be a similar battle. It lived up to the hype very early.
Related: OHL Playoffs: Windsor Spitfires End Drought, Beat Sting in Six
---
Latest News & Highlights
---
The crowd of 4,577 filed into the WFCU Centre in Windsor for Game 1 and, while they were pumped, frustration quickly took control. Veteran Reid Valade opened the scoring for the visitors just 40 seconds in and then they added another just before the halfway point for a quick 2-0 lead. It became the story of the night as the Rangers got timely offence from their veterans, including Pinelli's three-point effort, and seemed to spoil every move the Spitfires made.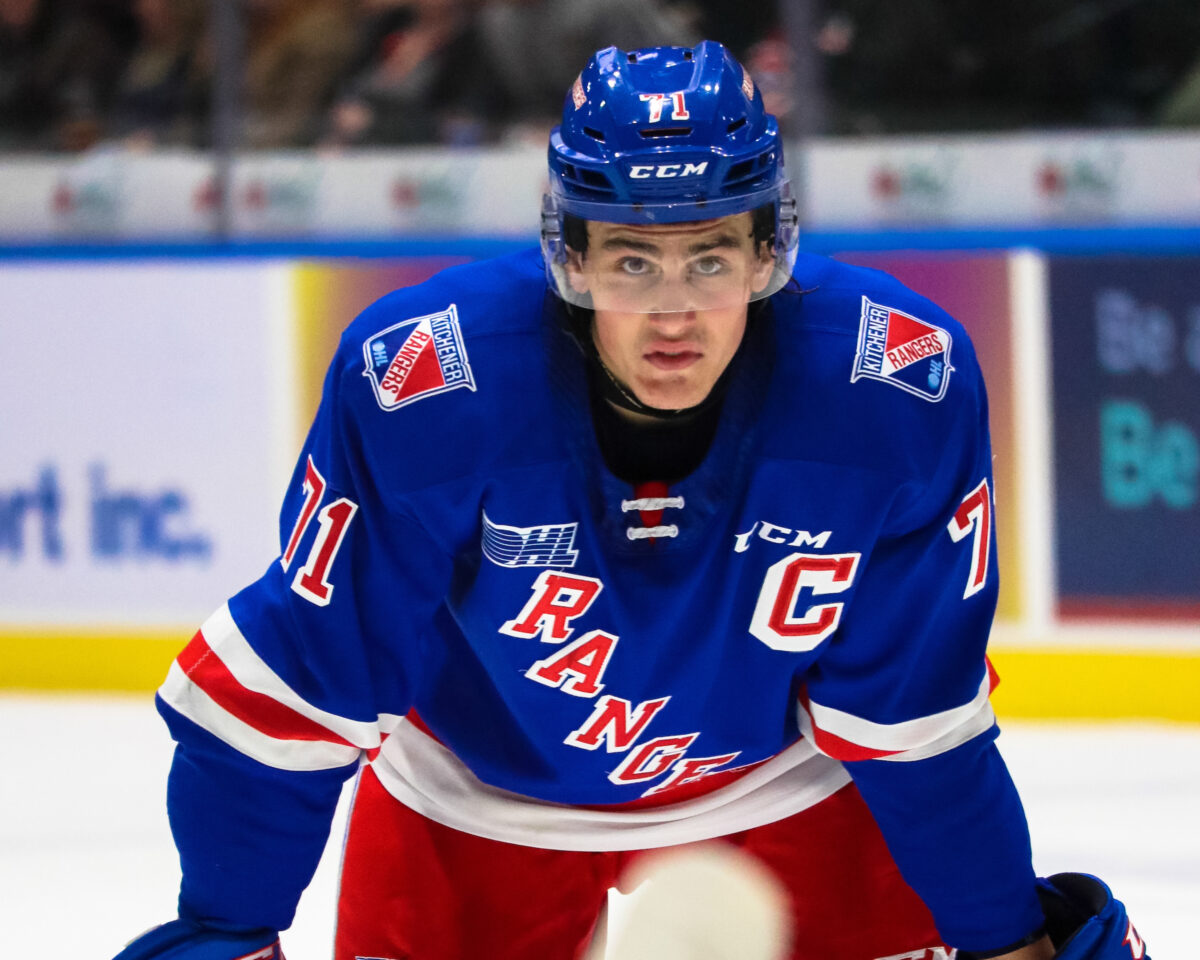 As the game wore on, the Spitfires' frustration built and the things that usually come easy – quick passes, shots from the slot, and simple plays – were nowhere to be found. They didn't have their game and they knew it. Despite a late goal from rookie defenceman Anthony Cristoforo, this was all Rangers as they took a 5-3 win and a 1-0 series lead.
The reality is that when you have two teams with this much talent, seedings don't matter. Spitfires' head coach Marc Savard gave the Rangers full credit and said his club needs to be better.
"They were hungrier, they skated harder, they got to loose pucks more than us, and they competed more," he said. "It's a tough one to swallow right now but, again, it's first to four (wins) … a lot of guys know it wasn't their best effort and we have to be better … they outworked us, and hats off to them. They played a good hockey game."
Spitfires Prepare for Game 2
Now, all eyes shift to Game 2 at the WFCU Centre on Saturday night. The Rangers are confident but the Spitfires know that they have more in them. Savard said this is where the players need to look in the mirror.
"It's a great time, right off the start, to get a wakeup call," he said. "A good time to check in the mirror before we move on. They can skate and they're a good offensive team so we have to be better defensively. We'll look at some things and make changes."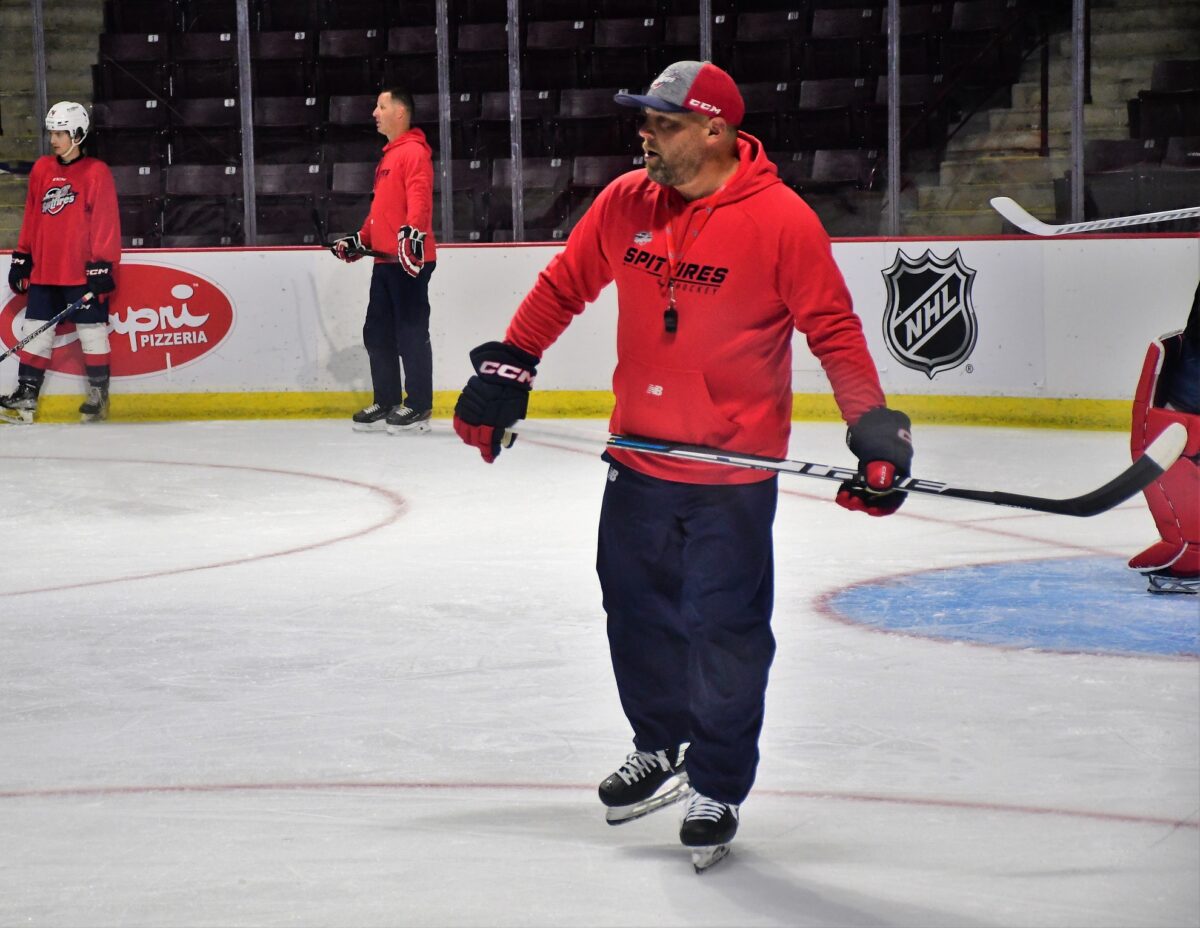 One change that may be needed is up front. Just days after defenceman Rodwin Dionicio was suspended for Games 1 and 2 for shooting a puck into the stands during a stoppage, forward Noah Morneau may suffer a similar fate. At the end of the first period, he batted a puck out of mid-air, sending it over the glass. He was given a game misconduct but Savard hopes that the league looks at it.
"It's right at the buzzer and it's in the air and it's a normal hockey play," he said. "I think anyone would have done it. You just bat the puck … It's just a hockey play, nothing to be mad at Morneau for."
Despite the loss, the Spitfires are confident. They led the OHL in goals this season (320) and 17-year-old stud goaltender Joey Costanzo, who made 34 saves in Game 1, returns for Game 2. He was sixth in the league in goals-against average this season (3.03). Harrison, acquired from the Oshawa Generals at the deadline, said they need to win more battles in the offensive zone and get more shots on goaltender Marco Costantini.
"Everyone in that room knows they have to be better," he said. "Expect a lot better effort on Saturday."