It took a long time, but now if you visit the Air Canada Centre in Toronto, you'll see a lineup of statues enshrining some of the most legendary players to play for the Maple Leafs. From Ted Kennedy to Mats Sundin and Johnny Bower to Borje Salming, the names represent a history of a storied NHL franchise.
While the team announced that no more players will be honoured in Legends Row for the time being, following the induction of Charlie Conacher, Red Kelly, Frank Mahovlich and Wendel Clark in February 2017, we decided to discuss who still belongs there if they were to eventually add to the already illustrious group outside the ACC.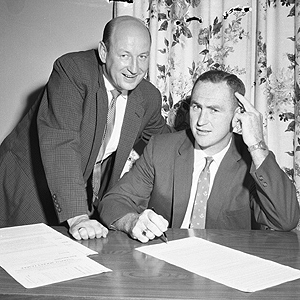 With that, I'm joined by Brett Slawson and Peter Ferrell on this week's Maple Leafs Round Table to discuss who are picks would be for Legends Row.
If you could add one more player to the Leafs' Legends Row, who would it be? Why?
Forbes: I've struggled with this question. Thankfully, the Leafs won't be adding another at this point in time so there's no right or wrong answer. I thought about Tomas Kaberle – a player who quarterbacked their power play for years while racking up the 11th most points in franchise history. But he wasn't a legend. He was just a very important player for the franchise.
I debated Rick Vaive – who tallied 537 points in 534 games for the franchise, but he played for the Leafs during one of their more disappointing decades.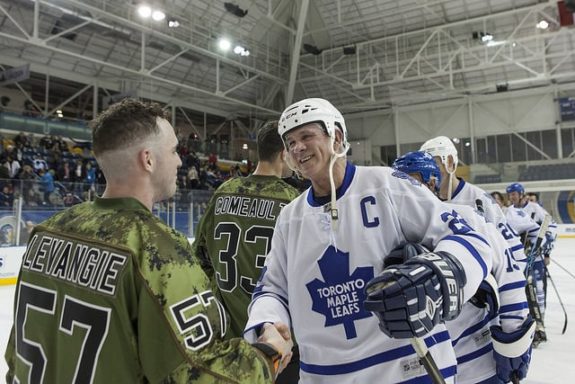 That left me with two players – two very different players that donned the blue and white at two different times for the franchise. The first was Lanny McDonald. He was a team player who spent the first six and half seasons of his career with the Leafs. He notched 219 goals and 459 points in 477 games for the team and built lasting relationships with some of the team's top players. That said, he'll always be more associated with the Calgary Flames.
With that, I was left with Doug Gilmour. Does he deserve legendary status? Maybe not if he was anyone else, but he was one of the few lights that re-lit the excitement in Toronto after a dull decade in the 1980s.
He played parts of just six seasons with the Leafs from 1991 to 1997 and returned for part of one game in 2002-03 before he retired after suffering a knee injury. Over that span, he scored 131 goals and 452 points in just 393 regular season games for the Leafs – which ranks him 15th on the franchise's all-time points list. On top of that, he leads the franchise in playoff points with 77 in 52 games played. Combined, that's a point-per-game average of 1.19 over his Leafs career.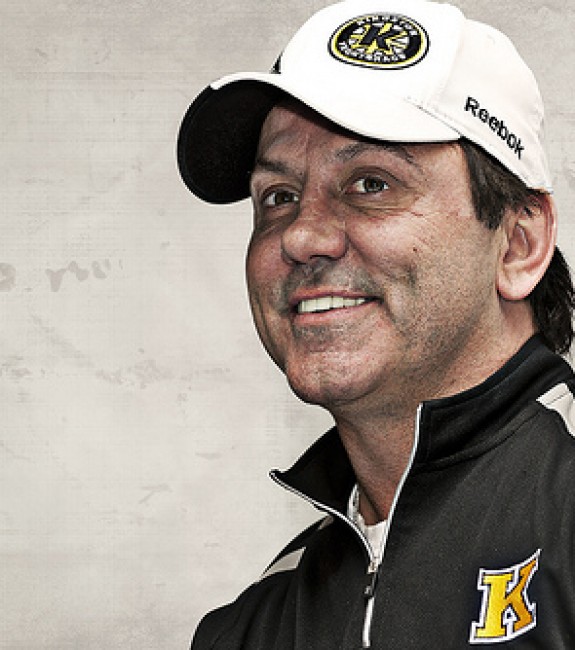 He brought faith back to a franchise that had fizzled during the 80s. He created excitement around the team again and dazzled on the ice. He left fans with fond memories of his Leaf days including his infamous double overtime goal in 1993 and gave Leafs Nation a reason to despise Kerry Fraser when he missed the high-stick on Gilmour that handed the Kings a trip to the Stanley Cup Final.
He holds the franchise records for most assists in a single season with 95 (set in 1992-93) and most points in a single season with 127 (1992-93). He's also tied for most assists in a single game with six. With his totals from 1992-93, Gilmour won the Selke Trophy as the best defensive forward, while being named to the NHL All-Star Game twice as a Leaf (in 1993 and 1994).
He also finished second in Hart voting in 1992-93, while finishing second and fourth in Selke and Hart voting respectively in 1993-94.
A seventh-round pick of the St. Louis Blues in 1982, Gilmour was inducted into the Hockey Hall of Fame in 2011. So is he Legends Row worthy? I think so.
Slawson: For me, it's none other than Ron Ellis.
Born in Lindsay, Ontario, Ellis was a hometown kid who would go on to play for his hometown team. After a number of dominant years with the Toronto Marlboros, Ellis made the jump to the Maple Leafs in 1963-64 and never looked back.
In all, Ellis played in parts of 16 seasons for the Leafs and concluded his career in contention for a number of the greatest offensive totals in team history. A prolific shooter, Ellis' 332 goals currently rank as the fourth-most in Leafs history, and stand as a much higher total than those of Frank Mahovlich, George Armstrong, Wendel Clark and Ted Kennedy – all of whom are enshrined on Legends Row.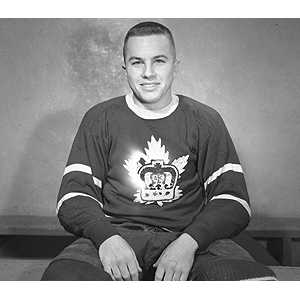 Further, Ellis boasted great vision and could pass the puck. Throughout his 1,034 games played with the Leafs, Ellis would add 308 assists, giving him a whopping 640 points in his career – a total good for the sixth-most in team history and, you guessed it, a level of production much greater than a handful of those currently enshrined on Legends Row.
However, outside of his incredible offensive flair and ability to blast the puck into the net, Ellis was a tireless worker whose willingness to compete on a nightly basis did not go unnoticed. Desperate to generate offence shift-to-shift and willing to sacrifice his body to do it, Ellis' determination and passion for the game illustrated his ultra-competitive personality.
Ferrell: Curtis Joseph spent only five seasons backstopping the Leafs (four in his prime), but perhaps no goaltender in franchise history left a more indelible mark on its fans.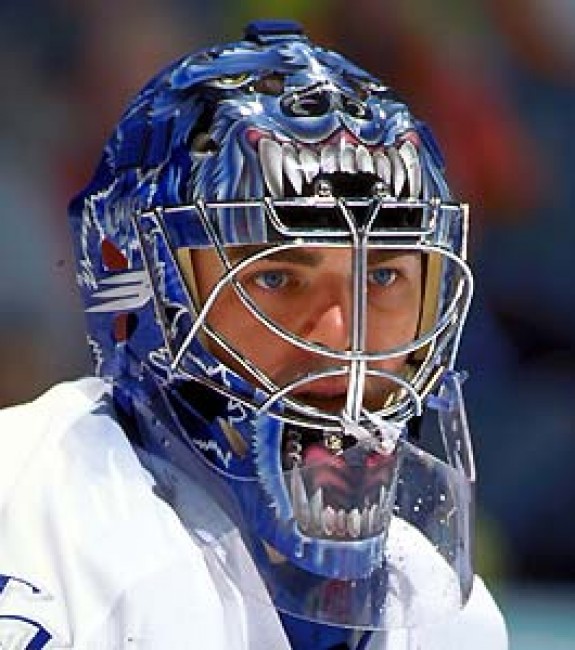 Cujo arrived in Toronto in 1998-99 to tend goal for a disappointing Leafs team that had missed the playoffs for two consecutive years. Already a household name in Toronto for his otherworldly performance against the Leafs in the 1992-93 playoffs while with the St. Louis Blues, Cujo quickly became a fan-favourite on account of his unorthodox, reactionary style of play and, most of all, his penchant for winning against all odds.
He finished fourth on the franchise's all-time list for wins and made his presence felt on one of the most storied franchises in NHL history.
He wasted little time in turning the franchise around, dragging the Leafs to a second-place finish in their division in his very first season. He was even better in the playoffs, backstopping Toronto all the way to the Eastern Conference Final. He would do the same in 2001-02, with the Leafs again falling just short of a berth in the Stanley Cup Final.
It's no secret Cujo was most famous for his prowess in pressure-packed situations, particularly when his team was overmatched (as the Leafs often were during his tenure). The Leafs made it at least as far as the second round of the playoffs in each of Joseph's four seasons as the team's starter, including three legendary series wins against provincial rivals – the Ottawa Senators.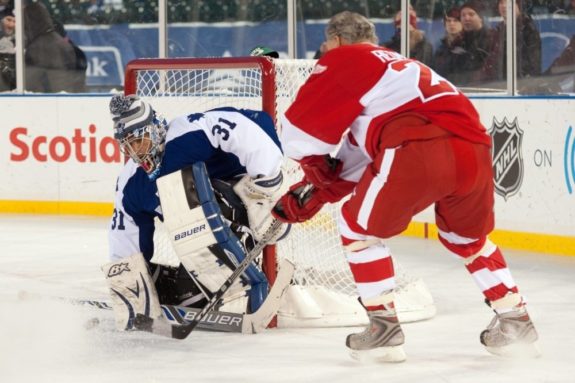 However, he was no slouch in the regular season, either. Joseph was a finalist for the Vezina Trophy in both 1998-99 and 1999-2000, and finished in the top ten in voting in both 2000-01 and 2001-02. He even received Hart Trophy votes in two of his Toronto campaigns, including a fourth-place finish in 1998-99. Also in 1998-99, Joseph was a finalist for the Lester B. Pearson Award (now the Ted Lindsay Award), as the most outstanding player as selected by the players themselves.
But perhaps the most telling award of Joseph's Leafs tenure was the King Clancy Memorial Award (presented for leadership and humanitarian contribution) he won in 1999-2000, for his exemplary work with, and sponsorship of, sick children in the community.
Always close to the fans' hearts, Cujo is even remembered for his ostensibly forgettable second stint (fifth season overall) with the club, the Leafs' disappointing 2008-09 campaign. On March 24, with the Leafs facing the powerhouse Washington Capitals, Joseph was called upon in the third period to relieve an ejected Martin Gerber.
Against all odds, Jospeh delivered perfect performances in the third period, overtime and the shootout, punctuated each time by several scintillating saves, delighting the home fans and sending them home with one more sparkling memory of their Cujo.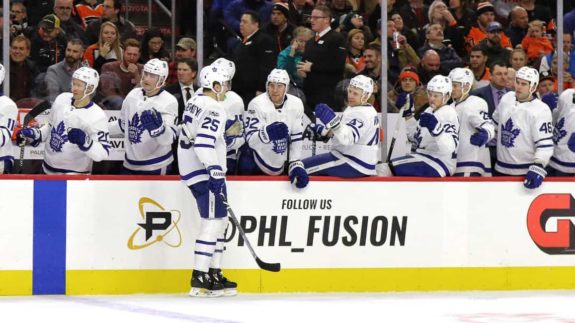 His time in Toronto may have been short, but no discussion of the greatest goaltenders in Leafs history – the greatest players in Leafs history – is complete without due praise and recognition given to Curtis Joseph.
While each of our picks will have to wait, we still believe there are spots to be filled. That said, who would your pick be if the Leafs were to honour just one more player in Legends Row? Gilmour? Ellis? Joseph? Or do you have a player that you think deserves the tag of being legendary in a Leafs uniform?
Be sure to tune in next week as we'll discuss more on the Leafs and the burning questions that surround the team as we head into the third quarter of the 2017-18 season.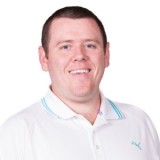 Andrew is in his 8th year reporting for The Hockey Writers covering the Toronto Maple Leafs. He began his broadcasting with CBC's Hockey Night in Canada team as well as being part of their coverage of the 2014 Winter Olympic Games in Sochi. He's the former play-by-play voice of the London Jr. Knights for Rogers TV and currently hosts the Sticks in the 6ix podcast. You can follow him on Twitter at @AndrewGForbes.