The Toronto Maple Leafs have a problem. However, it's a problem that most teams would like to have. They just have too many players, specifically on the wings. So what do they do?
Well, let's look at the depth they have on the big club first. At left wing, they have James van Riemsdyk, Leo Komarov, Zach Hyman, Matt Martin and Josh Leivo. Then they have William Nylander, Mitch Marner and Connor Brown as right wingers. Now, here comes the depth.
So Many Wingers
With the Toronto Marlies, the Leafs have Kerby Rychel, Brendan Leipsic, Andreas Johnsson, Dmytro Timashov, Tobias Lindberg and Carl Grundstrom at left wing. Right Wingers consist of Kasperi Kapanen, Nikita Soshnikov, Jeremy Bracco and Trevor Moore. Other prospects on the wings include Pierre Engvall, Yegor Korshkov and Martins Dzierkals. Those are just the bigger names of a much bigger group. Who knows if more prospects will be added in this month's NHL Draft?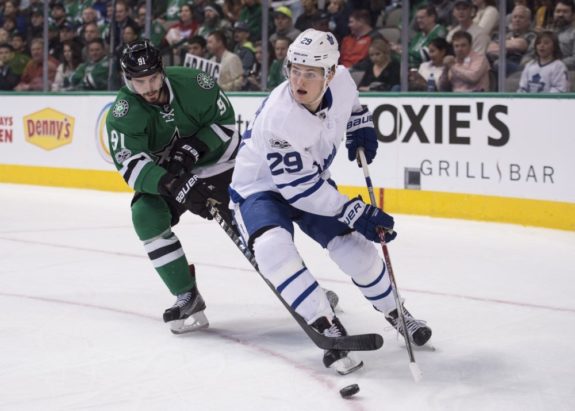 The issue is that some of these players in the system appear ready to make the jump to the NHL. Soshnikov is already a favorite of Mike Babcock and just needs to escape his injury troubles. Kapanen finished the season with the Maple Leafs and didn't look out of place, even in the playoffs. Rychel, Leipsic and Johnsson could also have a chance to make the team with a strong camp.
Now, we've already heard that Nylander is going to be on the wing at least for the near future before moving back to center. We can guess that goes the same for Marner, and that's if he ever is a full-time center in the NHL. Connor Brown will remain entrenched behind them on the right side. Kapanen seems to have the inside track on earning the fourth spot.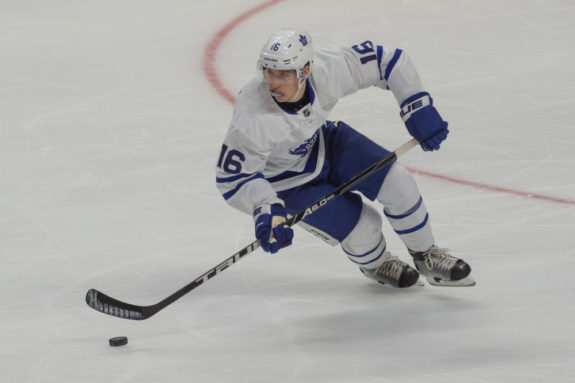 What happens on the left side will largely be determined by what happens with van Riemsdyk this offseason. If he sticks around, that's obviously one job that won't be open. Hyman and Komarov seem pretty safe in their spots. Unless he is somehow taken in the expansion draft (as some fans want), Matt Martin is sticking around as well.
Maple Leafs' Obvious Weaknesses
As you can see, the Leafs have a lot of players fighting for what might be one spot, two spots at most. Obviously, this is the Leafs' strong point. So what is their weakness? Well, you can pick two. Defense and center are the two positions that help.
They have made an effort to improve the depth at defense with the signings of Calle Rosen and Andreas Borgman. They have Rinat Valiev, Travis Dermott and Andrew Nielsen who will be ready in one of the next few seasons. However, the Leafs don't want six young defensemen. You need some veterans back there.
Center remains an issue as beyond Auston Matthews, Nazem Kadri and Tyler Bozak, there's not that much left if Brian Boyle leaves in free agency. If he leaves, the Leafs three on the depth chart are Frederik Gauthier, Ben Smith and newly-signed Miro Aaltonen. Gauthier will miss the start of next season while he recovers from a lower-body injury so he's unavailable. Smith seems to be only on the roster so the Leafs can fulfill the expansion draft games played requirements and protect a younger player. Aaltonen is still the wild card in this situation.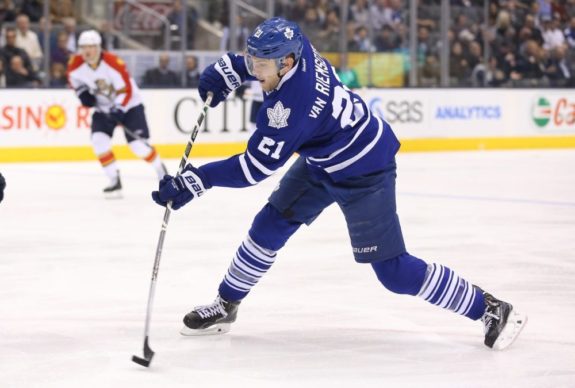 Getting back to that possible van Riemsdyk trade, a lot of the talk pertains to him getting traded alone. The thing is, the Leafs can add one or two of their wing prospects to the deal to better the return and to dump a few contracts from the 50-contract limit which the Leafs are currently at. In return, they can either get a defenseman (hopefully of the top-four variety) or a center to improve their depth there, which is far less likely. In all likelihood, the trade will probably be for a defenseman while the Leafs should focus on drafting at least a few centers.
The Leafs have a strength right now. They need to start removing from that strength to address their weaknesses. Hopefully, the Leafs will be stronger as a team as a result.
Toronto Maple Leafs Writer At The Hockey Writers.