The World Junior Hockey Championships have become the ultimate showcase of the best young NHL prospects, many of whom may be on the cusp of making their team.
As with any other NHL club, the Toronto Maple Leafs have no shortage of prospects who are legitimate contenders for their national team. Many Maple Leafs, such as Auston Matthews, Mitch Marner and Morgan Rielly have shone at previous World Juniors, and it didn't take too long for them to suit up as Maple Leafs afterwards. Here's a look at some of this year's prospects that we may end up watching at this year's tournament over the holiday season.
Timothy Liljegren and Rasmus Sandin, Toronto Marlies (Sweden)
The Maple Leafs have been known to pluck elite prospects from Sweden, and Liljegren and Sandin, the team's last two first-round NHL Draft selections, are among the latest and most intriguing. The teenage defencemen have each made a quick transition to the Toronto Marlies months after they were drafted.
For Liljegren, it led to a run to last year's Calder Cup championship. He played 44 games with the Marlies last season and also won silver with Sweden at last year's World Juniors. Sandin is also with the Marlies this year in his first season as a pro in North America. Although his start was delayed by a thumb injury, he has had no problems adjusting to the AHL with six points, including four goals, in 10 games.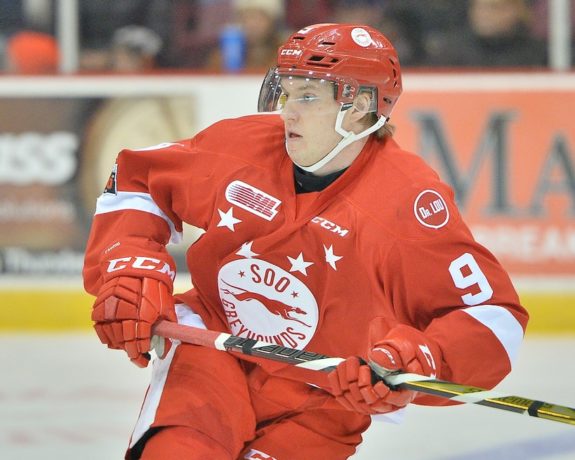 Liljegren and Sandin are grouped together because if they make Team Sweden, they'd be brought in under similar circumstances as they'd have to be loaned from the Marlies. That depends on whether or not the club feels playing in the World Juniors would be best for their development.
Given their youth, both defencemen have played great for the Marlies. Since Toronto is smack dab in the middle of the North Division standings, they may opt to keep the duo in the fold for the month. This is Liljegren's last year of World Junior eligibility while Sandin has two more years left.
Known for his great mobility and vision, Liljegren scored a goal and an assist last year with Sweden. Sandin, a promising two-way defender, hasn't played in the World Juniors yet but has plenty of international leadership experience as captain of Team Sweden at the World Under-17 Hockey Challenge and Hlinka Gretzky Cup.
Ian Scott, Prince Albert Raiders (Canada)
Ian Scott got off to a great start and hasn't slowed down one bit. With Scott between the pipes, the Prince Albert Raiders have maintained their status as the top team in the Canadian Hockey League for most of the season. They're 25-1 and Scott has been very tough to beat, as indicated by his .944 save percentage and 1.59 goals-against average.
Earning a spot on Team Canada will be a tough test for the best of goalies this year, as Windsor Spitfires netminder Michael DiPietro looks to be a shoo-in for the number one role. He was cut from last year's team but was included on Canada's World Championship team last spring as an 18-year-old, with the intention of helping him develop for this year's World Junior squad.
Still, if there's any goalie capable of earning the second World Junior spot, and maybe even challenging for more playing time when the games begin, it's Scott.
Eemeli Räsänen, Jokerit (Finland)
It's easy to spot Eemeli Räsänen when he's on the ice. At 6-foot-7, he'll likely be the tallest guy no matter where he plays. That's what intrigued the Maple Leafs to pick him as early as they did (59th overall) in the 2017 draft.
A former Kingston Frontenac, Räsänen opted to forego his final season of junior eligibility to join Jokerit in the KHL. It has been a tough year as he has been injured for most of the season and limited to just six games.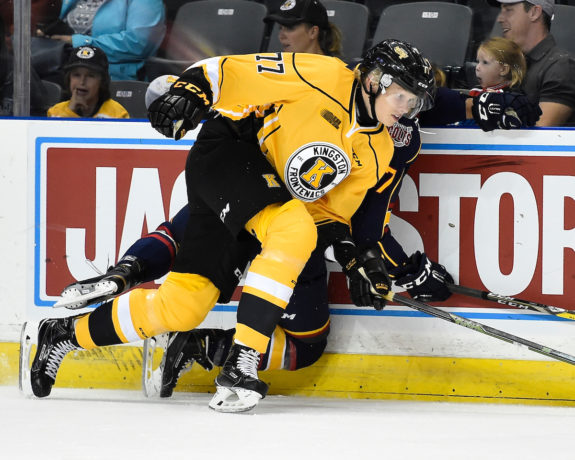 There's still time for him to get healthy in time for the World Juniors, and if that happens, he'd be a welcome addition on their blue line. He'd be capable of logging a lot of minutes against other teams' top forwards and his booming shot would be an added bonus.
Filip Král, Spokane Chiefs (Czech Republic)
He's not a household name yet, but Filip Král is a player to watch as he's likely to make his second World Juniors appearance with the Czech Republic. Toronto's fifth-round pick in the 2018 draft is a late-1999 birthday, making this his final year of World Junior eligibility.
Král established himself as a defender with strong mobility and offensive instincts last season with the WHL's Spokane Chiefs. He's back with Spokane this year and missed a large chunk of the season because of an injury sustained during Maple Leafs training camp, but he has responded nicely with five points (a goal and four assists) in 11 games.
With his previous World Junior experience, he could be a top-pairing defender with his national team.
Born and raised in Toronto, Iain has been a sports writer with the Mississauga News since 2010 and has been covering the OHL for Hockey Now Magazine since 2015. A graduate of the Centennial College Sports Journalism program, Iain has now signed on to provide Ottawa Senators coverage with The Hockey Writers.