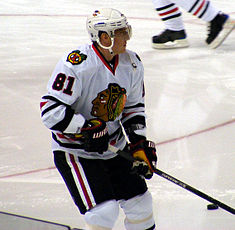 Chicago Blackhawks fans know Marian Hossa very well, he has always been one of my favourite players to watch ever since his days in Ottawa. This Sunday Big Hoss played in his 1000th career game and at age 34 he shows no signs of slowing down. In a season full of story lines for the Chicago Blackhawks as their amazing run continues, Hossa reaching another milestone in his all-star calibre career is sure to be an important one.
Blackhawks fans may have a deeper appreciation for what Hossa brings to the table as after last season's vicious hit from Raffi Torres, his career status was in limbo for several months as Blackhawks fans anxiously waited to see how he would recover from a severe concussion.
Prior to his injury Marian Hossa was on a roll in 2011-12, registering 77 points in 81 games leading the team in scoring. Though he is not scoring at the same pace he was in Atlanta (248 points in 222 games) he has averaged close to a point per game and continues to be just as useful without the puck as he is with it.
http://youtu.be/61cdXIO6zuQ
Hossa for one doesn't plan on slowing down anytime soon saying:
"A thousand games, that's so much. Now I'm coming to that point, but so far I feel pretty good. Hopefully I can play many more years.''
In his 1000th career game against Detroit he showed off his strong defensive play constantly providing assistance on the back-check and helping the Blackhawks to a 2-1 victory extending the streak to 22 games without a regulation loss.
Hossa is one of the 3 elder statesmen in Chicago alongside Jamal Mayers (38) and Michael Rosizal (34) but fits in well in the Blackhawks dressing room. Captain Jonathan Toews is quick to praise his teammate saying
"To share the locker room with a guy like Marian Hossa, who I watched for many years before I ever became a pro, is a huge honor and special thing."
To put things in perspective when Marian Hossa was getting ready for his NHL debut Jonathan Toews was getting ready for the 4th grade. The two superstar players have developed a chemisty on the ice that allows them to be out when the team needs a goal or to prevent one.
When the Chicago Blackhawks won the 2010 Stanley Cup captain Jonathan Toews made sure Hossa was the first to get it, after failing to win in the finals the previous two seasons with Pittsburgh and Detroit. As the Blackhawks continue their hot play there is no doubt that Marian Hossa has his eyes on a second Stanley Cup championship, and with this Blackhawks team it seems like a very realistic goal.