This past offseason, the San Jose Sharks traded away a first-round draft pick to acquire unproven goaltender Martin Jones. After a hot start to this season, the 25-year-old first-time starter has come back to earth and currently sports a .912 save percentage. While the save percentage has fallen from over .920 just a few weeks ago, fans should practice patience with Jones. In goalie years, the Vancouver native is still young at 25. And as a first year No. 1 goalie, full-scale evaluations should really be held off until at least the middle of next season to get a real sense of what Jones brings to the table. That said, even with some struggles here in year one, a .912 save percentage is essentially even with the goaltending from last year's starter, Antti Niemi.
Thus far with Dallas, Niemi has posted a .914 save percentage. Niemi also holds a slight advantage in goals-against average at 2.41 versus Jones' 2.47. In his first year as a starter, behind an extremely inconsistent team in front of him, Jones' performance has been pretty comparable to Niemi by the basic numbers. Niemi finished with .914 and .913 save percentages in his final two seasons with the Sharks.
While giving up a first-round pick for a goaltender is an extremely high price and one that isn't worth it for Niemi-quality goaltending, there is tons of upside when it comes to Jones. One of the things Sharks fans have been rightfully wishing for over the years is a goaltender with the ability to steal games. This is something that Niemi wasn't able to do on a consistent basis. Jones on the other hand, has stolen games on many occasions throughout this season.
Martin Jones' Flashes Brilliance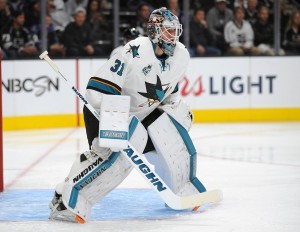 The Sharks' 5-4 win over the Flames on Monday was one of the best examples of a Jones performance that I firmly believe would not have happened with Niemi in net. Calgary out-shot San Jose 35-18 on the night. With the Sharks up 3-1 in the second period, the Flames tied the game up 3-3 with back-to-back power-play goals in short succession. The first of the two man-advantage markers was a goal that Jones probably should have stopped, but from there on out he was simply fantastic. Calgary had a number of quality chances late in the second to take the lead and proceeded to pepper Jones in the third period with a barrage of Grade-A scoring changes. The Flames poured 15 shots on net and only a double deflection on a six-on-four power play managed to get by Jones.
When it was 3-3, it felt like it just wasn't going to be a good night for Jones. Then out of nowhere he seemed to channel an inner Patrick Roy, making huge save after huge save. Sharks players constantly talk about Jones' calm demeanor between the pipes and that is certainly a valuable asset for a goaltender. When Niemi was off, he seemed to get rattled on a frequent basis. When Jones has seemed maybe a tad off, he bounces back much quicker. So quickly in fact on some occasions, like in Calgary, he flipped the switch in the very same game. If memory serves, and admittedly perhaps some confirmation bias plays into this, the Sharks rarely won high-scoring games with Niemi in net where they were heavily out-shot.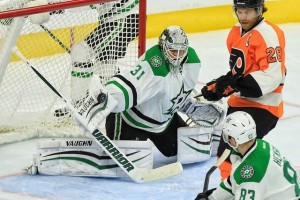 Now based on War on Ice's numbers this season, Niemi actually features a slightly higher save percentage on "high danger" shots than Jones. There is an argument to be made for Niemi by those numbers, but given the fact Niemi had proven in his time with the Sharks that he wasn't a difference maker, a change was needed. Jones hasn't been consistent in his first year as a starter with San Jose but by the eye test, there have been more flashes of brilliance. Not to mention, while Jones' high-danger save percentage is slightly lower than Niemi's, it is right on par with that of Henrik Lundqvist. Between Niemi and Jones, I'll definitely take Jones. He has been comparable to what Niemi gave the Sharks for years and has potential to be much better as he settles into a full-time role.
Andrew has been credentialed to cover the Sharks since 2010 and the 49ers since 2012. He graduated with his BA in Broadcast Electronic Communication Arts in 2013 from San Francisco State University.