A concussion cost Sidney Crosby six games to start the season, but it also opened the door for the rest of the league. Crosby, who was on a tear to end last season, and in the World Cup of Hockey, was the favourite to win the Art Ross Trophy. The fact that he has 25 points in 18 games so far (including 16 goals) proves that the prediction was warranted. But the margin is so thin. There is an abundance of talent in the NHL and even a few missed games will put any player behind in the race. With youngsters like Connor McDavid and Mark Scheifele tearing up the league, Crosby has his work cut out for him to make up ground. But will he be able to catch Connor?
Connor is on Crosby's Warpath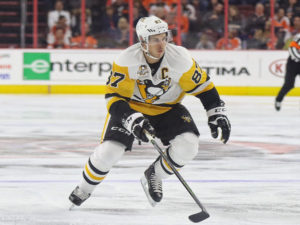 19-year-olds don't win scoring titles very often. The last guy to do it was Crosby in the 2006-07 season, his second year in the NHL. He was the youngest player in history to accomplish such a feat. Crosby's second season was a memorable one, as he won the Art Ross, the Hart Trophy and made the playoffs for the first time. He was named team captain at the age of 19 as well.  Connor McDavid (the Oilers captain) is 19, and in his sophomore season, and currently leads the league in scoring with 34 points.
Comparing players is never really fair because they're all different, but the parallels between these two are remarkable. McDavid was a finalist for the Calder Trophy in his rookie season but didn't win. Same with Crosby. (In fact, they both lost the award to a super-skilled Russian player). Can McDavid follow the pattern by winning a trio of awards in his second season, and make the playoffs? Postseason predictions aside, the possibility of getting some hardware is good.
McDavid and Crosby were both highly-billed phenoms coming out of Junior. Both were deemed generational players. Both are seen as franchise changers. Crosby has accomplished everything there is to accomplish as a hockey player, both in the NHL and internationally. McDavid will be a great player in his own right whether he matches all those accolades or not. He's special. He's faster than Crosby and may have better hands. But Sid has proved something in his years as a superstar. Talent is only one aspect of being great.
Crosby's leadership, his work ethic, his ability to improve and adapt is all part of why he's the best player in the world. McDavid doesn't need to copy Crosby or feel like he has to fill his shoes, but he can learn a whole lot. McDavid just looks like the kind of player who can rack up two or three points every game. He's that good. And if he keeps it up, the scoring title will be his.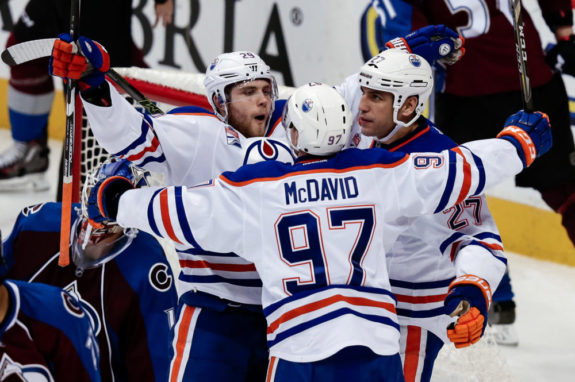 McDavid's Biggest Competition
The last three winners of the Art Ross are all still capable of taking the title. We all know what Crosby can do. He's in 5th place. Patrick Kane won it last season and he's in contention again. Jamie Benn is still finding his footing after an offseason injury. But the guys breathing down Connor's neck aren't the usual suspects. Mark Scheifele has finally emerged as the player the Jets hoped he would be when they drafted him 7th overall in 2011. Nikita Kucherov has been providing Tampa Bay with the offence they need in Steven Stamkos' absence. It's great to see fresh blood at the top of the scoring list.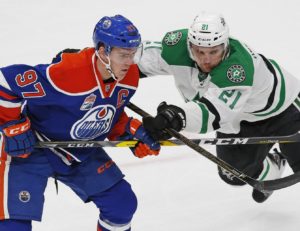 McDavid, however, is the only player to have at least 30 points, and he continues to separate himself from the competition with each passing game. Obviously, the important thing is that McDavid stays healthy. We'll never know, but if points per game are any indication, he probably would have led all rookies in scoring last season if not for his injury. And when you see him skate so fast near the boards you can't help but hold your breath. In the 2010-11 season, Crosby was well on his way to destroying the scoring title and winning all the awards. Then David Steckel came along, and we all know how that ended.
Many great players have been robbed of accomplishments due to injury. So staying healthy is a key to anyone's career. That's why it's so hard to make predictions because anything can happen. But if Connor stays healthy, he is easily the best bet to win the Art Ross trophy. His point totals, like his skating, may end up too difficult for anyone to catch up to. It's a treat to watch him play. There's no question he's one of the best players in the league. The awards will pour in, whether it begins this season or not.
The question is, will McDavid's Oilers see the postseason in his second year as Crosby's Penguins did? It will be a few months until we find out where (or if) the parallels end.