Beginning June 1, NWHL teams can re-sign players from their 2017-18 roster and their draft picks. Additionally, for those players who have completed their college eligibility and want to continue their hockey careers, NWHL Free Agency provides the best opportunity to continue playing at the highest level of professional women's hockey. The fourth season of the NWHL will begin in October as the Metropolitan Riveters defend their Isobel Cup championship, and with the addition of a fifth team – the Minnesota Whitecaps – this will be the most competitive season yet.
My colleague Dan Rice will keep THW readers up-to-date on Metropolitan and Connecticut's signings throughout the summer, while I post updates on Buffalo and Boston. Together we will be keeping readers informed of all of Minnesota's signings. 
Alexa the Great Re-Signs with Riveters
Connecticut Signs Russian Goalie Maria Sorokina
Whitecaps Roster Almost Complete With Addition of 4 Forwards
The Minnesota Whitecaps have signed two more defenders, and now their 25-player roster is complete. Word was released on Sept. 13, 2018 that the Whitecaps had added Amy Schlagel and Lisa Martinson – a pair of blueliners with Minnesota roots. Now that the team is fully assembled for the 2018-19 NWHL season, we have a better sense of how their defense will be utilized.
OFFICIAL: Welcome to Minnesota Lisa Martinson (@SCSUHUSKIES_WHK) and Amy Schlagel (@UNHWHOCKEY) 🌊 #RollCaps 🌊

🔗 https://t.co/PxaxgoJv1z pic.twitter.com/ykhZAz4EY1

— Minnesota Whitecaps (@WhitecapsHockey) September 13, 2018
The Whitecaps now have 10 skaters under contract who have the capability of playing the defense position. Schlagel and Martinson are both traditional defenders and will remain as such. The team possesses five other defenders in that same category. Original Whitecap Winny Brodt-Brown appears set to be used as part of Minnesota's defense corps, though she has played portions of her career at center. That makes an even eight on the blue line right there. However, the Whitecaps also have Meaghan Pezon and Lauren Barnes that can each play forward or defense, but who appear to be grouped in with the forwards for now. The best thing for Minnesota is that they will have options all season long, and the possibility is there to vary skaters between positions as much as the coaching staff deems necessary.
Count on Schlagel and Martinson to remain situated in their natural defense positions. THW takes a closer look at what each player is capable of bringing to Minnesota's armament.
Lisa Martinson
A native of St. Louis Park, Minnesota, the 27-year-old Martinson played her college hockey at St. Cloud State University from the 2009-10 season through 2012-13. More of a defensive-defender, she is one of a number of returning Whitecaps players who played for the team prior to their inclusion into the NWHL. At 5-foot-5 and around the 150-pound mark, Martinson brings a right-handed shot to the Minnesota blue line. Of the presumed eight defenders, only Martinson, Chelsey Brodt-Rosenthal, and Amanda Boulier are righties. It is important to note though that forward-defenders Pezon and Barnes each shoot right as well.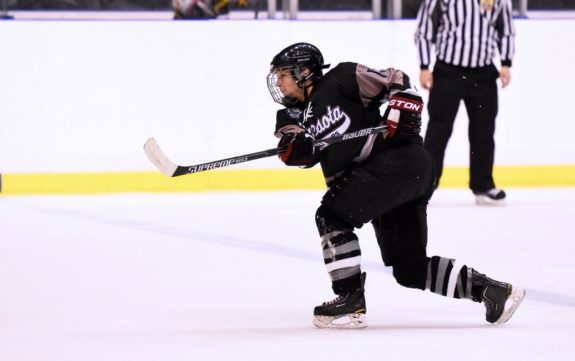 During Martinson's four years with the Huskies she played in 126 career games. Not known for her offensive skills, she would tally just six career goals and 10 assists for 16 points in her four years. However, ruggedness is something Martinson has excelled at, as within those 126 games she compiled a total of 153 penalty minutes (*NOTE: some sources vary as to her career total for penalty minutes). Martinson led the Huskies in PIMs during her junior season when she compiled 54 of them in 28 games. After graduating from St. Cloud State Martinson spent some time playing in Germany with ERC Ingolstadt in the top women's league in the country.
Like Brodt-Rosenthal, Martinson gives Minnesota another really nice stay-at-home defender who can be quite physical. While much has been made of the defense corps of the Buffalo Beauts or the Boston Pride, the Whitecaps are demonstrating that theirs is the most versatile and perhaps most complete.
Amy Schlagel
Schlagel was originally an NWHL draft selection of the Buffalo Beauts. The 23-year-old offensive-defender was taken 18th overall in the 2017 NWHL Draft. While Schlagel played her college hockey at the University of New Hampshire, she is a native of Blaine, Minnesota. Having graduated from UNH back in the springtime, she now will make her professional debut back in her native state.
A left-handed shot, Schlagel scored double digits in goals for the UNH Wildcats during both her junior and senior NCAA seasons. In 138 career games she scored 36 goals and 33 assists for 69 career points. Schlagel's finest college season was her junior year when in 35 games she set career highs in goals (13) and points (23). She has no hesitancy in firing shots on net either. During her 2017-18 season Schlagel led all Wildcats skaters with shots on goal – 131 of them came off of her stick in only 31 games. That is an average of more than four shots per game, and from a defender no less.
NWHL Prospect Pipeline- Week 18
Meet Amy Schlagel, selected 18th overall by the @BuffaloBeauts
📰: https://t.co/c8I9mlhiOa pic.twitter.com/JnNbL2ybWH

— NWHL (@NWHL) February 14, 2018
In addition to her offensive capabilities, Schlagel can also play the tough, no-nonsense role when she needs to as well. In her 138 career games she compiled an imposing 142 penalty minutes. During Schlagel's junior season she blocked 43 shots in 35 games. Sacrificing her body to help her team was something she had been doing all throughout her college career. As a freshman Schlagel led all UNH skaters with 54 blocked shots in 36 games.
Having her on their roster is a major steal for the Whitecaps. While Schlagel may be one of the younger players on the team, she has the skills to contribute right from the get-go and log the minutes of a top defender. A fortunate problem for the Whitecaps to have is that they now have a multitude of defenders who can score, play physical and take on plenty of ice time. The difficulty – doing the proper balancing act and fitting in all of the players. The pleasantry – the Whitecaps' defense will come at the opposition in waves.
As of Sept. 13, here is how the Whitecaps roster looks thus far:
Goalie: Amanda Leveille, Sydney Rossman, Julie Friend.
Defense: Lee Stecklein, Amanda Boulier, Emma Stauber, Tanja Eisenschmid, Chelsey Brodt-Rosenthal, Winny Brodt-Brown, Amy Schlagel, Lisa Martinson. 
Forward: Hannah Brandt, Kate Schipper, Kendall Coyne Schofield, Allie Thunstrom, Meaghan Pezon (defender/forward), Lauren Barnes (defender/forward), Brooke White-Lancette, Jonna Curtis, Amy Menke, Sadie Lundquist, Katie McGovern, Kalli Funk, Margo Lund, Haylea Schmid. 
General Manager of the Buffalo Beauts (NWHL). Hockey history writer "The Hockey Writers". Credentialed media for the NHL Combine and 2018 IIHF World Junior Championships in Buffalo, NY, USA. Born and raised in Buffalo, NY. Lifelong hockey fan for over 40 years. Proponent of the women's game.