We've all assumed this day was coming since the team parted ways with Shane Doan on June 19, 2017, but, at media day on Thursday, the Arizona Coyotes made it official.
Eight-year NHL veteran defenseman Oliver Ekman-Larsson, who currently is the longest-tenured member of the team, is the next Captain Coyote. When the puck drops in Anaheim on Oct. 4, 'OEL' will become the fourth man to wear the 'C' since the team moved to Arizona prior to the 1996-97 NHL season.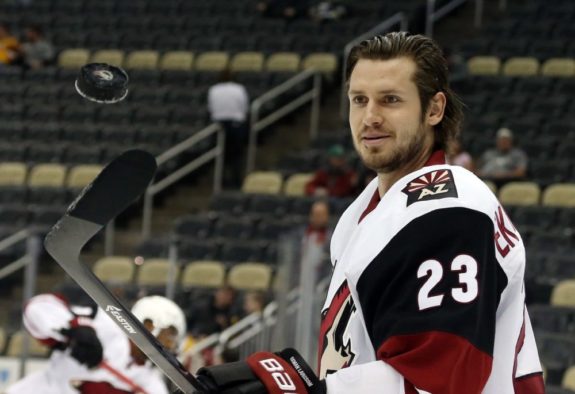 The 27-year-old Ekman-Larsson succeeds Keith Tkachuk, Teppo Numminen, and, of course, Doan, in captaining the 'Yotes. The three former Coyotes all were among the league's best at their positions during their captaincies, so it's safe to say that Ekman-Larsson has big shoes to fill, especially as the successor to Doan. However, it's clear that OEL will have the full support of his predecessors, as all three wished Ekman-Larsson well as he embarks upon the next chapter of his career in Arizona:
You're joining a legendary lineup of captains, @OEL23.

Keith Tkachuk, Teppo Numminen, and Shane Doan have a few words for you: pic.twitter.com/SsWMQ9fNNd

— Arizona Coyotes (@ArizonaCoyotes) September 13, 2018
Coyotes Had an Easy Choice
There really was no other person that the captaincy could or should have gone to in Arizona. One could have made a case for Max Domi, who became a fan favorite in just three seasons with the franchise, but his candidacy obviously ended when he was shipped off to the Montreal Canadiens in exchange for Alex Galchenyuk back on June 15.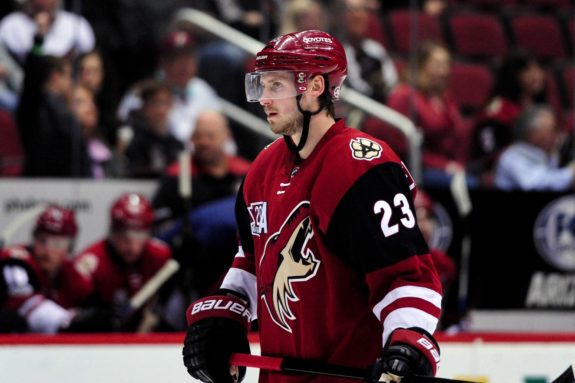 Derek Stepan, Alex Goligoski, or Niklas Hjalmarsson also would have been good choices based on their tenure in the league and previous experiences as alternate captains, but none of them have been in Arizona in times good and times bad like Ekman-Larsson has. Just like Doan, Ekman-Larsson was here during the dark days of bankruptcy and league ownership, and he's also been present during the recent ownership turmoil. From the near-sale to Greg Jamison and the days of Glendale City Council meetings with Anthony LeBlanc and IceArizona, to the current Andrew Barroway era, Ekman-Larsson has seen it all.
Additionally, OEL is the last remaining player from Arizona's 2012 Western Conference Final squad, and, as such, is the only player on the team who has experienced what it's like to play postseason games on home ice at Gila River Arena. He's the perfect choice to lead the next generation of young Coyotes back to the playoffs.
More Exposure for OEL?
Ekman-Larsson has struggled a bit to garner league-wide attention so far during his career, but adding 'Captain of the Arizona Coyotes' to his resume should help matters significantly.
Despite already establishing himself as one of the league's best all-around defenseman, Ekman-Larsson has yet to finish any higher than seventh in the annual Norris Trophy voting, and the Swede has been an All-Star on only two occasions. Granted, it is much more difficult to be named to an All-Star team these days due to the 3-on-3 format and its smaller rosters, but it's definitely surprising that Ekman-Larsson hasn't received more Norris Trophy consideration during his career, especially when one takes a gander at the numbers.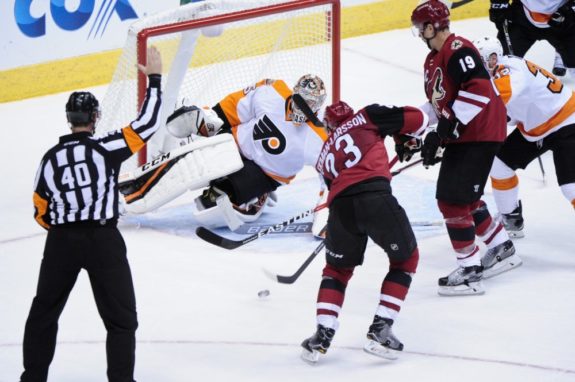 Since the 2014-15 campaign, Ekman-Larsson leads all NHL defensemen in power play goals (36), game-winning goals (19), and overtime goals (6), and ranks second behind only longtime San Jose Shark Brent Burns in goalscoring from the blue line with 70 markers. He also trails only brand-new Shark Erik Karlsson in power play time-on-ice per game and ranks in the top 10 in shots on goal and power-play points as well. OEL is no slouch in the defensive zone, either – he's averaged 1:40 of shorthanded time-on-ice per game over the last four seasons and plays against the opposition's best night in and night out.
Simply put, Oliver Ekman-Larsson can do it all, and he deserves to wear the 'C' in Arizona.
A lifelong Phoenix resident, Louis has been following hockey since 2010, has covered the Arizona Coyotes since 2015, and has been playing hockey since 2020. So far, Louis has visited eight NHL cities, and one of his personal goals is to eventually make it to all 31 NHL arenas. For any questions or concerns, contact the writer via Twitter @LouisPannone.