The Minnesota Wild have traded defenseman Marco Scandella and forward Jason Pominville and a fourth-round draft pick to the Buffalo Sabres in exchange for forwards Tyler Ennis and Marcus Foligno as well as a third-round draft pick. The deal was originally announced by TSN's Bob McKenzie after it was reported that the Sabres and Wild had been deeply involved in discussions by Michael Russo of the Star Tribune. Scandella has been the subject of many trade rumors and reports this offseason and is now finally being shipped out of Minnesota to a rebuilding Sabres team that was desperate to find defensive help.
No trade call done yet but assuming it proceeds without hiccups, it's Pominville and Scandella to BUF, Ennis and Foligno to MIN.

— Bob McKenzie (@TSNBobMcKenzie) June 30, 2017
The 27-year-old Scandella played in 71 games last season with the Wild, scoring four goals and 13 points while going pointless in five postseason games. Playing primarily on the Wild's second pairing, Scandella is a big character player who can move the puck well and can really help a young Sabres team looking to take the next step. In 373 career games, the 55th-overall draft pick from the 2008 NHL Entry Draft has scored 27 goals and 89 points, including a career-high 11 goals in 64 games in the 2014-15 season. He's also played in 39 playoff games in his career, scoring six goals and nine points in those contests.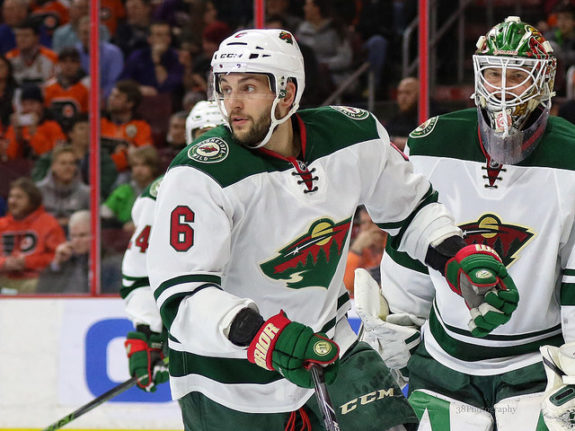 In addition to getting Scandella, the Sabres are also receiving Pominville – a player the Sabres were reportedly looking to trade to gain some cap space due to his $5.6 million cap hit that runs through the 2018-19 season. Pominville is no stranger to Buffalo as he, like Scandella, was drafted 55th overall out of the QMJHL, though he was taken by the Sabres. Spending the first nine years of his career in Buffalo, Pominville made a name for himself as a top forward for years with the Sabres.
Pominville scored 185 goals and 456 points with the Sabres in 578 games, including six consecutive seasons of at least 20 goals, before being traded to the Wild along with a fourth-round draft pick in exchange for Matt Hackett, Johan Larsson and a 2013 first-round and 2014 second-round draft pick. In 78 games last season with the Wild, Pominville scored 13 goals and 47 points.
Wild Saving Cap Space
For the Wild, the return is significantly less than what was previously expected. With rumors and reports stating that the Wild could be in the market to receive draft picks and prospects for Scandella due to the high-demand for top-four players, the Wild instead opted to save cap space in this deal. Taking on the $4.6 million contract of Ennis as well as restricted free agent Marcus Foligno, the Wild sent a total of $10.6 million in cap space to the Sabres. Foligno will undoubtedly earn less than $6 million in his next contract, giving the Wild some much-needed cap space to extend Mikael Granlund and Nino Niederreiter, among others.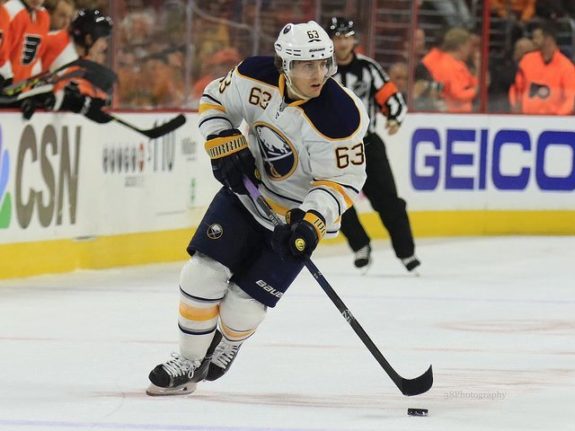 The 27-year-old Ennis has scored a total of 97 goals and 236 points in 419 career games at the NHL level. Following two successful seasons of 21 and 20 goals respectively with over 40 points in each season in 2013-14 and 2014-15, Ennis has fallen on some injury troubles over the last two seasons, playing in a combined 74 games and scoring eight goals and 24 points in that time. He is signed for another two years at $4.6 million.
Foligno was a player the Wild were interested in. The Buffalo-native is now set to leave his hometown after being drafted in the fourth round by the team back in 2009. In 347 games, Foligno has scored 49 goals and 116 points but at 6 foot 3 and 226 pounds, has made a name for himself as one of the biggest hitters in the entire NHL. Laying out hit after hit, Foligno always ensures that the opposition feels his presence with every shift. Though he isn't much of a point contributor, Foligno has scored double-digit goals in each of the last two seasons and could be a valuable secondary scoring option for the Wild next season.