You can't say Nikita Scherbak isn't aspiring for a greater role within the ranks of the Montreal Canadiens, or depending on how you see it, overachieving.
The 21-year old Moscow native reportedly aims to play in the Montreal Canadiens' top-six this season. Scherbak was the Canadiens first-round pick in 2014, but has played three National Hockey League games (one goal, zero assists) since entering the league. In 66 games with the St. John's IceCaps last season, Scherbak had 41 points (13 goals, 28 assists). Scherbak also added two points in last year's American Hockey League Calder Cup playoffs.
Scherbak vise les deux premiers trios du CH https://t.co/SCY594aZQQ

— RDS (@RDSca) August 7, 2017
Similar to another Canadiens prospect, it seems the cards are stacked against Scherbak. The Habs have 13 one-way contracts on the roster and Scherbak isn't the only young player vying for a role.
Scherbak also has the pressure of being a first-round pick. In his two seasons of junior hockey, the Russian was leaned on for offence, scoring 55 goals in 120 games.
You can't blame him for shooting for the role he wants. But the Russian had better hope his box jumping skills translate to making opening day rosters.
For argument's sake, let's try to build a case for Scherbak as a top-six forward.
Need For A Scoring Right Winger
Much has been made about the Canadiens' depth at left wing, but what about the right side? Brendan Gallagher has his place in the top-six, but he isn't a consistent scoring option. Andrew Shaw could rotate between the second and third line, but again he isn't a scoring threat. Free agent signing Ales Hemsky looks like a bottom-six forward for the Canadiens. There is no clear replacement for Alex Radulov on the right-hand side.
Yes, the Canadiens could move players like Jonathan Drouin and Paul Byron to the right. But there is an opportunity for Scherbak to be of some help. If any Canadiens' regulars on the right suffer from an injury, and the Canadiens need reinforcements from the AHL, Scherbak is among the best available.  Michael McCarron provides size at the right wing, but Scherbak is more of a goalscorer than his teammate.
The Canadiens will also have Scherbak on the cheap until 2019-20 when he becomes a restricted free agent. A top-six forward at under a million dollars a season would be the ultimate bang for the Canadiens buck.
Natural Progression
Scherbak suffered a concussion after taking a massive hit in 2015. It set him back and as a result, he only played 48 games that year. He played 18 more games the year after, and his totals improved. Scherbak only lasted three games with the Canadiens last season, but his lone goal was on the man-advantage.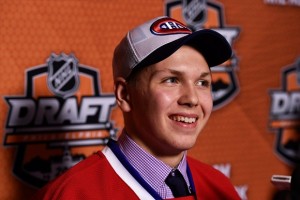 Barring injury or any other setback, the first-rounder should be due for more improvements in his third professional season.
As his Instagram shows us, he's been hard at work. But he'll still need to add more weight to his 6-2 frame. He'll need it to maintain possession and to avoid being out-muscled by opponents, something he struggled with at times in the IceCaps playoff series against Syracuse.
He'll be forgiven if he scores goals. And of course, if he's defensively responsible.
The Laval Rocket
The most likely scenario is that Scherbak will start the season as a member of the Laval Rocket. It wouldn't be a bad place to start for the young forward. He'll have a top-line role there, not the one he wants, but a top-six role nonetheless. Scherbak will have ample opportunity to improve on his 13 goals from last season, potentially skating alongside Charles Hudon and McCarron.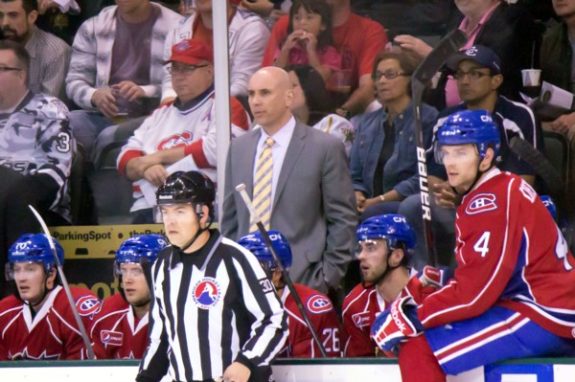 If Scherbak shows significant growth at the AHL level, it will be hard for the Canadiens to ignore him. Even then, it still doesn't guarantee he'll play top-six minutes. However, Scherbak could play into a need for the Canadiens if he is ready.
This doesn't mean he's ready to replace all of Radulov's 18 goals, and the Canadiens still have cap space they can use in order to find a more than adequate replacement for him. If Scherbak raises his level, he has a chance at being an intriguing option for the team.
Journalist. Broadcaster. Podcaster.
Contributor to The Hockey Writers.