One way to look at it would be that the Montreal Canadiens don't have a bona-fide No. 4 center heading into 2020-21. However, the glass-half-full optimist would say they have two waiting in the wings and the current situation is the perfect proving ground for either Jake Evans or Ryan Poehling to show their worth in the role.
Poehling's Sophomore Struggles
The real issue is whether the Canadiens would be comfortable slotting in Poehling as a fourth-line center, considering he is a former first-round draft pick, who, once upon a time, found the back of the net four times in his NHL debut. It would make more sense for the Canadiens to make him a potential call-up, but more importantly an American Hockey League regular as a soon-to-be 22-year-old, with only two points in 27 NHL games last season, albeit in just over 10 minutes of ice time per game. That's in part the point, though.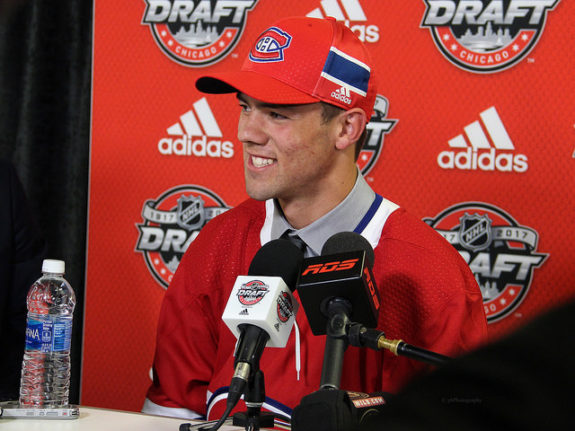 Expectations must be realistic. Consider how Evans hardly lit the lamp ablaze with just three points in much the same fourth-line role, admittedly over just 13 games last season (same amount of ice time). And, for all intents and purposes, he won the job these past playoffs, with both less production and ice time (one assist in six games, 7:48 per game).
Evans Defies Expectations
So, whoever gets the call, whether it's Poehling or Evans, no one should expect their resulting stats to jump off the page. It wouldn't be that kind of assignment. Nevertheless, it's hard to dismiss the obvious, that Evans is two and half years older than Poehling, has effectively graduated to the NHL after two impressive seasons with the Laval Rocket and, how, as a seventh-round pick, his ceiling is seen as being drastically lower. The risks of stagnating his development with limited ice time aren't as high, in other words.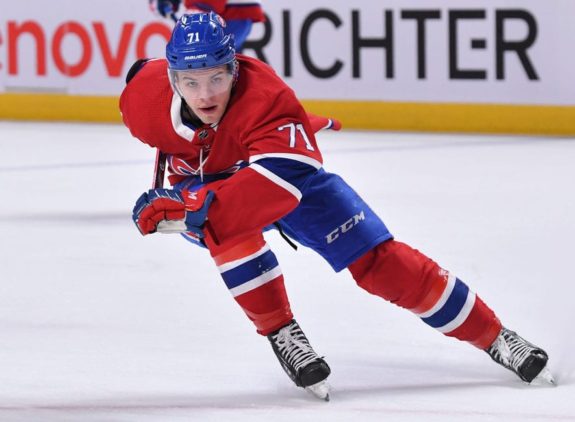 While no one should dismiss Evans outright, as seventh-round picks have made an impact before (Henrik Zetterberg, anyone?), the fact of the matter is Evans has defied the odds up to this point. It may not be completely kosher to talk of a 23-year-old or his career prospects in the same vein as meat, but a solid run as a fourth-line contributor on his part would be gravy. 
The same just can't be said of Poehling, when his initial upside was that of a two-way, third-line forward. Post-draft offensive success in the college ranks and the hat trick in his 11th-hour debut in 2018-19 only raised the stakes.
Truth be told, this wouldn't even be a debate were the start of the AHL season set in stone by now. It's been moved to February, hence the flurry of Canadiens prospects loaned to overseas clubs to get them in game action. Relatively speaking though, the Canadiens are still in an envious position. Having two potential, young and presumably hungry centers with upside beyond the fourth line is a luxury.
Third Weal on Fourth Line?
Technically, the Canadiens even have three suitors for the job, if Jordan Weal is included in the mix. However, Weal, while effective in a depth role and capable of playing higher in the lineup in a pinch, is far from cut from the same cloth, even if just due to circumstance instead of sheer talent. He's a 28-year-old pending unrestricted agent with a $1.4 million cap hit. At this stage of his career, the versatile forward, who can play all three positions, is projected to stick around for depth purposes or be traded as a cap casualty for more space.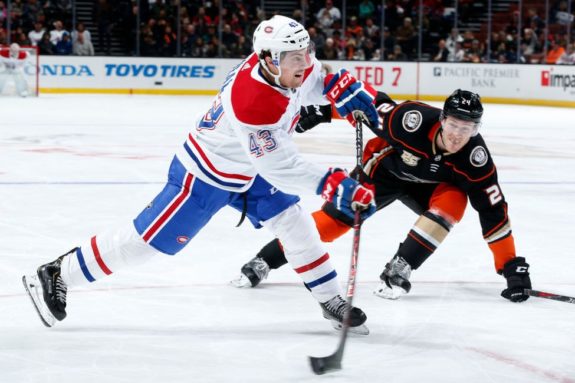 To be fair, Weal is a legitimate NHLer. He has over 200 games under his belt, including 49 last season (15 points, which translates to 25 over a full season and is nothing at which to scoff). Those 49 games are more than Poehling and Evans… combined… over their entire NHL careers. Plus, Weal's 52.2% faceoff success rate over two seasons with the Habs (55.2% over four seasons with the Philadelphia Flyers) hints at how under alternative circumstances he'd be a prime target to be re-signed.
Maybe he still will be, but it's clear nothing about this set of circumstances is normal. Weal doesn't deserve to be the forgotten man by any stretch, but, practically speaking, it's about giving the playing time to whoever has more of a future with the organization. By that same thought process, Poehling must be put in the best position to succeed. As such, if everything plays out as one hopes, Evans should get the call and, just for now at least, gets the edge above him on the organizational depth chart.
Evans, Poehling Proof of Habs' Depth
If Poehling's sensational debut wasn't proof enough of how much time flies, consider how there was a time when both he and Evans were thought of as the future at center for the Canadiens. Obviously, Nick Suzuki and Jesperi Kotkaniemi have emerged since then with bigger projected parts to play down the middle, but it just goes to show that this cup may actually be filled to the brim instead of half-full.
It isn't that the Canadiens must make a difficult decision, having to choose between two fourth-line centers. It's that it's one of the only spots conceivably up for grabs on a forward corps rife with young talent. To put it in perspective, the Canadiens are poised to have a single top-six forward aged 30 or more by the time the season starts.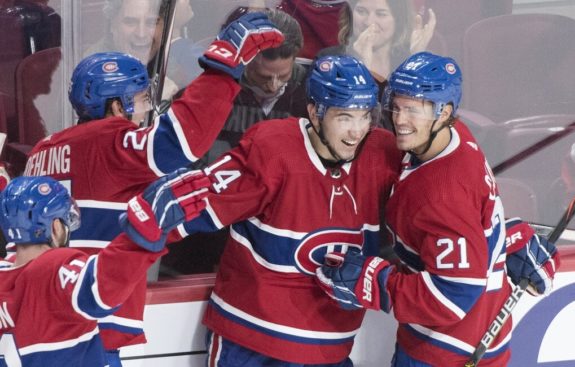 That's Tomas Tatar and he's technically still 29 (and will be an unrestricted free agent unlikely to be re-signed next offseason). The only other forward who fills that criterion is Paul Byron (31) and he may be moved for salary-cap purposes, himself. In other words, this may not be an either, or argument between Poehling and Evans. There will be room for both of them, at least eventually.
Realistically, in such an instance, Evans and Poehling won't both be playing center and they could end up as little more than fourth-line linemates. However, considering how the Canadiens can afford to bring them along at the right pace with the roster they now have and they'll each have earned their eventual spots through hard work, that's not necessarily a bad thing. After all, there's not much more besides hard work you can ask out of a fourth-liner… center or not.
---
---