Let us get right into it, shall we? 10 questions about 10 players on the Montreal Canadiens roster. Plus, some additional snippets of my limited wisdom for a few of them.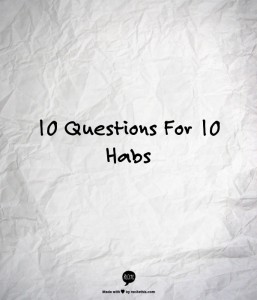 1. Should Carey Price say 'no' to the Olympics?
I've already stated that Carey looks 'different' this year. Assuming he gets invited to the big gig in Sochi, I would be torn whether the best choice would be to accept. On one hand, the honor and distinction of being asked to represent your country on a global stage. On the other hand, the obvious 'fatigue factor' and mental turmoil of travelling to Russia for two weeks in the middle of the NHL season.
Only Carey Price knows what Carey Price would do. If he wasn't planning on participating I would expect he would declare so, well in advance. As in now. Keep in mind, his declining the opportunity would occur on the 'global stage' as well.
2. Should Josh Gorges be nicknamed 'rubber legs'?
For both his skating stance and in his resiliency (bouncing back up after absorbing huge body checks) he makes me think of rubber. He's supple and moldable along the boards when being hit. He has a unique, wide-footed stance in the defensive zone. As an aside, he's playing tougher this season.
It's been a while since we've seen him throw the type of body check he threw on Taylor Hall in the game against Edmonton. It caught me off guard. Huge hit. He then threw another big hit on Mark Scheifele in the game against Winnipeg with 14 minutes left in 1st. He's playing much more physical, more often, than I can remember.

3. Is Raphael Diaz too small to be so nice?
Diaz's game is evolving, but he would do well to play with more of an edge (a la Frankie Boo) going forward. He just looks too, nice. He is a nice guy. Being nice doesn't lead to his poor body positioning at times against larger opponents, his size does. Perhaps being nice is the issue and big players misinterpret his smile as an invitation to engage with him.
He should throw the occasional hard check, as Gorges and Markov sometimes do. He can smile while he does it. It helps to keep the opposition honest. He can move the puck, but too many icings.
4. Does Max Pacioretty have good hockey sense?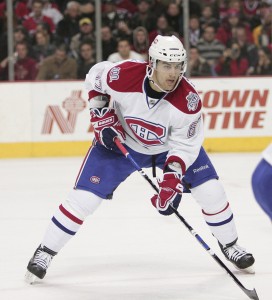 Or at least a sense of self-preservation? I remember watching MaxPac get dinged from time to time with his head down in his rookie and sophomore campaigns. At the time I thought he'd better learn to protect himself, sooner rather than later. Recent, high-profile injuries over the past few seasons make me wonder whether he fears injury.
His latest groin/hamstring injury was criticized by many as him not having a good sense of the hockey play he was entering into at the time. I'm on the fence as to whether we're simply seeing bad luck, or a player who will have injury issues throughout his career. Bad luck can't last an entire career, can it?
5. Should Lars Eller work on his shot?
Eller likes to hold and control the puck. It's what he does. However, simply watch him play to understand that playmaking and assists won't be his bread and butter. He will grow into a dominating power forward. Thus, his intent is more likely to be to shoot. Even Crosby spent quite a bit of time over past seasons working on his shot.
Is Eller selfish? No, his style works for the team. It's been a long, long time since the Canadiens have had a big, puck possession forward. My gut instinct tells me to team him with Bourque. He plays well in tight to the net and can capitalize on rebounds from Eller's shots. More on Bourque below.
6. Is Travis Moen ready to take a step forward this year?
Before getting a puck in the face recently and missing some time, Moen was showing signs of a promising season. Could Moen put up career numbers this year? I think he can.
7. Is Brian Gionta strictly north-south?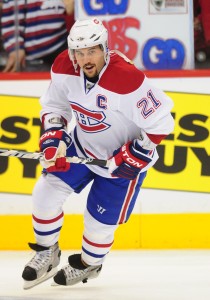 Is Brian Gionta an innovative, dynamic, and creative player? His game is relatively simple, north and south, with no fear of heading to the gritty areas of the ice, but is there more? His effort is translating early in this new season with 7 points (3G – 4A) in 12 games. Paired with players who are less north-south in Bournival and Plekanec, this may be the best-case scenario regarding linemates for Gionta and for Plekanec.
Also, coming off of surgery in consecutive years on both left and right biceps muscles, Gionta has something to prove. However, it isn't that he can still put up points. He's already doing that. His challenge is to show that he can remain healthy through an 82-game season and a prolonged playoff run. All of this in the final year of 5-year contract that will leave him as an unrestricted free agent at season's end.
8. Has Thomas Plekanec grown too comfortable in Montreal?
Plekanec looks 'comfortable' this season. That's not a good thing, although he's having a great start to the season. In the world of Average Joe's like me, comfort in a job is the initial sign that you are no longer being challenged. Deep dissatisfaction with your job often follows.
Would Plekanec be a better player outside of Montreal? Is he a good trade option this year? He'd certainly yield something good in return on today's market. I would never trade Thomas Plekanec. However, I'm not running the team.
9. Should Alex Galchenyuk be on the same line as Eller?
In my view, no. Galchenyuk will soon be a #1 winger/center. Yet, he shouldn't play with Eller right now. Both players want/need the puck on their stick. Both like to handle the puck.
Still filling out into his young 19-year-old frame, he'll get bigger and stronger. His confidence level will grow and I sense a mean streak in this young man. Will Galchenyuk be the consistent scorer that the Habs have sought for 20 years? He was not effective in the recent Winnipeg game, but the consistency I'm talking about would be evident season after season. Not game by game.
10. Is there more to Rene Bourque??
Maybe Bourque should change his choice of stick manufacturer. Maybe its his gloves? No one on the Habs misses more empty nets, hits more posts on wide open chances, or fans/whiffs on the puck more than Bourque. He excels at getting into excellent scoring position, but the finish hasn't been there in seasons past.
Bourque would do well to remember the advice of his junior coaches (or Don Cherry). BURY the puck HARD on every opportunity. His scoring percentage thus far this year (4G on 24 shots = 16.7%) is actually higher than his average in recent seasons (79G on 654 shots going back to 2009-2010 = 12.1%) so he may be capitalizing on more of his chances so far.