LEAFS DAILY
What if I told you the Leafs had a player playing way over his head and being given responsibilities he isn't equipped to handle? You'd say: But Jim, we just traded Dion Phaneuf!
But I would actually be talking about Morgan Rielly. Given top-pairing minutes this season — paired with Matt Hunwick, the duo has played the most and the toughest 5v5 minutes — he has shown that his defensive game is not up to par with other top pairings around the league. Rielly has a 48% CF% and has allowed 69 more shots against while on the ice than he has generated.
What? No!
Rielly is a great prospect and there is a TON to like about his game. He's a great skater, very talented, could possibly end up the best player in his draft. His possession ratings are positive and he posts way better stats when he is on the ice with anyone other than the incomprehensibly deployed Hunwick.
So my point is this: Don't turn Rielly into Phaneuf. Don't take a player with a certain style and force him to play a different way. Don't force him to be the team's savior, leader and marquee player. 
Don't make him the captain.
I get what Babcock is doing. It makes sense for Rielly's development to force him to go up against other top pairings. If that isn't the best thing for winning games right now, it certainly makes sense for the long-term growth of the franchise. Not to mention that the project of attaching Phaneuf to Gardiner's hip no matter what just paid off better than anyone could have hoped in their most optimistic fantasies.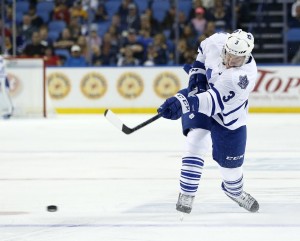 So I don't have a problem with the way Rielly is being used. I have a problem with people just looking at the half-decent scoring totals and the ice-time and suddenly anointing him the de facto Phaneuf replacement. It's insanity. You literally just saw how that worked out. Why write the same narrative over again?
The thing to do is not worry about something as trivial as who is captain and let Rielly develop and learn how to be a first-pairing defensemen before anointing him with a weight that no mostly-ceremonial post should come with.
Plus, not that this should need pointing out, but don't you need a core of players before they can decide which of them is the best leader for the group? I'd put even money on three players from the current roster — Kadri, Rielly and Gardiner — being here after next season, so doesn't it make sense to get the players that need to be led before deciding who their leader should be?
Advanced stats from stats.hockeyanlysis.com.