David Poile is the Billy Beane of NHL general managers. He's always iced a capable team who grinds its way to try and make the playoffs. Sometimes they've been successful, recently they haven't, but the fact of the matter is, Poile has found ways to maximize a squad's potential given their payroll. Furthermore, he and his scouting department have done quite the job at taking their time with their prospects, allowing them to mature, and letting them take the next step to the NHL. Here is a look at their top five prospects.
Criteria:
Skaters can not have played more than 42 games.
Goalies can not have played more than 25 games.
5. Brendan Leipsic – AHL – Milwaukee Admirals – C/LW
The Portland Winterhawks have sustained their dominance for the better part of the last half decade. Brendan Leipsic has been one of their biggest contributors over the last two seasons. When the Winterhawks won the WHL Championship two years ago, Leipsic led the entire CHL in points (120). The undersized forward has hands as quick as his skates and it isn't difficult for him to get around defenders when he catches them flat-footed. For his size, Leipsic does have a deceptively fast shot. He plays a hardnosed, gritty style, making him versatile in the lineup. It will be telling when he makes the switch to the Milwaukee Admirals this season and the Predators are interested to see what type of player he'll turn out to be.
4. Colton Sissons – AHL – Milwaukee Admirals – RW
Colton Sissons may be one of the least talked about prospects in the NHL who has the best chance to succeed based on how he plays the game. With relentless puck pursuit and a work ethic to match, wherever the puck is, you can be sure Sissons will be there to battle for it. A tough, defensive-minded forward, the BC-native has began to show his offensive upside somewhat with 44 points last year for the Admirals. Sissons is the future 3rd line forward for the Predators, which will make him a pain in the side of many teams given his astute defensive play. He wears down opponents, sacrifices his body, and does the little things right that often go unnoticed.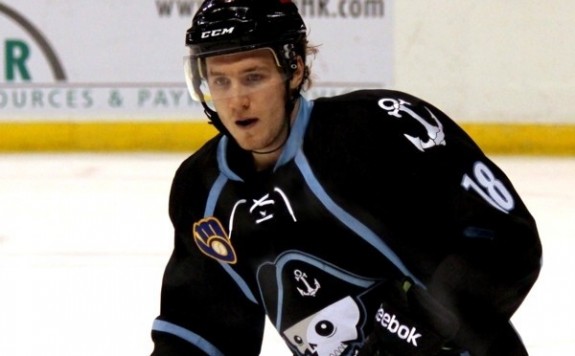 3. Vladislav Kamenev – KHL – Metallurg Magnitogorsk – C/LW
While he didn't stand out much in the KHL, Vladislav Kamenev was quite noticeable in the U18s WJC and the World Junior A Challenge. The Predators aren't accustomed to selecting Russians in the draft – their last one was Alexander Radulov in 2004 and we all know how well that worked out – but David Poile decided to take a chance on the young Russian. With a nice blend of size, tenacity, and skill, Kamenev really stood out to Nashville's scouting staff. He works along the boards and can protect the puck with ease. He has the smooth moves and soft hands that make him dangerous in the offensive zones, but he does need to work on his consistency. He will be returning to Russia this season to play for Metallurg of the KHL where the youngster will play against bigger and better talent. Kamenev is still a project for the Predators, but one they are willing to wait on before rushing him into their lineup.
2. Kevin Fiala – SHL – HV71 – LW/RW
The biggest knock on the Predators is that they've never had an elite offensive threat. Well Kevin Fiala just might change that in one fell swoop. Gifted forward with breakneck speed, Fiala is a scoring juggernaut that is patient with the puck and dangles through traffic with ease. He waits for his teammates to get open before he wires a pass through an array of sticks. However, if he chooses not to pass, he has an impressive wrist shot along with a various arsenal of dangerous skills that make him a force to be reckoned with. Fiala is still small and tends to play a perimeter game, but a few years of development will allow him to build muscle and start making his way to the dirty areas to make plays.
1. Filip Forsberg – NHL – Nashville Predators – LW/RW
The Nashville Predators scooped up Filip Forsberg from the Washington Capitals for next to nothing (Martin Erat and Michael Latta). As the young Swede continues to show how he adapts to the North American game, it looks as though the Predators got a steal. Forsberg has very few holes in his game, if at all, and is becoming a premier all-around prospect. He can score and create plays as well as apply pressure on the forecheck and backcheck. He scored 34 points in 47 games last season for the Admirals and finished with a +7 rating. This year he shouldn't have an issue making the NHL straight out of camp and helping out the top-six in his two-way play.