#1 Minnesota (36-1-1) vs. Boston University (24-12-1)
Saturday, March 15 at 5 p.m. EST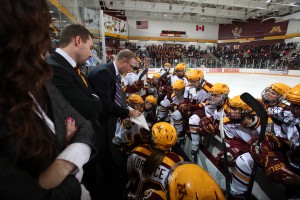 Minnesota won the WCHA Final Face-Off last weekend with a 4-1 semifinal win over Minnesota Duluth and a 3-1 win over North Dakota in the championship game. Boston University, who would have otherwise been on the outside looking in, earned a pair of 3-2 wins over Northeastern and Boston College to win the Hockey East tournament and secure an automatic berth into the NCAA Tournament, setting up a rematch of last year's national championship game.
The Gophers won that contest, 6-3, and it'll be even more difficult for the Terriers to keep up with them this year. Minnesota will want to use their packed three lines of offense to their advantage; BU has some good pieces up front, but can't match that depth. The Gophers are also much deeper on the back-end, and their defensemen will need to keep the front of their net clear and help to establish the pace of the game to make it even harder for BU to gain possession.
Boston University came from behind in the third period to defeat BC in the Hockey East title game, but they'll be much better served by getting things going early here. Minnesota has looked much more vulnerable at the start of games, so scoring  a couple of goals early will really help the Terriers. The Gophers didn't have much of a problem coming back against either the Bulldogs or UND, though, so BU still needs to make sure they don't let the game get away from them if they do jump out to a lead. The Terriers will also need to shut down the Gophers' power play if they have any hopes of slowing down that offense.
Key Players for Minnesota
Rachel Ramsey, D: She was named Most Valuable Player of the WCHA Final Face-Off, and will be crucial to Minnesota's efforts to drive possession from the blue line.
Kelly Terry, F, and Dani Cameranesi, F: They were good last weekend, and both of these players are huge reasons why Minnesota has so much depth; they'll need to continue providing that against Boston University.
Key Players for Boston University
Kerrin Sperry, Boston University Terriers (Steve McLaughlin/Boston University Athletics)

Kerrin Sperry, G: She was a big reason why the Terriers had so much success earlier in the season, and she's having a fantastic postseason so far with a .952 save percentage in the Hockey East Tournament.

Kaleigh Fratkin, D: Fratkin is the cornerstone of this BU defense, and she'll lead the efforts to shut down the Gophers' top players and prevent them from getting too many quality chances.
#2 Cornell (24-5-4) vs. Mercyhurst (23-8-4)
Saturday, March 15 at 3:30 p.m. EST
Cornell repeated as ECAC Tournament champions with a 1-0 win over Clarkson, while Mercyhurst had a rough go of it in the CHA championship game, falling to Rochester Institute of Technology 2-1 in double overtime. This is a rematch of last year's quarterfinal, in which the Lakers upset the Big Red 4-3 in overtime.
Cornell shut out Clarkson in the championship game, and only gave up 26 shots on goal. The Big Red's defense has had plenty of ups and downs this year, but it will need to be solid against Mercyhurst, who's got a few different scoring options up front. That being said, Cornell's more comfortable playing a back-and-forth, up-tempo game, so they'll want to make sure they get their offense going without giving up much defensively.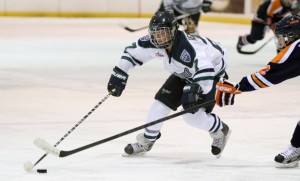 The Lakers thoroughly dominated RIT in that CHA championship game, but just couldn't get a winner past Tigers goaltender Ali Binnington. They'll need to execute much better against the Big Red, who will likely be pushing the pace offensively. Mercyhurst's defense also needs to be sound. Cornell has a number of different dynamics in its top-six, like skill and grit from Jillian Saulnier and speed from Jess Campbell, so the Lakers need to do a good job of matching up against them.
Key Players for Cornell
Lauren Slebodnick, G: The Big Red got a shutout effort from Slebodnick in the ECAC championship game, but goaltending has been inconsistent all year, and they'll need a good performance from her on Saturday.
Alyssa Gagliardi, D: She's stepped up to become a top-pairing defenseman for Cornell, leading the blue line in scoring, but she'll need to help set the tone defensively against Mercyhurst.
Key Players for Mercyhurst
Molly Byrne, D: Though she was a top-pairing defenseman in her first two seasons, she stepped up as the leader this year and improved in that role as the season went on. She needs to take care of the puck to help the Lakers carry possession, and avoid defensive lapses and turnovers.

Christie Cicero, F: Cornell doesn't have the deepest or strongest defense, providing a really good opportunity for a secondary scorer like Cicero to make an impact.
#3 Clarkson (28-5-5) vs. Boston College (27-6-3)
Saturday, March 15 at 4 p.m. EST
Clarkson defeated Quinnipiac 6-0 to advance to the ECAC championship game, where they eventually fell to Cornell 1-0. Led by a hat trick from Kate Leary,  Boston College beat Vermont 3-1 in the Hockey East semifinals, but lost to Boston University 3-2 in the championship game.
The loss to Cornell was the Golden Knights' first since the very beginning of November, and they were without star defenseman Erin Ambrose. They did a really good job of limiting Cornell's opportunities, holding the Big Red to just 20 shots on goal, but couldn't generate too much of their own offense until later in the game. Clarkson will need to do a better job of that against the Eagles, and make sure that they're able to create quality chances consistently for a full 60 minutes. They're also going to need to be really good defensively again against a team with eight players who scored at least 20 points.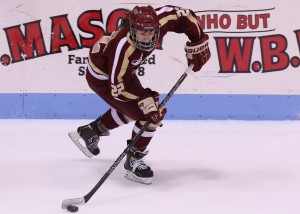 Like Clarkson, Boston College has had a really good second half of the year, but they couldn't cap it off with a trophy last week. The Eagles outplayed and outchanced Boston University, but couldn't solve Sperry to get themselves some breathing room before giving up the lead. They'll be facing excellent goaltending again from Erica Howe, and they don't want to run into the same problem. Boston College needs to get to the net and create traffic in front, because Clarkson's defense is going to make it very difficult for them to get tons of high-quality first-chance opportunities.
Key Players for Clarkson
Shannon MacAulay, F: With her size up front, the sophomore could give Boston College's defense fits, especially while the Golden Knights are on the power play.
Jamie Lee Rattray, F: As a top-three Patty Kazmaier finalist, Rattray's been a go-to player for Clarkson all season, and she'll be looked to again to produce and lead her team to the Frozen Four.
Key Players for Boston College
Corinne Boyles, G: Boyles will need to be strong in net and not let in any flimsy goals in what could very likely be a tight, low-scoring contest.
Lexi Bender, D: She's not quite an explosive offensive defenseman, but she has at times this season been the Eagles' best blue-liner when it comes to moving the puck up in transition, and she'll need to help out with that here.
#4 Wisconsin (27-7-2) vs. Harvard (23-6-4)
 Saturday, March 15 at 8 p.m. EST
Wisconsin fell to North Dakota 1-0 last weekend in the semifinals of the WCHA Final Face-Off, while Harvard lost to Cornell 6-4 in the ECAC Tournament semifinals.
That early exit probably cost the Badgers a higher seed, but they drew a Crimson team that's been struggling down the stretch. Wisconsin needs to find a way to score some goals, preferably on the power play. Harvard's penalty kill is one of its best assets, ranking at 92%, so the Badgers would do well to overmatch it. They have a top-10 Patty Kazmaier Award finalist in Brittany Ammerman, and I'm not sure the Crimson can match Wisconsin's top talent either up front or on the back-end, so the Badgers will need those players to be effective here.
From Harvard's perspective, they're going to need their penalty kill to get the job done and shut down Wisconsin's potent power play. The Crimson will be going up against a very strong defense, and the Badgers are going to make it tough for them to use their speed to get up the ice and generate chances. Harvard needs to be prepared to play a hard-fought game for 60 minutes, and they're also going to need very good goaltending; anything short of stellar play in net could cost the Crimson's defense.
Key Players for Wisconsin
Sarah Nurse, F: The freshman has plugged in as a good energy player this year capable of scoring in support, and the Badgers will need more of that from her as they try to overpower Harvard with depth.
Courtney Burke, D: As the leader of the Badgers' blue line, she'll need to help get the attack going and shut down Harvard's top forwards.
Key Players for Harvard
Miye D'Oench, F, and Hillary Crowe, F: As the Crimson's best players, they need to lead the way offensively and find ways to produce against this Wisconsin defense.
Dylanne Crugnale, F: She's not a player who's going to be featured for Harvard, but she'll help lead the efforts of the Crimson's bottom-six players and try and chip in offensively from there.