It wasn't too much of a surprise to learn that Claude Julien wasn't aware that Thursday's 2-1 win over the Phoenix Coyotes was his 300th win as a head coach behind the Bruins' bench. After all, it's a number that puts him second overall amongst all-time Bruins' head coaches,  just 61 wins behind Art Ross' record in Boston for the team's record. Sort of a big deal, when you think about it.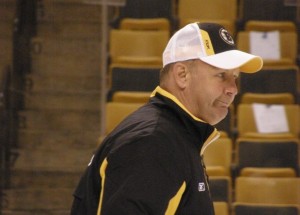 Not to Julien, though.
"I had no knowledge, and my guys know that it doesn't matter to me," said Julien. "I've said that before. It's great, don't get me wrong. It's great. I'm happy it's happened here, I'm happy to have that. But at the same time for me, I'd like to look forward to hopefully a lot more than just that."
His 300th win as Bruins head coach came a bit quicker than he may have imagined. With the win on Thursday, the Bruins have tallied seven straight, their longest streak since December 2011. It was also the second win in consecutive nights, coming off of an emotional 4-1 win in Montreal on Wednesday.
Hired in the 2007 offseason, the Bruins have yet to miss the postseason with Julien behind the bench. In the Eastern Conference, only Mike Babcock of the Detroit Red Wings has had a longer-tenure than Julien as head coach.
"My first comment when I came here, and I remember it vividly because that was what I thought, was I said I am here to win this team a Stanley Cup," said Julien. "Now I'm saying I'm here to help this team win this team more than one Stanley Cup, but you know I just felt that where they were and what they had there's a lot of room to grow and that's kind of what I like to do as a coach.
"I like developing, I like growing a team and I thought it was a great fit for me with that situation and also with Peter, having known Peter for a long time and vice versa. There's was that trust, that instant trust there between the two of us."
With their seventh straight win, the Bruins pull into first in the Eastern Conference and a three-way tie for the second best record in the NHL.
"I'm really happy that we've got some consistency here in this organization," said Julien. "I think it's really important for this city, it's important for our fans that you've got a real competitive team and we've built a reputation now that we belong with the elite teams and then now, our challenge is that we have to stay with the elite teams and that takes hard work, so no room for us, and that's not just coaching, management, that's also our players and we've got to stay on our toes all the time."
The Bruins look to extend their winning streak to eight on Saturday when the Carolina Hurricanes visit the Garden. For now, Julien has this short time to reflect on his accomplishment.
"I'm proud to have accomplished this in Boston," said Julien. "I think it's great, I've really enjoyed myself here, and I'm looking for, I would say, another 300."
That's the goal.